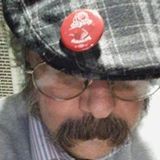 My name is Larry Cafiero, and I am a former newspaper editor, currently a freelance writer, a family man, tenor, and a "sewer socialist" who is active in the Democratic Socialists of America. I discovered the joys of the beautiful game this past season (2018-19). As it turned out, I fell in love with Celtic FC (and FC St. Pauli, for related reasons, but more on that later).

Why Celtic?

It all started last August with a discussion on a leftist political thread about football clubs with a political/antifascist outlook to them. Several posters had voiced their opinions on teams with a political slant that would align with ours — FC Barcelona for their anti-Franco (and Catalonian independence) stand, FC St. Pauli for their staunch pro-freedom and antifascist positions, and Celtic FC for their history.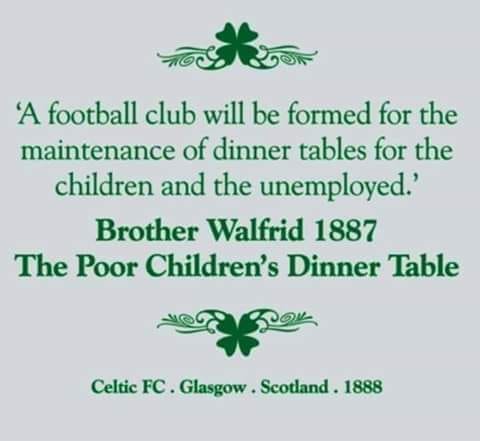 Celtic's history was the selling point for me regarding the club. Brother Walfrid, a Marist brother from Ireland, started Celtic in Glasgow in the late 1880s in order to raise money to feed the poor of Glasgow (mostly Irish immigrants at the time), and the history of the club — generally pro-independence for Ireland in an arguably hostile Presbyterian Scotland — constantly overcoming pro-Unionist adversity was nothing short of inspiring. Additionally, the affinity of a large part of the Celtic support for the plight of the Palestinian people made being a supporter an easy fit for me.

Also, there's 1967: There are few more phenomenal and outright Hollywood-worthy stories in all of sports than a group of players who grew up in Glasgow taking on the mighty FC Internazionale Milano — Inter Milan, for short — in Lisbon for the European Cup. They still sing about it at games to this day, and the song is where the name of this blog originates (although my favorite is this punk version by the Quadrofenians).
I have a distant connection to Scotland: My maternal grandfather, Robert Fowler, was born and raised in Dunfermline, Fife (the birthplace, incidentally, of Scott Brown), though as far as any known family lore reveals, he was not a Dunfermline FC fan at any time. So I think I'm clear there.

This blog will be my view of my chosen club given from 5,060 nautical miles and eight time zones away, from this impassioned fan who (among other things) is looking to start a CSC in the Santa Cruz area — if you live near here and are interested, contact me. Chances are that some FC St. Pauli news will creep in here as well, but for the most part it should be all Celtic all the time.
I can be found at times opining freely and often on the Celtic Noise forum, an excellent forum where discussion abounds on all things Celtic (and some things not exactly Celtic). I would invite everyone to join the discussion there as well.

Mon the Hoops!