Despite all the advances of modern medicine to date, there are few cures for a lengthy illness — and non-COVID, thankfully — that are more effective and healing than Celtic starting the season like they have so far with three convincing wins. Now that I'm well enough to stop laying in bed and studying the ceiling, not to mention that the timing is right now that the new season is already in gear, it's time to get back on the blogging horse.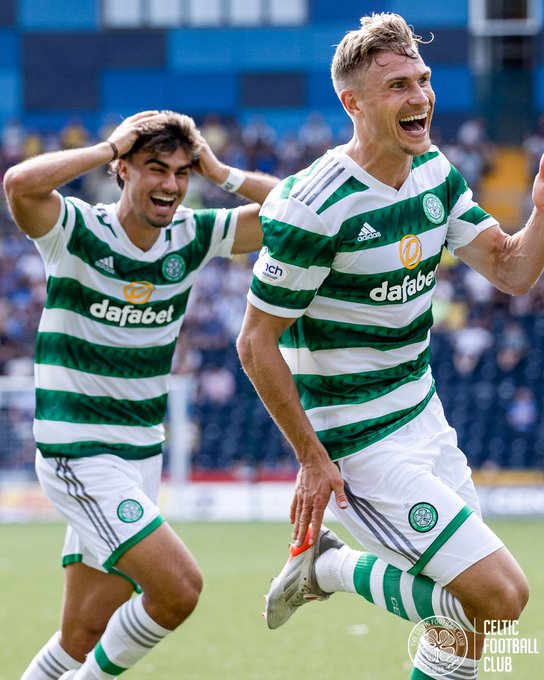 Expecting the unexpected
There are things over the past several weeks that were inevitable: Sure, Jota was always going to sign — you don't travel the world wearing the Hoops if you're going to stay at Benfica or go elsewhere. Nailing down Cameron Carter-Vickers was another feather in the backroom staff's cap. Adding Benjamin Siegrist was also a coup — to be honest, I never thought he'd agree to play behind Joe Hart, but here we are — and the additions of Alexandro Bernabei, Aaron Mooy, and Moritz Jenz round out the business end of things, despite rumors of one final move for Rubin Kazan's Sead Haksabanovic.
The transfer window has had the usual suspects come and go, and most importantly and immediately on the table here is where Mikey Johnston will end up on loan. Ange Postecoglou knows there's still a player there, who just needs some consistent playing time to get back to form, despite all the wailing and gnashing of teeth that accompanies Johnston's play on social media.
But on the whole, business got done early for a change, planned and methodical this time, as opposed to the fire drills in the past, and all indications point to success.
Expectations are high. But Carl Starfelt's goal against Kilmarnock? No one could have expected that, but yet here we are with the Swede getting his first on the SPFL's worst rug at Rugby Park.
Then there's the emergence of Greg Taylor. Taylor has always been a solid player, a dependable defender thrust into a winger's assignment which, to be fair, may have been a steep learning curve for him. But for those of us who believed in him from the start, we get our "I told you so" moment to the PlayStation pundits and the armchair gaffers who would have just as soon dumped him.
The Japanese bhoys are picking up where they left off last season, which is sugoi. Georgios Giakoumakis, a new father with a new purpose, who could easily start but has come off the bench with amazing results. Jota? Worth every penny and more with the consistently phenomenal play we expect from the Portuguese wunderkind. Even Moritz Jenz, on loan from Lorient, may want to keep his bags unpacked and stay in Scotland for awhile.
Add to this the cast of last year's regulars who add to the successful mix: Stephen Welsh and Anthony Ralston at the back, Liel Abada on the wing, and David Turnbull showing the solid midfield play that brought him to Glasgow from Motherhell . . . sorry, Motherwell. To say nothing of Matt O'Riley being the biggest steal in the last transfer window, flying under the radar of just about everyone except our staff.
So expect the expected, like another successful season under Postecoglou. But also expect the unexpected as well, like goals from the back like Welsh's against Aberdeen and, yes, even from Starfelt.
With a combined score of 10-1 in our first three games, giving the Hoops a +9 goal differential, we now turn our attention to the diet Huns, Heart of Midlothian, on Sunday at Celtic Park. Thank God for the 3 p.m. kickoff — that means I can sleep in until 7 a.m. on Sunday morning — and, of course, Mon the Hoops!
One more thing (well, two actually)
I always like to add just one more thought before signing off. In some instances, there are more than one "last thought" that compete for the pixels, and in this case both warrant an appearance here.
First, it appears that the club is doing the right thing in letting the investigation run its due course on the incident involving Alexandro Bernabei, which seems to involve drunk driving and which, of course, is never acceptable or unpunished behavior. However, in typical Scottish media fashion, public details on the incident are both conflicting and nebulous, but the club is doing the right thing by letting the investigations, internal for the club and external in the law enforcement realm, draw their conclusions. Meanwhile, he trains and is available, if necessary, for games. At worst, the kid fucked up and will pay some sort of penalty. Equating this with some other transgressions of the recent past (*cough* Boli Bolingoli *cough*) and seeking Bernabei's exit for this transgression, especially before all the facts are in, is completely ludicrous. Get a grip.
Also, it's normally expected for the Scottish sports media to say ridiculous things about Celtic. As someone who has followed the Hoops since 2016/17 — still a neophyte, I know — I have gotten used to airheaded pundits like Kris Boyd spouting moronic nonsense like Jota's not the best player in the league. The best response to those is just shaking one's head, rolling one's eyes, and moving on. But then, very unfortunately, we have some in our own ranks who spout absolute nonsense as well. Not to give the offending blog any more oxygen than it deserves, but recently a Celtic blogger sent up the trial balloon of, "Hey, maybe we should sell Giakoumakis in this transfer window." No chance, sport, and maybe you should take up another avocation.