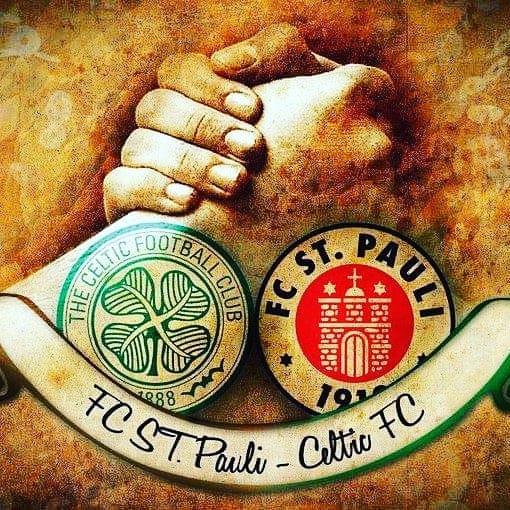 This is probably the strangest thing for a blogger to say — "Hey, put down everything you're doing right now and read this," and then point to someone else's work. But be forewarned: I'm doing that right now.
Hey, put down everything you're doing right now and read this: Patrick Rodgers wrote this excellent piece on "The Shamrock: A Celtic Retrospective" regarding the relationship between fans of both clubs. Rodgers nailed it perfectly, and it's worth your time.
Go ahead. I'll wait.
OK, glad you're back.
Several weeks ago, someone laughably tried to discredit an argument on social media — where else? — with, "Well, you support more than one club!" After laughing myself into a change of underwear, my repsonse was, "It's football, not marriage," before blocking this woeful guy, who seemed to be overly protective of his sole IQ point.
Despite the fact that "following" and "supporting" clubs is different, he is right about me following more than one club, and I gladly admit to following several. There are more than a few reasons for this: I like checking in and seeing how the Yanks (and even Canadians, like Alphonso Davies at Bayern) are doing in Europe — except for Christian Pulisic, because I hate Chelsea and the rest of the Blues Brothers (Hamburger SV and Glasgow's other Premiership club) — and I like checking in on former Celts and FC St Pauli players have transferred to and the clubs for which they now play. I even have a soft spot for clubs that care about their community, as I've outlined in this past blog item about Nairn County FC.
As far as supporting clubs, I have two — well, more if you count any club that is overtly antifascist and align with my politics. And, of course, there's the club I "co-own" with hundreds of other members, Clapton CFC; after swearing to the Tons that, as a leftist Yank, I have references who will attest to the fact that I am the "anti-Glazer."
But back to the point, those two clubs I unequivocally support are, far and away, Celtic FC and FC St. Pauli. They are closest to my heart.
Rodgers' post on The Shamrock outlines why the terms "Glasgow's Green and White" and "Hamburg ist Braun Weiß" are synonymous.
Those of you who follow me on Twitter know why I have both a four-leaf clover and a Jolly Roger next to my name. Now the rest of you know, too.
Mon the Hoops. Forza St. Pauli