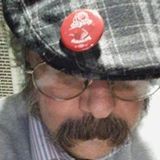 At the urging of several friends and one family member (thank you, darling daughter) — and whether or not it's a conspiracy remains to be seen — I have been urged to write a blog about one of my current avocations: football (or what we call "soccer" here in the U.S.) in general, and my favorite club, Celtic FC, in particular.
So here we are: '67 in the heat of Felton.
Of course, there's really nothing that ties the great Celtic team that won the European Championship 52 years ago to this small town six miles northeast of Santa Cruz, California, at the foot of the Santa Cruz Mountains amid the redwoods. Other than, of course, me and my new found passion for the Hoops.
But amending the song title slightly to mention my current hometown in the blog's title goes well with the song that, to this day, is still sung at Celtic games (or at punk rock venues by the Quadrofenians).
A team of Viennese specialists would have a field day with that, to be certain.
Regardless, May 25th is now a holiday on my calendar, and I wear green and white at every possible opportunity. I have acquired a new taste for jelly and ice cream. I have been known to break into the Broony when something good happens. After one season — an exceptional one, to be sure, with the Treble Treble — I am here for the long haul.
You can find me from time to time at the Celtic Noise forum — with a lack of creativity measured in sheer tonnage, my handle is simply lcafiero — and I welcome all Celtic supporters to join the discussion on Celtic and non-Celtic topics.
How I became a Celtic supporter is outlined in the My Back Pages/About Me page, if you're interested. The TL:DR version is this: Given my political leanings, Celtic's history was an inspiration and a natural club to offer my support.
The outlook for this season is fantastic, and I am looking forward to providing commentary on the season going forward.
Mon the hoops.
[59 degrees. Wildfire threat level today in rural Santa Cruz County: Moderate]