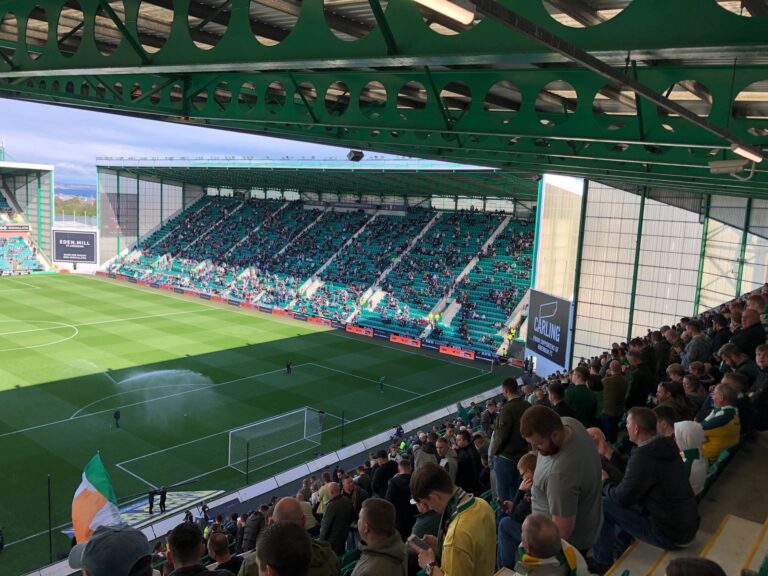 Normally, I would have five takeaways from Saturday's game at Easter Road. However, since it was a draw, we're going to knock out a couple and just end up with three today, on a lackluster performance — with a little help from abysmal officiating (which we will most definitely get to later) –against the other team in green and white, Hibernian.
[An excellent post-game review is always given by the Sandman at the Celtic Noise forum, which of course is the always cleaned up and appears on The Celtic Star here.]
1. So, about the offside rule . . .
OK, so there IS an offside rule, right? And as long as I have been following football — and this goes back to the '70s to the Fort Lauderdale Strikers of the North American Soccer League, and then off-and-on during various World Cups until I started following Celtic last year — the offside rule has been a mystery to me. To be honest, the rule seems almost arbitrary, like, oh I don't know, how it was applied (or actually NOT applied) on the Hibs' Christian Doidge, who bounced the ball off Kris Ajer and into the net for the home team's only goal. From my vantage point, thanks to Celtic TV (best $18 a month I have ever spent), the Hibs forward was offside, yet there was no call. Which, of course, was only one small part of a wide range of poor officiating at this game — we're still waiting for two penalties (at least) — and Kevin Clancy and both linesmen really need to turn in his referee card.
2. Pity goals aren't 20 feet high
Celtic took several shots which were . . . let's just say . . . just a bit high. No, let's correct that. They were astronomical. If this were American football and the ball goes over the crossbar between the posts, that would be 3 points each and Celtic would have won handily. However, it's not, so we still have a draw. However, a silver lining in this cloud — where you can find some of the Celtic shots, even now — is that the ball movement in the Hibs game was still on the mark. We just couldn't convert those passes into goals.
3. You've been tossed, but you really haven't . . .
Hibs gaffer Paul Nothingbottom — sorry, Paul Heckingbottom — got tossed from the game, but went up to the stands and stayed in touch with the sideline from the improved vantage point of the stadium. In most American sports, once you're tossed, you're stuck in the locker room or out at the local pub and nowhere near the stadium, unless you're crafty like former New York Mets baseball manager Bobby Valentine, who returned to the dugout wearing a disguise after being ejected. The idea, at least on these shores, is that removing the manager is a sort of punishment, however if the manager is still able to control things, it sort of defeats the purpose.
One more thing: A hat tip to Celtic TV's Paul Cuddihy, who squeezed in a variety of puns about the Proclaimers at the outset of the Celtic TV broadcast — good humour to wake up to when watching the Celtic game.
[59 degrees. Wildfire threat level today in rural Santa Cruz County: Low.]