So, I wake up on yet another game day and prepare: Check the schedule — away game against Motherhell — sorry, Motherwell — so I choose the away jersey, put on my special Celtic wear which guarantees victory for the Hoops and fire up the laptop and peruse the Internet in general and social media in particular.
And there it is, the Celtic scandal-du-jour from a sports press in Scotland that is truly as gullible as they are laughable: Steve Clarke moaning about Celtic not allowing its players to play a friendly with Turkey — sorry, Türkiye, to avoid confusion, especially in these parts, with the large bird we Americans are getting ready to roast up for our Thanksgiving meal later this month.
Let's parse this, um, scandal, shall we? Let's parse it in to bite-sized pieces so we can properly analyze it, because the Scottish press — particularly the Sun — is clearly incapable of doing so on their own.
You're welcome.
Quoting Steve Clarke: "I have to say I'm very disappointed in that decision."
And you have every right to be, Steve. But let's look at the big picture.

It's a friendly. For those of you in the back who may have trouble hearing, "IT'S A FRIENDLY!" It means nothing to anyone outside the Sky Sports ad department because — wait for it — the world's footballing attention will more than likely be on the start of the World Cup four days later.
So let's put this in perspective — and let's put this as rationally as possible — having a friendly (where Celtic has lost players in the past in meaningless games) literally hours before the start of the World Cup is just plain fucking stupid.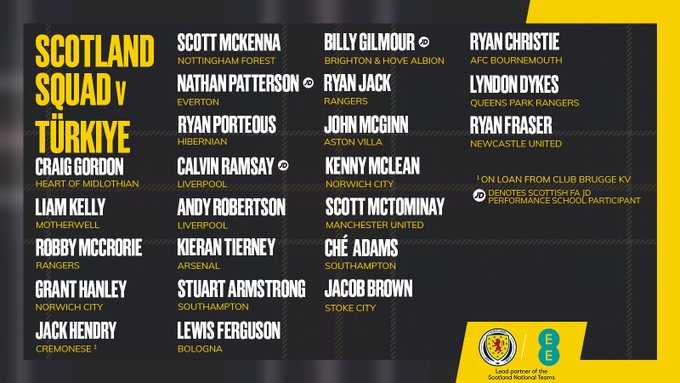 Also, and more importantly, Celtic has — as we like to say in the U.S. — bigger fish to fry. Namely the Sydney Super Cup tournament in Australia, which it's safe to say was formed around Celtic for the benefit of promoting European football Down Under.
Quoting Ange Postecoglou: "From our perspective, the Australian trip is an important part of our football club and we want to take our strongest possible team there."
And Ange is right.
So what's a football club to do? Follow FIFA's guidelines that clubs in countries that did not make the big dance in the desert coming up in a few weeks do not have to send players to a meaningless, thrown-together group of friendlies.
To be fair, though, Clarke seems to be OK with it. And looking at the lineup for the match above, it's a more-than-adequate squad to take on the footballing powerhouse known as . . . Türkiye.
But the media seems to be having a Thanksgiving-caliber feast on a story that's not really there. As usual.
One more thing
Stéphanie Frappart is probably a nice person, and probably a competent referee in France. But she called a completely awful game for both sides in the final Champions League match between Real Madrid and Celtic at the Santiago Bernabéu in Spain a week or two ago.
It was so bad an officiating performance that the SPFL will probably be calling her soon to officiate in the Scottish Premiership.
But I digress.
Yet despite having a bad game — and I'm glad to give her the benefit of the doubt here for having a bad match — those who took to social media to make misogynistic comments about her were way out of line.
Despite evidence on social media to the contrary, we are better than that. Or at the absolute bare minimum, Celtic fans should strive to be better than that. But then, without something minuscule to complain about, the "Moan the Hoops" Brigade would have no reason to exist.
Let's be clear: Frappart's lackluster performance in Madrid had nothing to do with her gender.
And Celtic fans should know better. In addition, Celtic fans — more than anyone — should know better than most due to this blindingly glaring and clearly obvious reason: The officiating makeup in the SPFL is completely male, and nearly every one of them — and here's giving them the benefit of the doubt — lack either the skills, the knowledge, or the integrity to call the game honestly.
And I finished this item with a half-hour to spare before focusing on the game at Fir Park. Mon the Hoops!