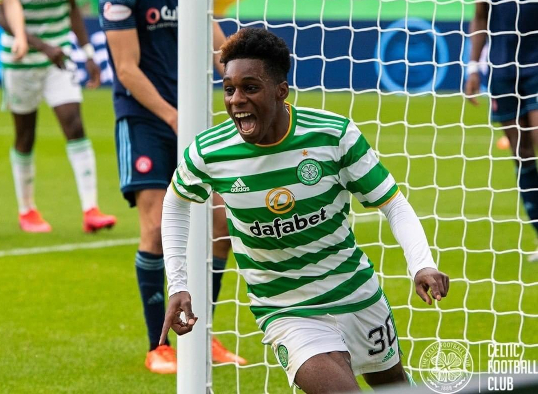 So now that the first game is finally under Celtic's proverbial belt, a convincing 5-1 against Hamilton Accies at home on Sunday, there are a few positive takeaways from the classroom on the pitch at Celtic Park.
Before we start, however, there are two glaring observations that need to be dispensed of at the outset.
First, if today's game is any indication, Celtic is playing like a team destined for the history that awaits them, namely winning 10 in a row.
Second, however, and probably more importantly, is Sunday's game shows Celtic fair warning: If the hammer throwers at Hamilton Academical are any indication, the other 11 teams will ply a trade of constant bodily harm in order to thwart the Hoops' date with destiny.
That said, let's take a look at Sunday's game. Take out your notebooks, boys and girls.
Odsonne Edouard is uninterested?
Yeah, that was the run-up, all-encompassing question prior to Opening Day: Was Odsonne Edouard, as they say in France, too indifférent, as even some were saying paresseux? Pardon my French, but one hat trick against the Accies later, and all that nonsense seems to have évaporé. Any preseason evidence suggesting that Edouard is not ready to get to work for the 10 was vanquished on Sunday, and let's look forward to more of this, s'il vous plaît.
The Passive Aggressive Hoops
In his post-game interview, Neil Lennon said that he thought, "we were a bit too passive in the first half." While that may be true, in typical Celtic fashion the club came out of the gate storming in the 2nd with their usual aggressive attacking football, which is something we had seen all season when the Hoops won their 9th in a row. Sure, it would be great for the Celts to get up to speed quicker and lay down a marker earlier in the game. But when the results are a win, who cares when they pull away from their opponents?
Greg Taylor: Man of the Match
Yeah, I know: Edouard gets the nod by virtue of three goals, but Greg Taylor had a phenomenal game on Sunday. Taylor and his counterpart on the other side, Jeremie Frimpong, kept the Accies busy all game with crosses to the center of the pitch, essentially keeping them back on their heels for a majority of the game. The ball handling by the entire team earned special mention, but the play from the wing — both of them — was unusually good this time around and shows promise for success going forward.
Scott Bain did well
Playing under the shadow of possibly — or maybe even probably — being replaced at some point soon is daunting; a dead-man-walking scenario to be sure. But Scott Bain did not falter and turned in a good game against Hamilton. Not perfect — the pinball for the Accies that went in off of Callum McGregor and Christopher Jullien was a quirk of nature that really no one could have stopped, not even Fraser Forster. But Bain showed some good distribution and make a few good stops and earned the win at his end of the pitch.
[As an aside, pity Ryan Fulton in goal for the Accies: Normally a 5-1 outing would earn a goalkeeper a good thrashing, if not a dawn appointment with a firing squad (no pun intended). But he made several great saves in a game that really should have been 9-1. At least.]
Polish Paddy on the score sheet
Patryk Klimala continues to impress, and now that he's got a shot at being the number two striker for Celtic, it would probably come as no surprise that the Polish kid will be working hard to claim that spot. His goal at the 90-minute mark in the game came as he outmuscled a defender after a long pass from Jullien. And even after not getting a really clean shot off, it still danced cleanly into the back of the net. At which time — quite possibly — somewhere at the Leigh Griffiths household, Leigh got onto his stationary bike for some additional training time . . . .
One more thing
Not directly Celtic-related, but there has been a debate brewing in the advent, and in the wake, of Arsenal's 2-1 win in the FA Cup on Saturday about whether it is OK to send our long-time defender and current Arsenal fan favourite Kieran Tierney well-wishes and congratulations. If nothing else, KT is living, breathing proof that the Celtic system, from the youth level to the first team, is sheer quality. When that is given the stage as massive as the FA Cup — regardless of whether you like or dislike the EPL (and I don't) — it puts the spotlight on our player development system being an unqualified success. So go on with your bad self, Kieran, and congratulations on bringing those championships borne of the Celtic tradition to wherever you might play.
All of that said, it was clearly a great win for the Bhoys on Sunday, and hopefully we can stay at the top of the table wire-to-wire going forward.
Class dismissed.