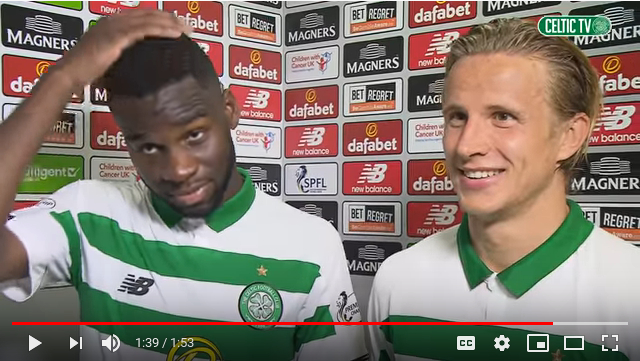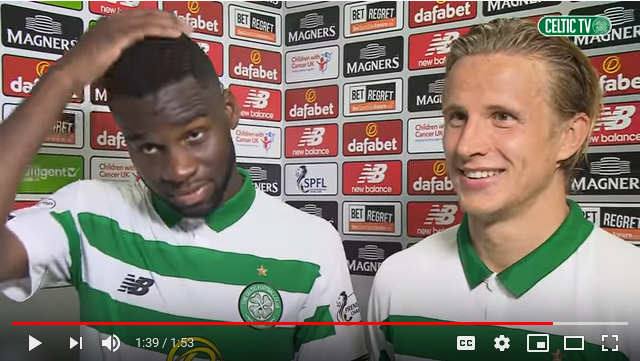 Celtic took to Paradise on a beautiful Sunday yesterday afternoon and, after an inauspicious start that saw (among other things) James Forrest display a unique talent for hitting goalposts during a barrage of shots by Celtic which were near misses in the first half, the Bhoys in Green came away with a 3-1 win over Kilmarnock.
A game report is here. A better analysis, given on The Celtic Noise by the celebrated Sandman is here (warning: strong language). You're welcome to go ahead and read them. I'll wait.
Odsonne Edouard, who everyone wants to be, had two of the goals, and Ryan Christie put in the third for Celtic. But the top highlight of the game for me was the pass from Moritz Bauer to Edouard for the 2nd goal. On that particular play, the ball movement — 14 passes starting from deep in the Celtic half to Moritz finding a running Edouard and feeding him perfectly before Eddy popped the ball past Branescu, keeping goal for Killie — was simply phenomenal.
That was Moritz's first assist of the day.
The second came when Eddy was giving Man of the Match honors, and Bauer translated a question to French for Eddy, translating back to the interviewer Eddy's response. This kind of talent on and off the field makes Bauer a great find for the club.
Nevertheless, it's on to the next game, a Betfred Cup match against Patrick Thistle on Wednesday. Oh, and a few more things of note . . .
Give the Scottish Sun a red card: Got to hand it to Scottish Sun Sports for lowering the journalistic discourse of Scottish news — I am told that is not really possible, but I digress — by this idiotic tweet regarding Fergus McCann's appearance at halftime at Paradise yesterday. Had someone actually checked the history books — or even took a quick look at Wikipedia — they would have known that Celtic had already won nine in a row once before, between 1965 and 1974. But that would require, oh I don't know, fact-checking, which I seem to recall is a staple of journalism everywhere. Except maybe at the Sun in Scotland.
Speaking of Patrick Thistle: According to our friends at The Celtic Star, former Ranger Ian McCall will be named as Partick Thistle manager today, which is unfortunate timing for him, as Patrick Thistle's next game is the Betfred Cup match on Wednesday against, well, us. Apparently, McCall opined recently on the air that both Alfredo Morelos and Jermain Defoe are better strikers than Odsonne Edouard. As I wait for the laughter to die down, I'd like to remind Mr. McCall that this kind of talk usually ends up on the bulletin board of the opposing team and serves only as inspiration for Celtic to run up the score, as I hope they will, on Wednesday.
Lost in translation: Meanwhile in Hamburg, FC St. Pauli "praised" their Japanese winger Ryo Miyachi on social media with the line, "Ryo, Du Rakete!" Which, as you might assume, translates into English as "Ryo, you rocket!" The reason that the club is praising Miyachi is that this Boy in Brown has been deemed the fastest player in Bundesliga 2, which is no small feat. However, as I understand it, being called a rocket in Glasgow is not the most flattering of terms. But as the car ads say, your mileage may vary.
Busy day in the blogging week this week, another one tomorrow and a game on Wednesday, followed by a scheduled Thursday post. And the beat goes on. Hail Hail everyone.
[68 degrees. Wildfire threat level today in rural Santa Cruz County: Low.]