Bruce Banner pretty much nailed it above when describing the game between Celtic and Livingston on Sunday. There were not a lot of positives for the Bhoys in Green to take away from the game. In fact, there were absolutely none, as far as I can tell.
Actually, you can let Sandman give you the rundown on The Celtic Star.
And sadly, in a game like this, you get your standard issue tsunami of opinions from keyboard managers and armchair coaches, who are ready to dump players and gaffers at a whim as if they were behind the screen of their PlayStations or XBox consoles.
Not engaging with them is the best course.
If you think this first loss of the season is Neil Lennon's fault and he should be fired, or if you think we should be selling/trading/dropping anyone from the team — like Scott Brown, Callum McGregor or Ryan Christie — you need to sit the fuck down and shut the fuck up.
Sadly, in the cesspool of Twitter, and in other forums, all of the aforementioned has been suggested, as if the season would somehow be over after a loss in October. It truly saddens me that Celtic has so called "fans" in its fanbase who are truly this moronic, and the voices of reason by the true Celtic faithful are shouted down by the panicked few.
Livingston will dine on this for months, and it will possibly be all they will talk about all season. It's pretty much all they have, as they continue to strive to remain in the middle of the Premiership table and not fall into relegation.
Good for them, and I hope they enjoyed the game on Sunday.
But Celtic is better than this.
We have the trophies and the trebles to prove it.
We don't play for only 86 minutes, and the table isn't final in October.
And, of course, at the end of the season we will prevail.
Muhammad Ali was right: "Ain't nothing wrong with going down. It's staying down that's wrong."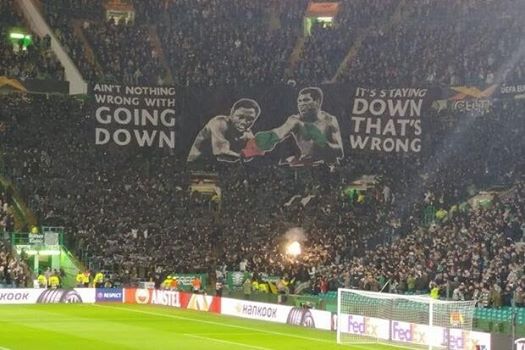 [79 degrees. Wildfire threat level today in rural Santa Cruz County: Moderate.]