The Celtic Star posted an article on Tuesday regarding some undue criticism that Celtic forward Kyogo Furuhashi received from a typical source — Clyde 1 pundit-for-some-unexplained-reason and significantly-below-average former footballer Alex Rae.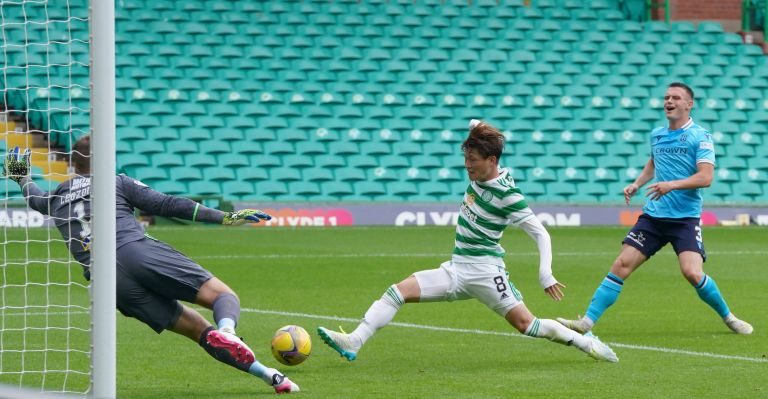 It piqued my curiosity to compare the two, putting side-by-side Celtic's talented striker recently acquired from Vissel Kobe with the oft-whining "football mastermind" so often sought out, for some unexplained reason, for his "analytic wisdom."
After a quick visit to the modern technological miracle known as tranfermrkt.com, the results are interesting.
Rae, a midfielder of clearly anonymous and forgettable talent, scored a grand total of 30 goals in a career spanning 18,218 minutes. This translates into roughly one goal every 607 minutes, or one every seven games. The breakdown, for those of you keeping score at home, is 19 for Wolverhampton, eight for Sunderland, three for Dundee FC, and a grand total of zero for old Rangers FC, a club which was liquidated in 2012.
Furuhashi, a striker of considerably more talent in a toenail clipping than Rae has in his entire DNA, has scored 76 goals in 15,906 minutes, in a career that is ongoing. Calculator, please . . . that's a career total, so far, of roughly one goal every 209 minutes; 10 of those — one-third of Rae's total career output — in games this season alone for the Hoops.
So, Furuhashi scores at a rate of approximately three times that of Rae. Is he three times the player that Rae was? No, because three times zero is still zero. But still, Furuhashi contributes much more to the game, on the whole, than Rae ever did as a player. The only contribution Rae clearly makes to football these days is putting the "anal" in analysis.
And yeah, I get it. Rae's not a striker and would have scored less. But contributing so much less, statistically speaking? That's a serious gap. You can go ahead and dig deeper into the numbers for Rae and the numbers for Furuhashi for a more detailed analysis, if you're so inclined. But rest assured they don't get any better for the pundit.
Yet the fact remains: When your career highlight is kicking the head of a downed opponent, as Rae did in 2004 in his European debut against CSKA Moscow, and when your stats suggest you might be better suited to another line of work — in Rae's case, a gargoyle on a tall Glasgow building — you may want sit this one out and talk about something else.
In any case, Europa League action (ugh) continues on Thursday as the Bhoys in Green travel to that hotbed of racism, namely Hungary, to play Ferencvárosi TC away. Mon the Hoops!