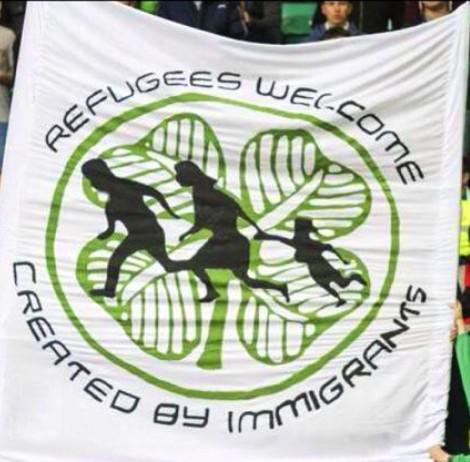 While we wait for football to start again for Celtic — and the clock is ticking toward 3 p.m. Saturday in Glasgow when the Bhoys take on Livingston, and hopefully get some revenge — it might be a good idea to take a look during the break at some of the positive aspects football brings to the wider world.
The Celtic Star published an article last week about United Glasgow FC, a club founded in 2011 on the same principles as Celtic 132 years ago. While the landscape around immigration has changed between the formation of Celtic and the founding of UGFC, Celtic supporters and the Green Brigade have not forgotten the club's roots during a recent appeal a few weeks ago which secured £15,466, according to The Celtic Star article, for two refugee-related charities: The Baobab Experience in Rome and Scottish Action for Refugees.
Creating opportunities, tackling exclusion
United Glasgow FC takes pride in creating opportunities while tackling exclusion, according to its website. In eight years, the club has grown to three competitive teams, and four community drop-in sessions each week, that help support more than 200 players, regardless of religions, ethnicities, socio-economic positions, sexual orientations, and immigration statuses. The video below explains the purposes and direction of the club.
"The message being portrayed has clearly resonated as they are growing in popularity," according to The Celtic Star article. "They have a website and nearly 9000 people follow them on Social media platforms such as Facebook, Twitter and Instagram they even have their own T-Shirts and other merchandise to help raise funds. Fundraising functions have already attracted hundreds of supporters.
"As such United Glasgow very much rely on volunteers and players from Glasgow and across the rest of the country and of course money is always a problem."
As it is everywhere, of course, though if you are inclined to donate to this all-volunteer organization, you can do so here.
On a somewhat related note, FC St. Pauli has produced a video about their efforts in Italy around the same issue. Entitled "Kick the Borders," it outlines efforts to assist immigrants in Sicily. Primarily in German and Italian, you really don't need to be fluent in either language to see the impact that football has made on the lives of people coming to a new land.
Now, Bhoys in Green, let's grab a victory on Saturday at Paradise (and, of course, the Boys in Brown on Friday have FC Erzgebirge away, and FC St. Pauli can use a win as well).