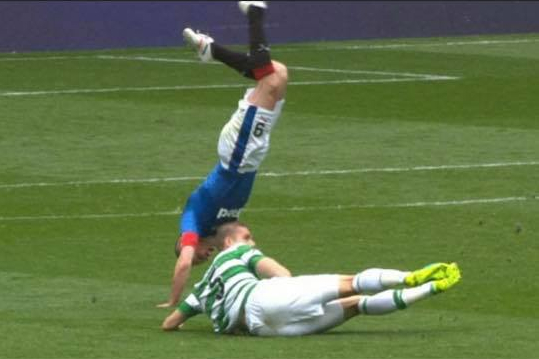 The memory is ingrained deep in the psyche of all Celtic fans — the moment you saw Jozo Simunovic head the ball into the net against Kilmarnock last April in a game honoring another Number 5, Billy McNeill.
You may have been at Paradise, or maybe you were watching at home. Maybe you were in a pub with like-minded Celtic supporters.
Or if you were at Fiddler's Green in Millbrae, California, as I was, watching with the San Francisco CSC, you might have done what we did: Cheer wildly for the goal, and when the gravity of fate made us realize that Number 5 had scored 67 minutes in, a hush of awe washed over the room.
Shortly afterward, I put the picture of Jozo pointing to the heavens after scoring that goal as the photo on my cell phone. It stays there to this day to remind me about how, on that day, the forces of nature sent a clear and unequivocal sign to Celtic and said, "There's nothing stopping you now."
Those who know me in Celtic circles know that I am a full-throated defender of Jozo Simunovic in the face of some of the naysayers within our support. Yeah, he may have knees of glass and, yeah, he may have been in injury recovery a little longer than might be convenient. But when he does make his way onto the pitch, Jozo is a machine.
Not only does he patrol the backfield with aplomb, he has also been known to wander forward and at a few opportune times — like in the game against Hearts back in February — his forehead happened to be in the right place at the right time to head Ryan Christie's corner into the net to make the score 5-0. Or when Jozo took some initiative and drove forward to take a Greg Taylor cross in the game against Kilmarnock in March, only to be carried by momentum over the goal line but not before heading the ball back to Odsonne Edouard, who scored.

Jozo has earned a spot in Celtic lore not only for his goal in the Billy McNeill game or for launching Kenny Miller in a textbook tackle that should be taught in football academies worldwide, but also for his firm and steady defensive play for the Hoops. It is unfortunate that, due to injury, he could not reach his full potential for the club, but by the same token his play while in good health was of the highest quality.
They say things like this come in threes, so after Jonny Hayes and Jozo Simunovic, who might be next? Some are speculating that it might be Kris Ajer, who has been rumored to be on his way out for some time. My sincere hope is that this is wrong, but it remains to be seen.
Nevertheless, thank you, Jozo, for all those moments with the Hoops, and you are always one of us.

[Blogger's note: A few weeks ago, I went "off script" and wrote a blog item about Nairn County FC in the Highland Football League after their statement assured that their team and staff would be paid, and club resources would be used to help the community through the Covid-19 crisis. Lo and behold, after exchanging emails with the club's Donald Graham, I am now in possession of a maize (not yellow) and black NCFC scarf. Thanks, Donald, and mon the Wee County!]