First things first: With the transfer window closing soon — closing by the time I finish this post — it goes without saying that Celtic has had a more transfer activity then they have had in recent windows. And that is a good sign, despite those packing up and leaving take with them not only their talents, but a piece of our hearts.
It has come to this. So long, Ryan Christie. Au revoir, Odsonne Edouard. Don't let the door hit you where the good Lord split you, Leigh Griffiths.
Their replacements have moderately large shoes to fill, and we'll see how that pans out as the season progresses. From all indications so far, it looks like the Celtic hierarchy is making the right moves in filling the positions, despite the "it's-not-enough" mantra so prevalent in social media this evening.
It's not enough, they say. As if, to the PlayStation Pundits and Armchair Gaffers, it ever is.
Nevertheless, to those who have made their mark on the Celtic time line, it is time to bid adieu.
So long, Ryan Christie
The "what-have-you-done-for-me-lately" caucus of the Celtic support all last season used Ryan Christie as one of their whipping bhoys last season for what they thought was substandard play. I never bought into that. Sure there were a few too many shots that left the stadium, but the kid brought heart and soul into every game he played in the Hoops, whether it was the game winner in the 2018 Betfred Cup to getting his face smashed and almost losing an eye for the club against Aberdeen.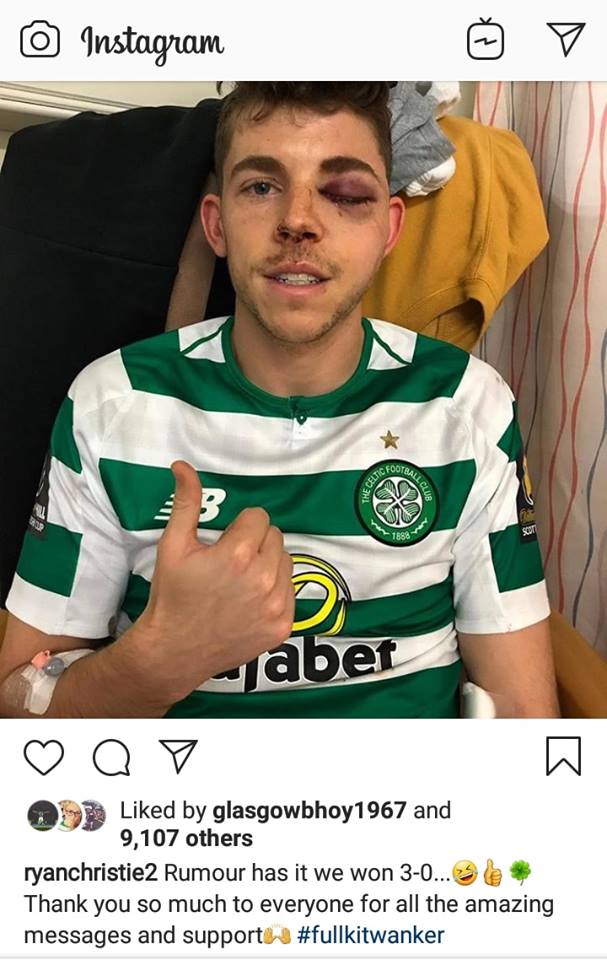 Not only this, what could have been just a showcase of his talent for Bournemouth, Christie showed a renewed sense of purpose and ratcheted up his game a few notches — was it a preview of things to come for players who want to play for a manager like Ange Postecoglou rather than going through the motions as some did last season? — and he seemed early on to be the Ryan Christie we all knew and loved in his usual nonstop mode.
Three assists in the Dundee game a few weeks ago speaks volumes to his contributions in the Hoops. As does the hat trick against St. Johnstone a couple of years ago in a 7-0 win.
I choose not to remember the errant shots — those happen and should be quickly forgotten — but I do choose to remember these contributions, and others, that Christie made to the Hoops. And while Bournemouth is clearly a step down for Christie, if that's where he wants to be, then go with all the best of luck, Ryan. You'll never walk alone.
Au revoir, Odsonne Edouard
Even now, while I write this, I wanna be Edouard. Forget about all the naysayers who need so desperately to get a grip — Odsonne Edouard was an integral and irremovable part of Celtic's winning a quadruple treble, whether or not you think he was just mailing it in lately (and I don't).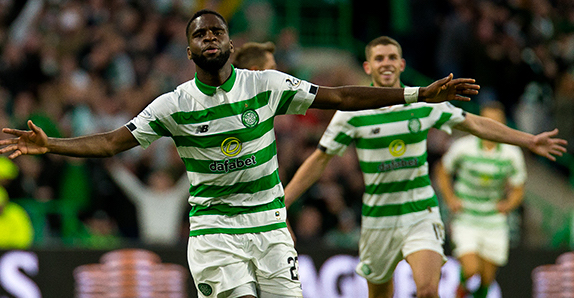 Personally, this departure hurts the most. Yeah, I know he was going to leave sometime, but does it have to be now, when things are starting to get good? If that's the case, Edouard leaves for Crystal Palace after having a hand in Celtic's historic recent success, and even being a bright spot in Celtic's not-so-successful season last year: Even under the shroud of unwarranted criticism that he wasn't trying, Edouard led the SPFL in goals last season.
As an aside, once again, to those of you wondering why there is such an outpouring of gratitude toward Edouard when all you myopically see is someone who didn't try last season, let me make this simple for you: No Edouard, no Quadruple Treble. It really is that simple.
So many Edouard memories stand out: Taking the pass from a Mikael Lustig header to score against Heart of Midlothian to win the Treble Treble (as well as the literal last-second goal against Hearts to cause Craig Levein to rethink his life's purpose), all Edouard's goals against Glasgow's other club, and all those times he threaded his way through multiple players — once six Staggies during a Ross County match — to put the ball away.
The non-football aspects of Edouard's persona made him likeable as well. A big but friendly guy who was quick with a smile. Interviews in English were always a hurdle for him, as outlined in the oft-quoted, "I don't book," in response to a question about reading. And then there was the Man of the Match interview in one game where the multi-lingual Moritz Bauer gave him an assist.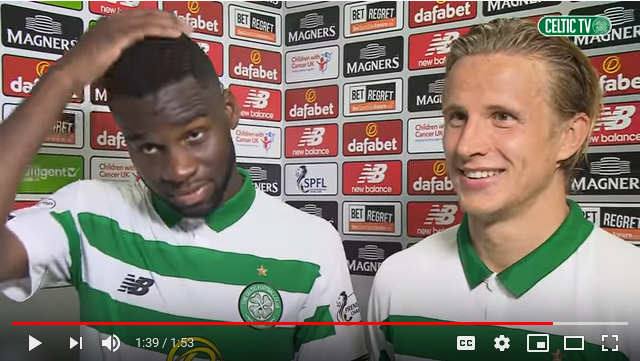 Edouard is clearly way above caliber for a club like Crystal Palace, and no doubt the end of his career will not take place there. My guess that he will end up somewhere on the continent, maybe someday back at Paris Saint-Germain, but wherever he goes, he will always be Forever Celtic. Bonne chance, Eddy, et tu ne marcheras jamais seul.
See you later, Leigh Griffiths
A tragedy wrapped in an odyssey: How many chances were we going to give Leigh Griffiths to get it right and straighten out his life? We'll never know the final number because we've shipped the troubled striker off to Dundee FC on a season-long loan, where maybe — just maybe — manager James McPake can set him right.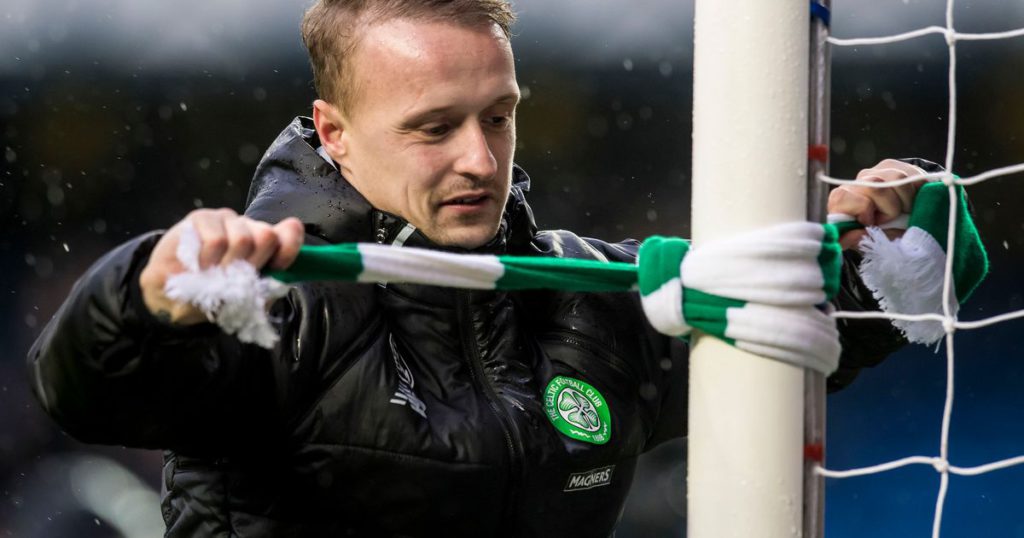 It seems that McPake and Griffiths have a long history, and maybe this connection could be the solution to the tsunami of off-field self-inflicted problems that Griffiths has endured over the past several years.
Still, when someone scores 123 goals for the Hoops during the course of his career, as Griffiths has done, as well as being a constant thorn in the side of your most bitter rival, you still have to recognize those as feats worthy of recognition.
So even if Griffiths never wears the Hoops again, if he were to get his career back on track with Dundee, it would be a remarkable feat. Good luck, Super Leigh, and thanks for the memories. We'll see you later when The Dark Blues come to town.
One more thing
Speaking of ex-Celts, I don't know if many of you have seen how well Mohamed Elyounoussi has done for Southampton right out of the starting gate this season. On the bench for the first game against Manchester United, he started the next game last week against Newport City, where he scored a hat trick on the way to Southampton's drubbing of the Steelmen, 8-0.
Makes you wonder whether Moi would have flourished under Ange Postecoglou. I think he would have.
It's the international break, and we don't get back to work in the SPFL until a week from Saturday against Ross County. In the meantime, Mon the Scots and Mon the Hoops!