Now, that's more like it. Here's a Celtic score line that speaks volumes: Odsonne Edouard 4′ (penalty), Albian Ajeti 20′, Shane Duffy 59′, Kris Ajer 64′, Patryk Klimala 75′, Vasilis Barkas clean sheet. All three strikers scoring is always a good look and speaks well of playing a 3-5-2. So now it appears that Celtic is firing on all cylinders as we get back on track in the Premiership.
There are several good takeaways from this game, of course, as there would be with any 5-0 victory.
Barkas is the real deal
The jury has been out on Vasilis Barkas for a few games now, having to fill the shoes . . . er, gloves . . . of Fraser Forster, "The Wall," in goal. But with each game he plays, he makes his case well. Today against Ross County we have a decision: Barkas is the real deal and an adequate replacement for Forster. Barkas owned the goal for 90+ minutes today, turning away each Ross County shot — and there were a few good ones — admirably. With a couple of exceptions — mostly miscommunications between Barkas and defenders which turned out to be awkward moments instead of full-blown disasters — Barkas had a picture-perfect game.
Not to look the proverbial gift horse in the mouth, of course, but I've noticed something over the last few weeks which provokes a question: Would it kill Barkas to actually clear the ball out of the Celtic end instead of passing it to one of the backs? He did it only once against Ross County.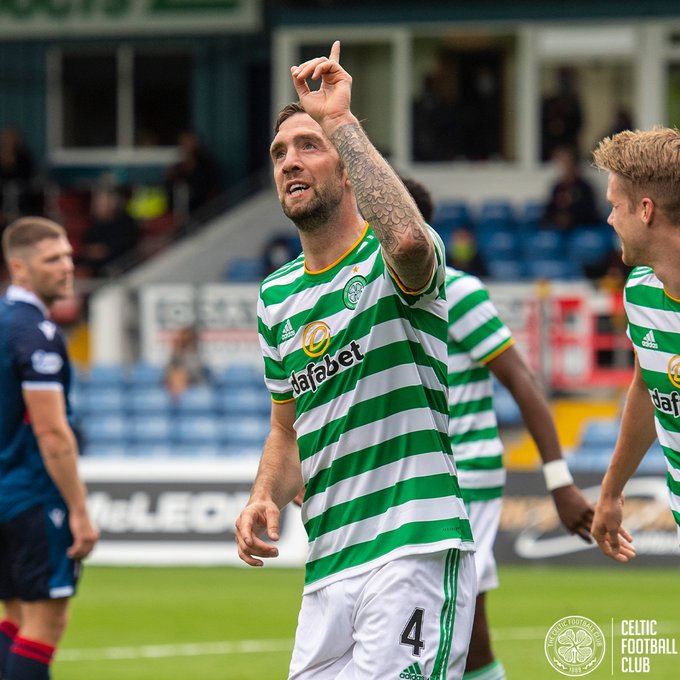 Shane Duffy is awesome
It took all of 59 minutes for Shane Duffy to "open his account," as it were, with the Hoops, with a smashing header from a corner. The previous 58 minutes, however, had the Irish captain keeping the door closed on the Ross County attack with intimidating form. He's definitely an impact player and a welcome addition to a club which, to be honest, has been a little shy at times in mixing it up physically with opposing teams. If we are done with the transfer window — which has been mentioned — we are in good shape going forward, and Duffy appears to arguably be the best acquisition in this window, and Celtic fans will be hungry to see more from the big man from Free Derry.
Spreading the love
Happiness is when all three of your strikers score, and that's what happened at Victoria Park. True, Edouard's goal was on a penalty, but still. Ajeti continues his Scott Sinclair-like start for the Hoops — and hopefully he can keep up the pace — by scoring once again, and while Klimala muffed an early sure-fire goal, he picked up one later in the game. But that's only three — two other goals came from the backfield: Duffy on a set piece and Ajer straying forward, as he has a tendency to do, capitalized. Having goals coming from a variety of players is always welcome, and the ball movement — especially from Jeremie Frimpong on the right — was an exclamation point on the effort. We need more of this energy going forward.
One more thing
Well, two actually, but we'll put them together here. First, you would think that a 5-0 game would be pretty one-sided, but give Ross County its due. The game was a lot closer than the score would have you believe, and the Staggies had many opportunities to score after having the proverbial winds taken out of their sails after the first penalty. The game was not as one-sided as the score line would indicate, and it's the kind of performance that should serve as a warning to other clubs. But ultimately credit the Celts for their systematic and clinical play, especially in the second half, to keep the Bhoys buoyed for 90 minutes and credited with a victory.
On to St. Mirren on Wednesday. Mon the Hoops!