Unless any of us were involved in the process, no one really knows the backroom negotiations which prevented Fraser Forster from rejoining Celtic. But if the player had the will to return, he would have made it work. Apparently he didn't, and now instead of competing for a starting position with Southampton, he's riding the pine — as we say here in baseball parlance — if not out-and-out another loanee to a club with, let's just say, less historical significance than the Hoops.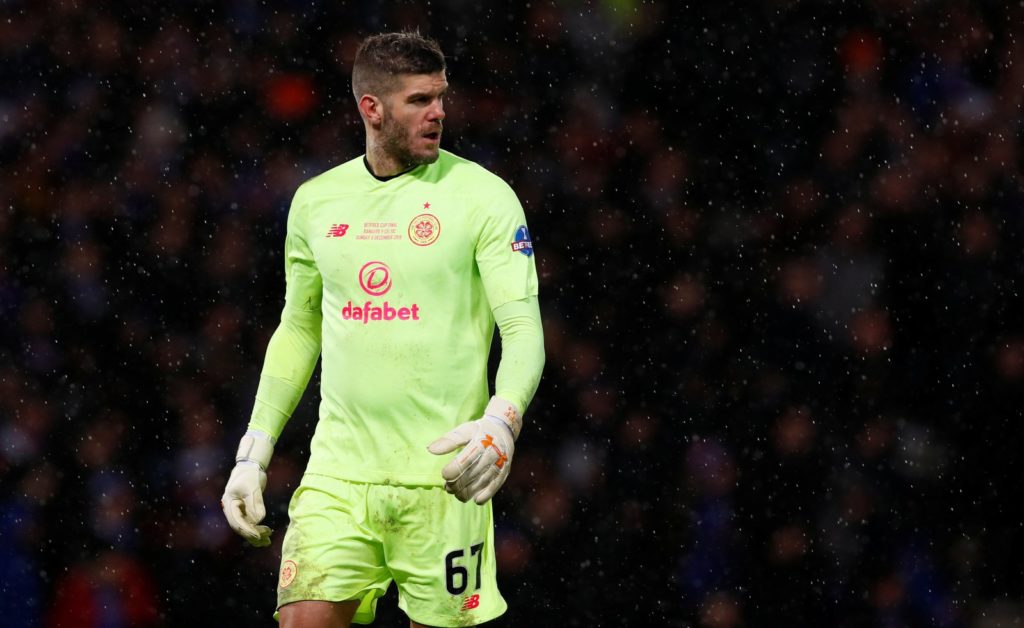 Clearly in Celtic, Fraser Forster had a worldwide fan base which adored him for his fantastic play between the posts last season. No one could have matched his play all season — the saves against Lazio, blocking the penalty against Rangers, or any other of a plethora of awe-inspiring play by The Wall. He endeared himself to Celtic followers everywhere, and most players would have jumped at the chance to continue, especially now that Celtic is on the cusp of history.
Which is why it such a sticking point for many of us. I thought for sure he'd be back, and the delay was just a matter of crossing T's and dotting I's in the paperwork.
After all, in public, he said he wanted to stay. We wanted him to stay. I am not a professional athlete, so I don't know how exactly this works. However, I am a human being with free will, and I would gather that so is Fraser Forster. As such, I don't know how hard it would have been for the big man to realize he is a hero to fans who would crawl over miles of broken glass to watch him play — and tell his agent, "I want to play for Celtic. Make the deal."
But that didn't happen. Ultimately, he chose Southampton.
This week, according to Southampton gaffer Ralph Hasenhuttl, the Saints are going with Alex McCarthy in goal as their number one, and either Forster or Angus Gunn will be loaned out this season. Whomever stays will be number 2, and I'd be willing to bet it's Forster.
This decision is nothing short of tragic, both for Celtic fans and, more importantly, Forster himself. He surrendered the chance to become a part of Celtic history; he would have been spoken about years, and decades, from now with the same awe and reverence as other historic Bhoys in the Celtic pantheon as the keeper who brought us both the 9 and the 10.
So now, in Celtic circles, he'll merely be remembered as, "Fraser Forster — yeah, he played great for us that season where we got 9 in a row. Then he went back to Southampton for the money."
Forster traded a sure-fire legacy so he could be loaned to some backwater like Ipswich or Reading or Wrexham or wherever. Oh, he'll play fantastically, because he's good, but as good as it might be, it won't be historic.
In the grand scheme of things, his next loan spell probably won't even be remembered. But you can still deposit the checks, Fraser.
And that's the greatest tragedy of all — football, in its essence, should be more than just a job for those blessed with the talent and skill to play professionally. And Celtic will get by, and even thrive, with Vasilis Barkas, Scott Bain, and Conor Hazard.
Let me be clear: My sincerest hope is that Fraser Forster is successful wherever he ends up this season. However, to say I am heartbroken — along with thousants of Celtic fans — that he chose poorly is a massive understatement.
But life goes on. We have Ross County on Saturday. Mon the Hoops!