For the benefit of those of you — and I'm guessing it's a pretty high number — who are hung over right now after celebrating in the afterglow of Celtic's Quadruple Treble victory at Hampden yesterday, I'm going to write very softly as not to disturb you. You're welcome.
But as we head to Wednesday's game, there are a few more observations that should be made regarding Sunday's victory. Like . . .
How historic was it?
Matt Corr, my colleague at The Celtic Star and a Celtic historian without peer, outlined the gravity of yesterday's accomplishment with a Twitter post (which I misread, and was quickly "corrected" — mea culpa!), stating that the last time a club had won three Scottish Cups in a row was . . . 1876, when Queens Park did it for the third time that year.
Celtic broke that record yesterday, nearly a century and a half later.
This, of course, adds to the gravity of the herculean accomplishment of four trebles in a row, and adds even more to the awe-inspiring feat that Celtic achieved yesterday.
Not only did Matt give it the notice it deserved, but you can bet that William Hill also got into the act on Twitter, posting a tweet that showed the domestic trophies won this century by clubs . . . and by Scott Brown at Celtic.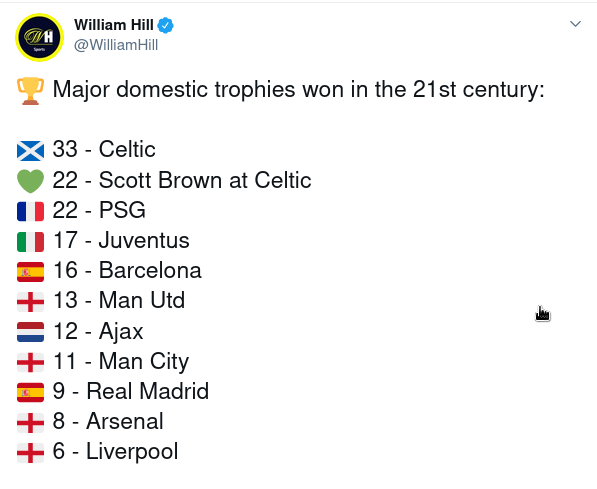 To be fair, Scott Brown is missing one from his time at Hibernian, but that's a minor detail.
Gathering up the tears
Schadenfreude is probably not a good thing to have on an occasion like this, but when it comes to both Heart of Midlothian, as well as Glasgow's other club, it's hard — no, it's impossible — to resist.
First, like Glasgow's other club, Heart of Midlothian FC has always been a classless organization which deserves every tumble of its recent downfall. Its captain, Steven Naismith, is a hammerthrowing thug who will only be known within the confines of Scotland and will be forgotten once he retires, unless of course he end up on SkySports post-career as one of Martin O'Neill's aptly described "basement dwellers."
That said, it was nothing short of hilarious to see the greeting from both about what a meanie Scott Brown was during the game, ignoring the fact that Naismith stomped on him early in the match, or that Naismith was carded during a corner-kick tussle with Brown; both actions career hallmarks of that legend in his own mind.
Then there's Neil McCann's moaning about Odsonne Edouard's penalty kick that he looped over a diving Craig Gordon being disrespectful. Seriously? If you want to talk about disrespect, Neil, how about starting with players — like, oh I don't know, you? — taking EBT money at the expense of Scottish taxpayers. How's that for disrespectful?
And for the love of God, can someone help this poor Rangers fan who seems to have lost the plot?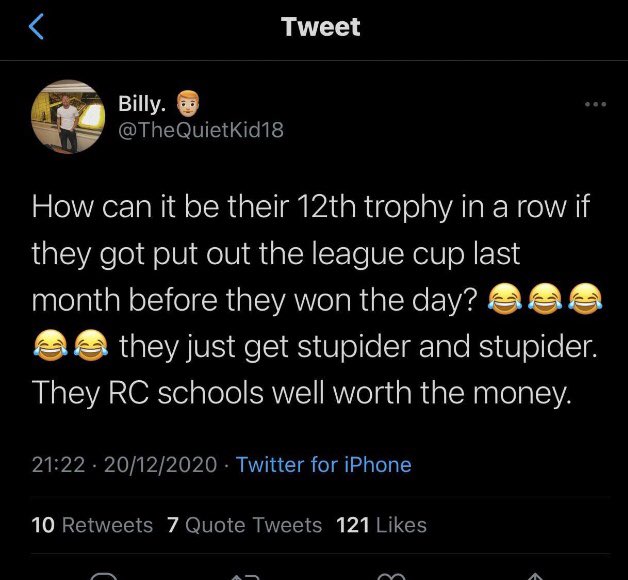 The stupid, it burns.
Onward and upward
Once the celebrating stops and the hangovers subside, Celtic are still faced with a phenomenal task of reeling in first place in the Premiership. Without the benefit of a winter break — which traditionally filled the tanks for the second half — it appears that the club will have to bear down and move forward without it. Naturally we are up to the task and, with the right mix of acquisitions in the transfer window and the calling up of qualified players from the reserves, we should be able to achieve this goal.
On to Wednesday's match against Ross County. Mon the Hoops, and in case I forget, have a Merry Krismas and a Hoopy New Year!