Needless to say that I realize there are far more important things going on in the world right now. But when Jota isn't happy, I'm not happy.
In the press after the FC Shakhtar Donetsk match in Poland yesterday in which Celtic drew 1-1, Jota said something to the effect that Celtic players always aim for a win.
He's right. He gets it.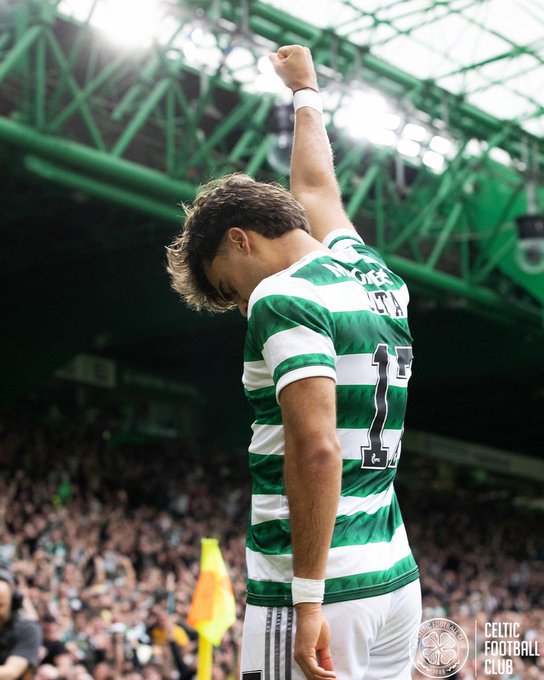 Also, as an aside, I think a large part of Shakhtar's success came as a result of neutralizing Jota for much of the game, but that's for the experts to debate.
Yet despite a temporary setback where a flurry of shots missed their mark in a game where Celtic clearly outplayed Shakhtar only to come away with a draw, we clearly are putting down a marker in Group F in the UEFA Champions League.
Group F, incidentally, is the home of 15 European Cup/Champions League winners: Of course, 14 of those are Real Madrid and one of those is us.
Ange Postecoglou nailed it, too, when he said that Celtic is on the way to achieving European success. He told the Sun that Celtic was "excellent" on Wednesday, and they were. "Obviously the result was not reflective of that but I thought in the whole game the players gave everything and that's all I can ask for," he said.
I would completely agree. Needless to say, the Moan the Hoops Brigade was out in force on Wednesday, failing as always to bring a rational and realistic discourse to social media. Of course, whether having a rational discourse on social media is even possible might be another debate for another time. But I digress.
What the naysayers fail to realize is that Wednesday's match — like last week's match against last year's Champions League, um, champions Real Madrid — is not the same as Celtic taking on Kilmarnock on a given Saturday at Rugby Park. It's not even in the same universe. Celtic is playing the best of Europe, which also means they're playing the best in the world.
And they're holding their own, playing a high quality football — pure, beautiful, inventive football — that belongs with the best Europe has to offer.
So as anyone who regularly reads this blog knows, I'm not a fan of Celtic having to play in Europe. Sure, the checks are great and, as consistent top-of-the-table finishers in Scotland, we have an obligation to represent in international competition. But at least now Celtic stands on a level of being competitive, and that makes watching it, while worrying about how injuries may affect the SPFL season, a little more bearable.
You read it here first: At the level Celtic has taken on the Champions League opponents, there is no reason they can't advance. Those goal opportunities that Celtic missed on Wednesday? They will come back and we won't miss next time.
One more thing
Two, actually: With all the hubbub around the passing of the Queen of England and the lack of football around the UK as a result (but cricket, rugby and horse racing goes on — go figure), I had to put aside a post I started about the ball handling and passing genius of Reo Hatate, and I still plan on finishing it and posting it. The kid's outstanding, and like his fellow countrymen Kyogo Furuhashi and Daizen Maeda, each brings a special quality to the club: Daizen with his speed and endurance, and Kyogo with his remarkable insight to be at the right place at the right time around an opponent's goal.
Needless to say, Celtic fell out of the lucky tree and hit every branch on the way down in getting Ange, who brought this trio to the club.
Also, as many of you already know, Tom Rogic signed with West Bromich Albion. Sure, the jersey looks as out-of-place on him as the Aberdeen red did on Scott Brown, but it's safe to say that WBA just made the steal of the century in picking up the Wizard of Oz. Good luck, Tom!
Meanwhile, we have St. Mirren away on Sunday at the crack of 4:30 a.m., California time. Mon the Hoops!