With their 1961 hit single, the Shirelles got it right about Celtic's foray to Rugby Park on Sunday. And while the wailing and gnashing of teeth continues regarding the 1-1 draw with Kilmarnock, believe it or not there are some positive takeaways from Sunday's game.
First things first: Sadly, a considerable segment of the so-called Celtic support has been taking the post-game time on Sunday to post absolute full-panic-mode nonsense; sheer idiocy rivaling what followers of Glasgow's other club tend to produce. Yes, Christopher Jullien let the team down by his foul, leading to Killie's only real chance to successfully score, but who in their right mind would seek a replacement? Yes, probably we should have played a 3-5-2, with Odsonne Edouard and Patryk Klimala (for the absent Leigh Griffiths) up front all game, but firing Neil Lennon for not doing so? Seriously?
For those who are ready to pitch it all because you imagine that your hair is on fire because Celtic needs to buy every player on the planet and fire Lenny in the process, Eddy would like to have a word with you . . .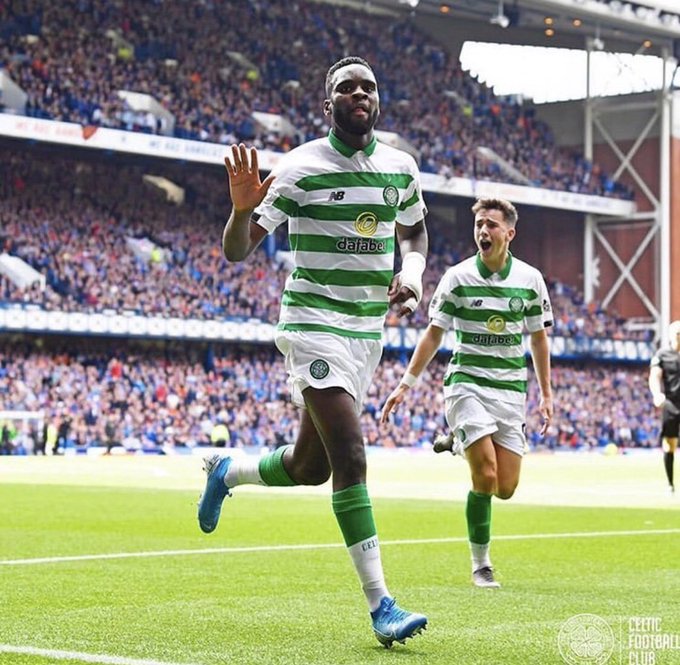 Now for a couple of positive takeaways — yes, there were a couple– from Sunday's game.
Vasilis Barkas had a good debut
The Athenian Fenian started his first game between the sticks for the Hoops and, aside from Jullien's gaffe leading to a penalty kick, Barkas played a fairly flawless game. The penalty kick aside, he stopped everything that came his way, and his ball distribution was pretty admirable, though I think he could have launched a few more long balls than he did. But that kind of thing comes with time and if Sunday's game is any indication, it looks like he's going to be a solid mainstay in goal.
Hard to play against a 10-0-0 alignment
As previously mentioned, the 3-5-2 which brought us to 9 in a row should probably not be deviated from. It's hard to ascertain — and it's not for me to question — if Lenny went with one striker up front because Griff is in the doghouse (again) or he felt our second striker option, Klimala, was not ready, then that's the call. It's water under the bridge now. However, Kilmarnock seemed to have come onto the pitch with a 10-0-0 alignment, with 10 defenders, no midfielders and no forwards, which makes things a little difficult for the freewheeling Hoops.
Regardless, both Greg Taylor and Jeremie Frimpong — the former moreso than the latter — got the ball in on several occasions only to have the effort fail in a sea of blue jerseys. To his credit, Ryan Christie nailed an absolute stunner of a free kick which rattled the back of the net and Callum McGregor just missed a shot which went inches over the bar in a game that lacked clear chances to score.
Jock is right about refs, but . . .
We all know Jock Stein's quote by heart: "If you're good enough, the referee doesn't matter." However, the right call on a ball out of bounds over the right touch line immediately prior to Jullien's penalty should have been a throw-in to Celtic. I've watched it a few times — thanks, Celtic TV — and the ball was completely over the line and out. Of course, one out-of-bounds ball does not win or lose games — just as one penalty kick does not win or lose games in and of themselves — but, in this case, a correct call by an attentive lineman would have changed the complexion of the game.
Where's Uncle Albert?
One of the things I missed about this year's visit to Rugby Park is the lack of Kilmarnock fans, especially Uncle Albert — the bearded chap who was the recipient of the Leigh Griffith Tape Hurling Award during a game last season. In fact, I don't know if he is the same fellow, but I recall last season when Celtic TV, whose play-by-play man and match analyst have to sit painfully close — such is the case at Rugby Park — to the fans, and the broadcasters had to keep apologizing for a garbage-mouthed oaf whose profanities were picked up by the Celtic TV microphones.
Maybe he was at home saying "aye" to a Kilmarnock Pie. Who knows?
Next up is St. Mirren on Wednesday, kickoff at the glorious hour of 6 p.m. in Scotland and 10 a.m. North American Pacific Coast time.
Here we go again . . .