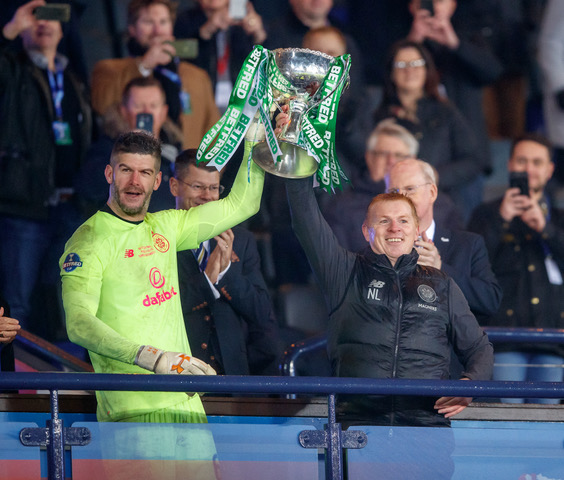 There I was, laying in bed on Sunday morning looking up at the red 3:45 on the alarm clock. The internal alarm clock always says, "Get up, it's game day" at this time, despite the fact that 5,000 miles away, the game is starting in another four hours.
I turn, lie awake and then try closing my eyes, begging my system for a few extra hours of sleep. No such luck, it's game day.
So, I'm up. Today's game is like no other this season — the Scottish League Cup, which now as a first name, Betfred, thanks to sponsorship– being played between the club like no other versus the club that really shouldn't even exist.
Shower, suit up, coffee, and let's put on the F.C. St Pauli game before sunrise to pass the time (sadly, they lost, and generally they're having a pretty mediocre season so far). Breakfast? No. Too nervous to eat. Coffee, black, will have to do for now.
By my count, the game was 96 minutes and 47 seconds of abject terror and unmitigated aggravation until the final whistle. You've all read the game reports by now, no doubt, and naturally here's The Sandman's ratings for the game which, as always, are worth a read. But as usual, I have five takeaways from the Betfred Scottish League Cup final, which Celtic won 1-0 over The Rangers™ as follows:
1. Sign Fraser Forster right now
Oh. My. God. If anyone deserves a statue right now, it's Fraser Forster. It could be simple: Not a statue of the man, arms aloft, awaiting a corner, but just a brick wall in front of a goal mouth. Simple and quick. His play today was the stuff of which legends are made. That said, like signing Neil Lennon the day after the Treble Treble, Peter Lawwell needs to open the tin and get Fraser Forster signed as a Celt right now. I don't care if it is past 11 p.m. in Scotland as I write this, wake them both up, offer The Wall a king's ransom, and keep him in the Hoops. The icing on the cake in Sunday's game, or the jelly with the ice cream, was Forster's fantastic save on El Muffalo's non-penalty penalty. Poetic justice and karma came together and were wrapped with a nice bow.
If Lawwell balks, let's start a GoFundMe to raise money to sign Forster. I will even put my car up for sale and donate the money. I would gladly use public transit exclusively if it meant keeping the kind of goalkeeping that Forster provides game in and game out for Celtic.
2. Jullien utilise son pied, pas sa tête
Irony. It's when Christopher Jullien spends much of his time using his height advantage to try to score headers game after game after game this season, only to hit the back of the net Sunday with a flick of his right foot for the only goal in the game. And it was a beauty. What adds to it is the wailing and gnashing of teeth by The Rangers™ complaining that he was offside through their tears. He wasn't. You see, cheating only works one way, The Rangers™ way, and this, my friends, is a perfect example of karma.
3. Morelos so wants to be Edouard
First thing first: A shout-out to Jeremie Frimpong, who was one of the bright spots for Celtic for the better part of 60 minutes or so, until the referee had nothing better to do than red-card him. In fact, there's one video of Jeremie mixing it up with Alfredo Morelos, and the lad is not backing down. Pure Celtic, that Jeremie.
But wait, look at that video again. What's that on Morelos' hand? Does he have his hand taped up like . . . hmm, which other striker in Scotland has a hand injury and has his hand taped up? Poor Alfredo, so far from God and so close to Celtic, against whom he has yet to score, even when the referees try to help.
4. Some quick math
A quick one for our friends who are mathematically inclined:
10 Celts > 11 Rangers
Class dismissed.
5. Meanwhile, in the Lustig household …
Before the game, there was a nice post from Josefin Lustig on Twitter about how she and her husband, KAA Gent defender and former Celtic policeman Mikael Lustig, were going to enjoy a day off together and watch the game. Of course, when El Muffalo missed his penalty shot, this was the scene in the Lustig household, which goes to show that Mikael's heart is still green and white. I still miss the Mad Viking playing for the Hoops, and I don't care who knows it.
Last, but not least, this is the top candidate for my Christmas card this year (yes, I know "Seasons" needs an apostrophe, but I can fix that later). Thanks, BT Sports!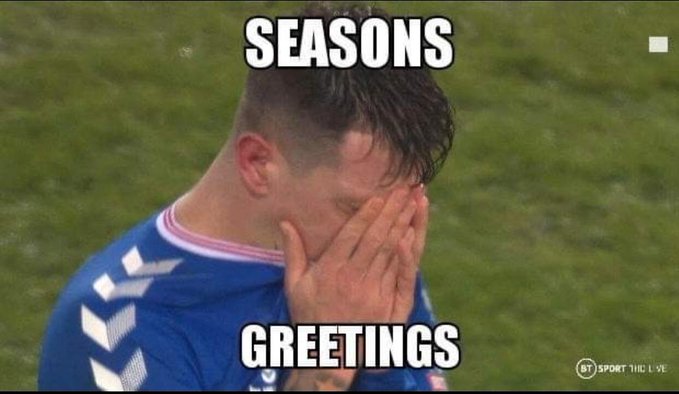 We had a bad game today, but we still prevailed. That's why we're champions. On to Cluj later this week. Hail Hail, all.