It's 6:30 a.m. Pacific time, and I'm already awake — fallout from the 8- to 9-hour time difference between here and Europe when dragging myself out of bed to watch Celtic and St. Pauli matches live — and because the Winter Solstice is tomorrow, the sun is just making its way on the horizon behind the hills to the east.
But I confess, after a sleepless night — in a good way — I am still buzzing about yesterday's win. My daughter, who was born in Kodaira-shi in the Tokyo Metropolitan District to her Japanese mom and me, now has an adopted older brother named Kyogo Furuhashi, who becomes a part of the family by virtue of his Larsson-esque play this season.
This is a Monday I don't mind facing. In fact, I'm planning to break my mask protocol and wear my Celtic mask for two days in a row when I go into work later. Even in America, the reach of Celtic has a profound effect on its followers, and I know I'm not the only one. Across four time zones, there's an excellent chance Yanks who bleed green-and-white are still buzzing about the results at Hampden.
Thank God Eddie Howe balked at joining Celtic and is now toiling — to be diplomatic — at Newcastle. Howe would have never — never — accomplished the same 180-degree turn with the Hoops as Ange Postecoglou has in the last several months.
As an aside, I don't know where Dom McKay might be these days, but he's owed a huge debt of gratitude for bringing in Postecoglou and the wave of players in during the last transfer window, many of whom made the difference yesterday with long-time Celtic veterans like Tom Rogic, Nir Bitton and Callum McGregor.
Put aside the fact that Postecoglou won, in a matter of months, the same number of trophies that Steven Gerrard took years to finally accomplish at Sevco before taking the first train out of Glasgow for Aston Villa. Ange is no stranger to silverware, and for those of you keeping score at home you can count Hampden as his ninth — three with South Melbourne, three with Brisbane, one with the Socceroos, one with Yokohama Marinos, and now one with Celtic.
But they said Postecoglou was not built for the SPFL. They said he'd be gone by Christmas.
In what has sadly become a hallmark of the Scottish mainstream sports media, they thought wrong.
And this team Postecoglou has put together, what more can you say? It's a team that is once again geared to win trophies. Against most odds. Against the resistance of a Celtic board that balks at expense.
And what about this kid?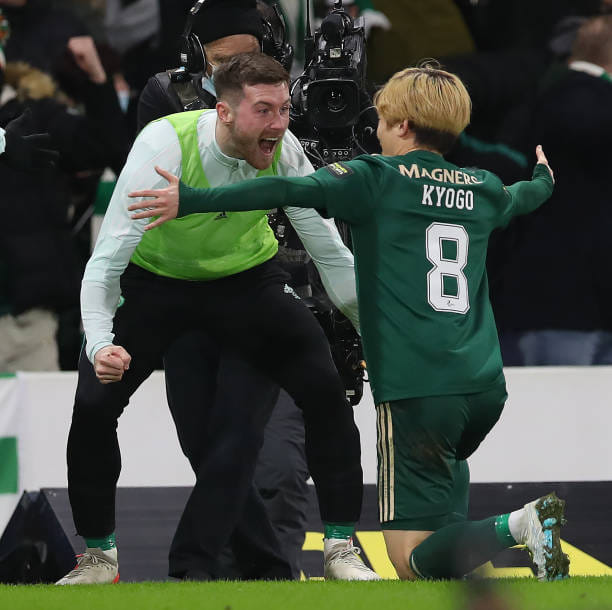 Kyogo was not 100 percent yesterday, coming off a hamstring injury. But he was ready to play regardless. Postecoglou said on Sunday that no one was keeping him off the pitch, and for this we are truly thankful. The kid delivered.
It wasn't just Kyogo. It was everyone, a team effort. Even Carl Starfelt — who Michael Stewart couldn't slam hard enough on the game broadcast, early and often — had an OK game with a couple of miscues that resulted, arguably at most, with Hibernian's only goal. But the point here is that everyone stepped up, because that's the Celtic way.
My Celtic Star colleague Niall J points this out in more depth in his article here. It's worth a read, outlining the contributions the team has made. But it bears repeating. Rogic? Awesome. Bitton, coming in for the dinged-up David Turnbull? Phenomenal. McGregor, the captain? No doubt the man we want in charge. Cameron Carter-Vickers? His solid defense clearly earns him the nickname "The Rock," in deference to actor Dwayne Johnson.
[Cameron "The Rock" Carter-Vickers. Hmmm. That has a nice ring to it.]
The only thing missing, sadly, on Sunday was the absence of Jota, who is out with an injury. If anyone has contributed to the success of the club this season, it is clearly Jota. And for him to be absent in the victory on Sunday was definitely heartbreaking.
But of all the deliriously joyous events and happenings at Hampden, this one was probably the best.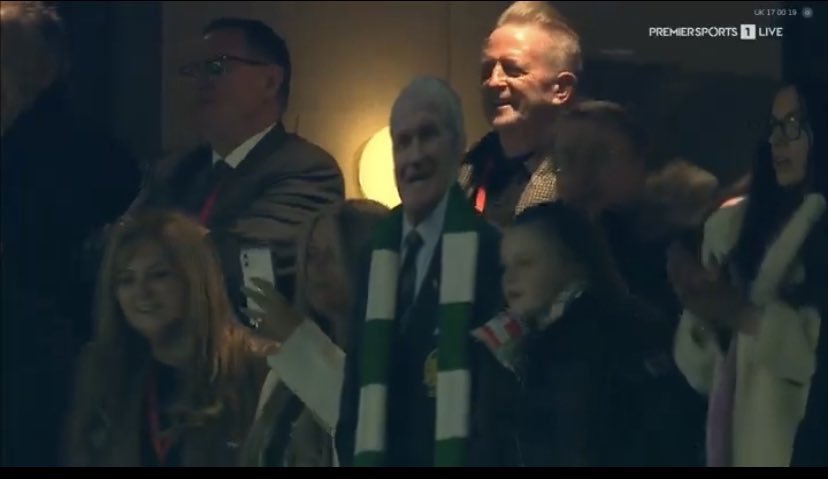 Some cardboard cutouts are destined for the trash bin. And some are present at the final at Hampden. If you listened closely enough after the game, you could hear Bertie Auld say, "That's entertainment."
Coffee's ready, finally. We're away to St. Mirren on Wednesday — here we go again, we're on the road again. Mon the Hoops!