The original plan was to concurrently post my interview with Auldheid at the advent of the AGM here on the pages of this blog. But then I thought, why reinvent the wheel? So I decided instead to urge you to look at The Celtic Star version linked above, rather than reprinting it verbatim here on these pages.
You're welcome.
Make sure you have a look at the story linked above. The palace intrigue inside the walls of the Celtic boardroom is definitely worthy of a BBC miniseries, at the very least.
And thank you, Auldheid, for taking the time once again this year to do the interview. I would imagine it is a painstaking task to explain the situation to this fan — 5,000 miles away — on a level that can be understood by a five-year-old or a golden retriever. More importantly, thank you for all you do to keep Celtic on the right track and on the level.
My heart was broken . . .
With a hat-tip to both The Proclaimers and Hibernian, one of the more humorous memes to come out of the more than excellent play of Ismaila Soro yesterday against Lille is that an artist will take four pictures of Soro and match them up with the first couple of lines from "Sunshine on Leith."

Laughter aside, there were a plethora of positives to come out of the Lille game, and Soro's play was one of them. While they're worth their room on this earth, Ewan Henderson and Conor Hazard both showed what Celtic can harvest in the care and feeding of the Reserves team, and it will not be long before both are up with the First Team.
Unfortunately, Cameron Harper didn't get a chance to join the party on the pitch yesterday, but his time will come. All these youngsters — as well as players like Stephen Welsh, Armstrong Oko-Flex, Karamoko Dembele, and Jonathan Afolabi — have bright futures as first-teamers.
And then there's David Turnbull, who had what can only be described as a breakout game for the Hoops against Lille. We saw what he could do with Motherhell, sorry Motherwell, and now it looks like he's earned a spot as a starter. It prompted one Celtic fan on Twitter to post a lyric change to a Christmas favourite: "This year, to save me from tears, I'll give it to David Turnbull."
George Michael couldn't have said it better.
Saving Private Frimpong
It's pretty clear that the hammerthrowers — and there are many — who populate the ranks of the Scottish Premiership's also-rans seem to have a laser-like focus on harming Jeremie Frimpong. As unfortunate as it might be, that seems to be all we can expect from some of the halfwits who have reached the apex of their football careers as goons for all-but-forgettable clubs.
That said, yesterday's mugging of Frimpong — who ironically was celebrating his 20th birthday yesterday — seemed to be the final straw.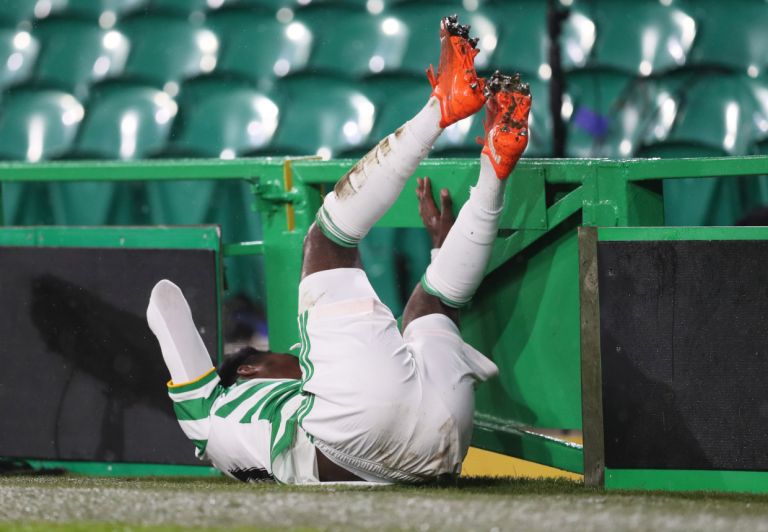 Seriously, officials, what the hell? All season (and last season, too) this had me seeing red. What I would like to see from SPFL referees — you know, the guys on the pitch less-than-ironically sponsored by Specsavers — is more red, as in red cards on players willfully out to harm the bhoy, and others on the pitch for that matter.
Is that too much to ask?
One more thing
It bears mentioning that while Soro, Turnbull, Henderson, Hazard, et al., all had a great game yesterday, Diego Laxalt has been pretty consistent in the "good" department in his level of play over the last several games. With a Ryan Christie-like depth of nonstop energy, the Uruguayan has fit in perfectly with the Celts so far.
When he first came to the club, I was a little annoyed by fans who made fun of his hair and glasses. I said that if he works out and becomes a mainstay for the club, I would get cornrows — as much as I could on a balding pate — to go with the glasses I have worn pretty much all my life. Now, Diego's play has me asking my barber how to go about doing this (Step one: Let what hair I have left grow out . . .).
We'll see how this pans out. Film at 11.