When a week goes by with no Celtic games, and having to see what's available elsewhere — the default mode is to find which clubs with former Celts are playing and watch accordingly (for example, Scott Sinclair was pretty good in the Preston North End win, though he flubbed a chance to score) — it gives one pause to collect one's thoughts for Celtic's upcoming game on Sunday, historic as it is, as well as to look back and ponder some might-have-beens.
Like . . .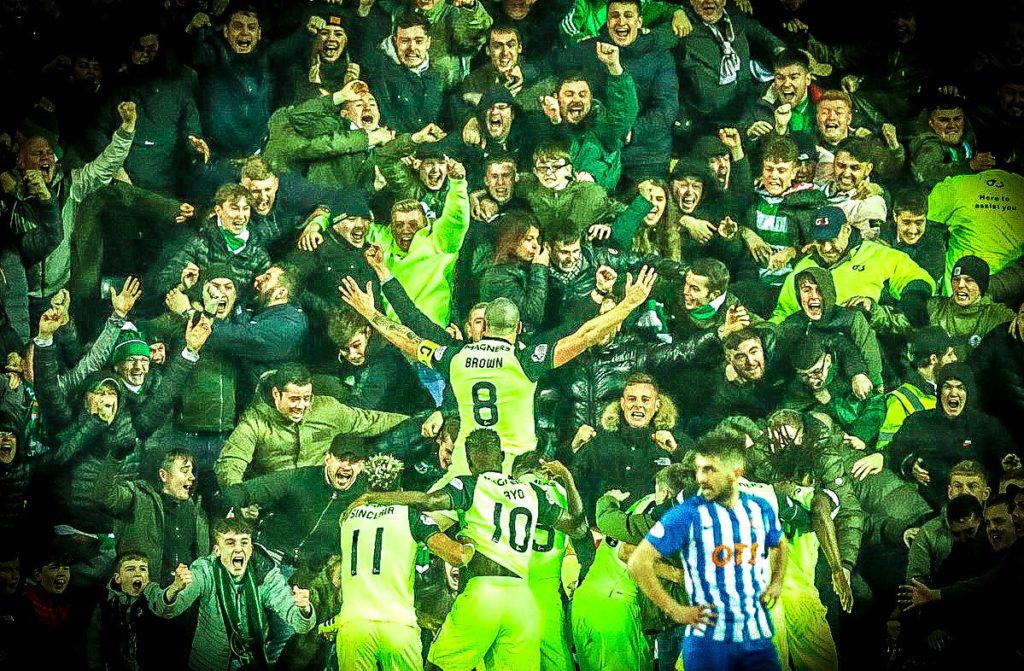 Does Scott Brown start on Sunday?
This is the big question of the week, being batted back and forth over the journalistic net like a tennis ball at a Wimbledon final. Does Scott Brown start on Sunday, or does Neil Lennon go with what's been working over the last couple of weeks with David Turnbull and Ismaila Soro?
This is a tough one. If it has caused me a sleepless night or two, imagine the tossing and turning Lenny must be doing over it.
In the final analysis, my guess — and my hope — is that Broony starts on Sunday. History dictates it. In large part, Scott Brown got us to where we are now. A gut feeling that Broony will shine comes into play here over the logic that his performances lately have been, to put it mildly, lackluster.
My guess, too, is that as a starter he's on a very short leash as well, and if he looks anywhere near lackluster, he may be getting the hook early.
What's not being talked about is this: You know who I would like to see start on Sunday against the relegated Heart of Midlothian? Mikey Johnston. He subbed against Kilmarnock in the last game, coming off a long-healing injury, and looked to be his old self, bobbing and weaving through traffic goalward.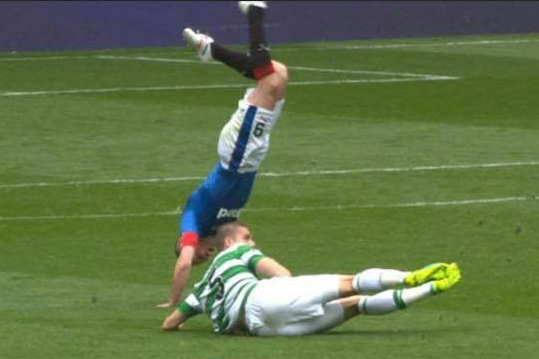 Jozo opens up
On the day that Jozo Simunovic scored at 67 minutes in the game honoring Celtic legend Billy McNeill — number 5 scoring in honor of number 5 — I put a photo of the big Croatian pointing skyward after scoring as my wallpaper. And there it stays to this day — a reminder of probably the first historic Celtic moment this realtively new Celtic fan had seen for himself (in the company, of course, of the San Francisco CSC in Millbrae, California).
I've always liked Jozo a lot, and he played with enthusiasm and love for Celtic. He was one of those players that, when healthy, often anonymously steered the course of the game to our advantage. And then he punctuated his Celtic career with gems like the header above, scoring an occasional important goal like the one that put us ahead against Kilmarnock (again) late in the season to increase our lead in the standings.
And, of course, nothing beats Jozo's launch of Kenny Miller in 2017 during a 5-1 drubbing of "The Rangers" at Ibrox.
The Celtic Star recently ran an article about Jozo recently where the former Celt opens up on his departure, it is definitely worth a read. Arguably, not offering Jozo an extension — along with letting Jonny Hayes and Mikael Lustig move on — arguably has put the club in the precarious position it finds itself today. But that's another topic for another discussion at another time.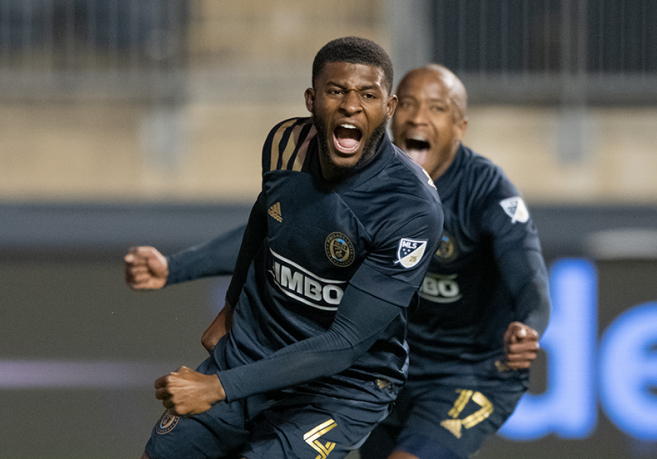 Look through any window
With the new year around the corner, it will be time for — fanfare, maestro — the January Transfer Window, and the wailing and gnashing of teeth that will undoubtedly follow.
A primary target on Celtic's radar has been Philadelphia Union's Mark McKenzie, who sees his road to the EPL running through Glasgow.

"I've done my fair share of research (on Celtic and the Scottish Premiership) and I've always loved football so I've known about Celtic for a while," McKenzie recently told SkySports. "You hear about Celtic and the path of Virgil Van Dijk — going from there to the Prem."

Not the kind of loyalty you would expect to the club, but understandable in this day and age of mercenaries. If the price of a top-notch defender is that he plays outstanding football for Celtic while punching his ticket to a larger club, then maybe that's the best we can expect.
However, in this transfer window, it would not bother me if we stood pat with this team — maybe adding McKenzie or another defender — and bring up some of the Reserves to play for the Hoops.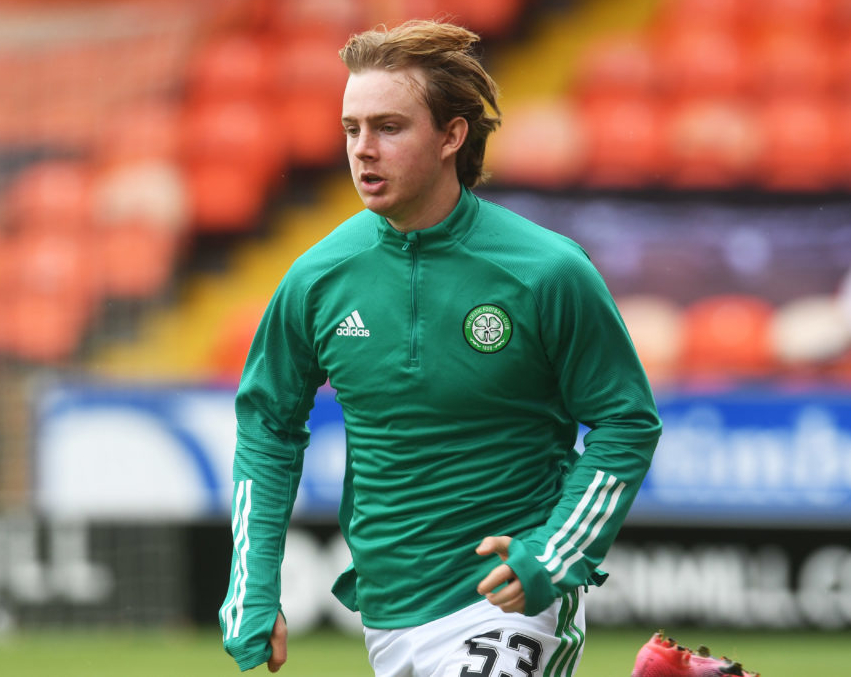 Cameron Harper in particular deserves the opportunity to show what he can do on the first team, since his ability to challenge and go thorugh defenders at the Reserves level shows he could do it at the top level. The same goes for Armstrong Oko-Flex and Karamoko Dembele — both reported to be on the radar of a few teams down south — who both deserve to show what they can do for the first team. Get Jonathan Afolabi back from his loan spell from Dundee.
The fact of the matter is we have all the pieces we need going forward. It's just putting them in the right order so the club fires on all cylinders as we motor to the 10 in the 2nd half of the season.
One more thing
Those who know me well already know this, but for the rest of you following me on social media, there are a couple of clubs which have earned my following due to their actions in their communities. As mentioned in a previous post, Nairn County FC took a windfall they had when COVID-19 stopped their season and put it back into their community, as thanks for the community's ongoing support for the club.
More locally, just up the road in the San Francisco Bay Area, Oakland Roots SC deserve a shout-out in the same regard, and I am a supporter of a club that "harness(es) the magic of Oakland and the power of sport as a force for social good." No one is more excited than me that Oakland Roots have partnered with FC St. Pauli in promotional efforts, and hopefully in the near future a friendly between the clubs in Oakland will be on the horizon.
My affinity for community-based, community-owned clubs does not stop there. As some readers know from a past post offering a few tips to former Celt Lewis Morgan in his move to Inter Miami, I spent my formative years — from 3 to 29 to be exact — living in Miami.

That said, a shout out goes to a new community-owned, community-based club in the area — Biscayne Bay SC — which will play its inaugural season in my old stomping grounds, so to speak. Not only this, they've adopted the quintessential Miami mascot — the Manatee! Score that as an own-goal for David Beckham in NOT adopting that mascot for Inter Miami, but Beckham's loss is BBSC's gain. Mon the Manatee!
Celts to bring home more silverware tomorrow — you read it here first.

Mon the Hoops!