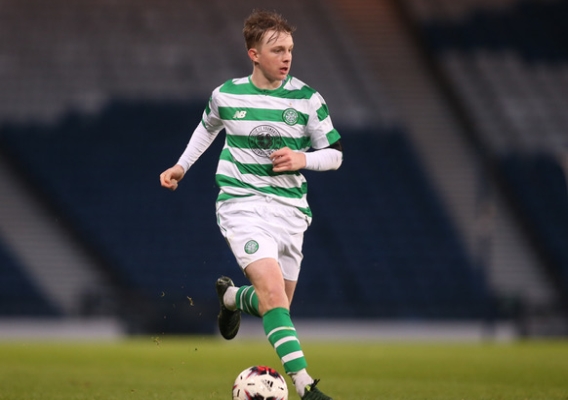 Reading today's report on Celtic's 4-2 victory over Morton in the Reserve Cup at Lennoxtown, you see the usual suspects getting accolades: New signing Jonathan Afolabi hits the mark at the 19th minute, Armstrong Oko-Flex successfully coverts a penalty kick at 37 minutes, and Karamoko Dembele comes on in the second half to add to the score late in the game.
What's buried a few paragraphs down in the report is a goal at the 51-minute mark by winger Cameron Harper, the Sacramento-born, Southern California-raised 17-year-old who wears the Hoops for the Reserves.
According to the Celtic FC report, Harper took a pass from Liam Burt, took a touch, and then drove a shot that went in off the post (you can see the goal on the YouTube highlights starting around 1:48).
Or as it was relayed by the Celtic FC Academy Twitter:
51' – HARPER!
"Harper is traditional winger who is right-footed but comfortable with his left and doesn't have a preference for a side of the field," writes Brian Sciaretta in an article earlier this month in American Soccer Now. "He likes to play out wide, get into 1-on-1 situations against defenders, make runs, cut inside for shots, or stay out wide to hit crosses. Like many in his age-group, he is confident like those in recent cycles."
Harper played for the celebrated Pateadores Soccer Club in Costa Mesa, California. His play at Pateadores drew the attention of the U-16 team, according to the ASN article.
"It was with the U-16 team at the 2016 IMG Cup where he drew the attention of a Celtic scout who arranged for a trial later in 2017," the ASN article continues. "Celtic were impressed by Harper on trial and he eventually joined the club."
While Harper has a bright future ahead as he laces them up for Celtic and the U.S. U-21 team, it makes this Californian proud to see a kid from the Golden State making headway at the club. Harper definitely needs to stay on everyone's radar going forward.
[82 degrees. Wildfire threat level today in rural Santa Cruz County: Moderate.]