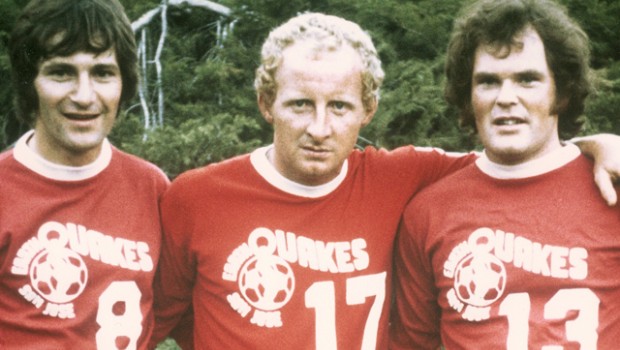 There would be only a handful of reasons for me to blog outside my usual Tuesday/Thursday/gameday schedule, but this is definitely one of them: Happy Birthday to the Celtic legend of legends, Jimmy Johnstone.
But before you continue here, I would strongly urge you to read this celebration of Jinky's life on The Celtic Star by Matt Corr before I tell you a tale of our favorite Lisbon Lion and a tiger — I will gladly wait.
Thanks for coming back.
Jinky knew the way to San Jose, but his introduction to the North American Soccer League (NASL) came with a little controversy. According to an Associated Press wire report in the Santa Cruz Sentinel on June 18, 1975: "Jimmy Johnstone, Scotland's 'Flying Flea' of soccer, signed a one-year contract with the San Jose Earthquakes . . . despite protests from two other teams." So Johnstone was in demand at the time, being wooed by three NASL teams — the Rochester Lancers in New York and the San Antonio Thunder in Texas (incidentally, San Antonio would also have the services of Harry Hood, and we'll touch on that in an upcoming post in the near future) — but he chose to sign with San Jose.
Much of the San Jose season that year, where they finished fifth in the Pacific Division, was inauspicious, and unfortunately Jinky did not play a factor — as much as anyone can play a factor in a fifth-place finish.
But Jinky did have his admirers. During the San Jose-New York Cosmos game that year, according to Celtic Wiki, lining up for New York was none other than Pele. The Brazilian star reportedly ran the length of the field to shake hands with Jinky and give him a pat on the back. According to the post, this delighted Jimmy and he turned in his best show for the Earthquakes.
And there was that one game — his first as a Quake in 1975 — where the Lisbon Lion met a tiger on the sideline.
The weekend following Johnstone's signing with San Jose, Jinky played against the Portland Timbers. According to an article in the Santa Cruz Sentinel previewing the game, "Bombay, a tiger from Marine World Africa USA, will serve as the security guard for the Portland bench." (Not only that, the Associated Press had a picture of Jinky with the tiger, however it was unreproduceable from the microfilm).
The "security," as it turned out, stemmed from a confrontation during the previous Quakes-Timbers game, and if Portland was bringing their tiger, it was only fair that San Jose had its "lion."
Johnstone's foray into the NASL, a forerunner to the current Major League Soccer in the U.S., was a common theme in 1970s American soccer. The fledgling league tried to get a foothold in the American sports fans' consciousness by bringing top, albeit past-their-prime, players to American teams. Jinky was part of the wave that saw stars like Giorgio Chinaglia, Franz Beckenbauer and Pele dominate for Cosmos, while other stars like Harry Hood played for San Antonio and Gordon Banks kept goal quite adequately for the Fort Lauderdale Strikers, the club I followed growing up in South Florida.
And Jinky clocked in briefly for San Jose.
Decades later, it seems that those trailblazers have left a solid legacy on the American version of the game on these shores. So for that, thank you for your contribution, and happy heavenly birthday, Jinky!
[64 degrees. Wildfire threat level today in rural Santa Cruz County: Low.]