At the outset, Monday night football at Tannadice against Dundee United had all the trappings of one of those legendary games that would have been talked about for generations. Except it didn't turn out that way, as Celtic strolled to a 3-0 win despite the efforts of referee John Beaton to keep the score down.
Before we get into some of the more finite details of the match, you've got to hand it to Beaton. Just when you think that not even he can match his stratospheric level of incompetence, he goes onward and upward, amazing us all with a level of ever increasing world-class ineptitude, which is the gold standard of Scottish football officiating. Beaton missed at least two penalties and chalked a perfectly good goal off all by himself.
If anyone wears the SpecSavers patch on his referee's uniform with unbridled pride, it's Beaton.
But I digress.
That said, it shouldn't take anything away from the match itself — except for maybe a goal or two for the Hoops — as Celtic was firing on all cylinders against a Dundee United team that came to play, as opposed to parking the bus. And a few things bear special mention, like . . .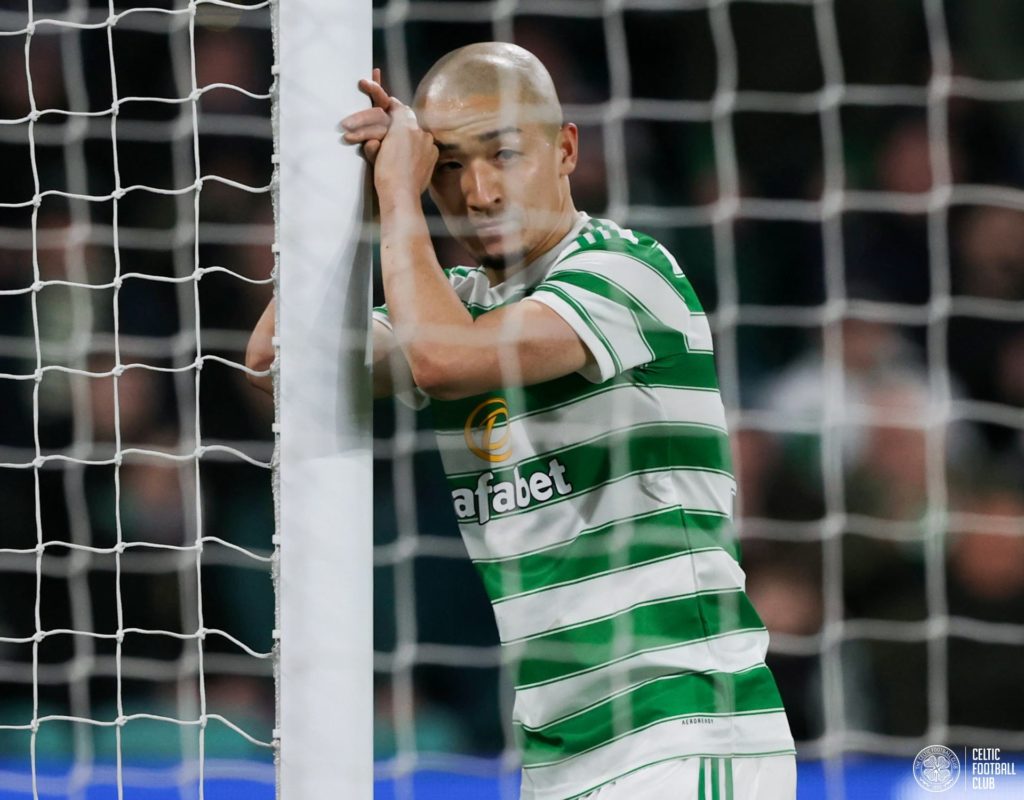 Perpetual motion, thy name is Daizen Maeda
Whatever Daizen Maeda is having for breakfast, let me have some of it, too. The guy does not stop, end to end. Whether threatening to score — and having one taken from him like he did at Tannadice on Monday — or defending deep in our end of the pitch, Maeda is all over the place and adds a dimension to his game, and to Celtic, that has not been seen in quite some time. Keep it up, Maeda-san.
Mo' Karamoko
Yeah, two goals by Georgios Giakoumakis is phenomenal, but to see Karamoko Dembele slice and dice the Dundee United defense was a joy to behold. Can we get more of that please, Ange Postecoglou? Even being cheated out of a penalty late in the game — thanks again, Beaton — did not really mar the performance from the 19-year-old, who deserves a contract extension, and soon. A footnote here, too, is that Mikey Johnston also had a good match, and the Moan the Hoops Brigade on Celtic Twitter, which is normally lightning quick to slag Johnston on an off day, has been eerily silent about his good game.
Absence makes the heart grow fonder
For all that was present in Monday's 3-0 victory, one of the more telling facets of the game was what was missing. No Jota, on the wing or anywhere else for that matter. No Liel Abada. No Kyogo Furuhashi, who is nearly recovered from a long injury. No David Turnbull. With any combination of those guys in the game — or all of them, for that matter — the score would have been higher, Beaton notwithstanding. When these guys come back, Celtic will be even more unstoppable.
Regardless, it was a good win for the Bhoys in Green, despite the fact the game could have been more enjoyable if it wasn't the constant "honest mistakes" from the SPFL officials that, time after time, make a match like this a chore to watch. Someday before I die — hopefully several decades from now — I hope to see a football match in Scotland where the officials actually call a game fairly and flawlessly. Suffice to say, I'm not holding my breath.
Nevertheless, next up for the Hoops is a match at home against Ross County on Saturday. Mon the Hoops!