Arguably, Saturday's game against Ibrox Cover Band FC laid down a marker as one of those historic games that we, as Celtic fans, will be tweaking Hun noses with for years to follow. And those who insist on calling the Glasgow Derby the "Old Firm" clearly saw this: If this was indeed the Old Firm, it was played on Saturday by the ghosts and zombies of a Rangers club that perished under the sheer tonnage of liquidation in 2012.
In other words, the Old Firm died when Rangers did. So stop already.
But I digress.
In the continued afterglow 72 hours later from Saturday's 4-0 walkover, there is a lot to unpack.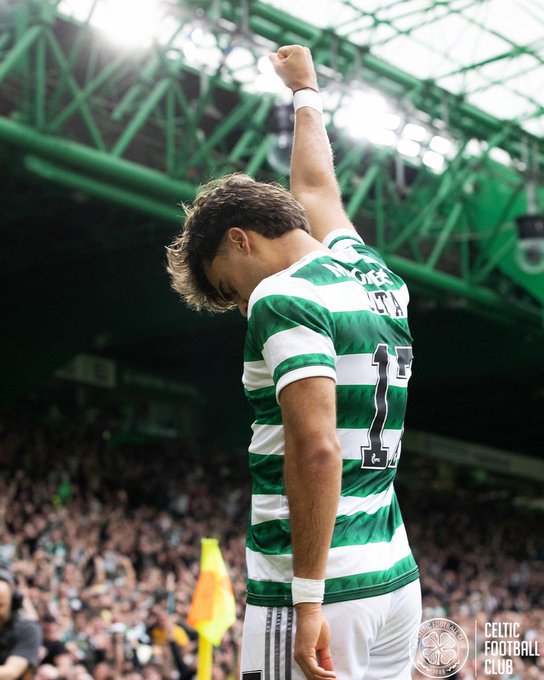 Leil Abada's goals were classic Celtic build-up and shoot. Matt O'Riley's phenomenal pass to Jota who put it over the goalkeeper's head, and subsequent salute to the fans, was a masterstroke — one of many we can expect from this team this season.
But the best goal — at least for me — was David Turnbull's at 78 minutes. It was a classic deke by Turnbull: Take two steps toward a defender on the outside, and when the goalkeeper lobs it to the man in the middle, cut back and intercept, shoot, and score.
It was indeed a "Whit's the goalie daen, Tom?" moment.
But one of the many stark contrasts between us and them is that not only did the Bhoys play on a level far beyond Surrender FC, they played smarter. Much smarter. And in a field of football geniuses, Reo Hatate is the Einstein of the club, controlling the midfield and sending passes with the accuracy of the theory of relativity all over the pitch.
But if you really want to talk about historic, there's the tifo . . .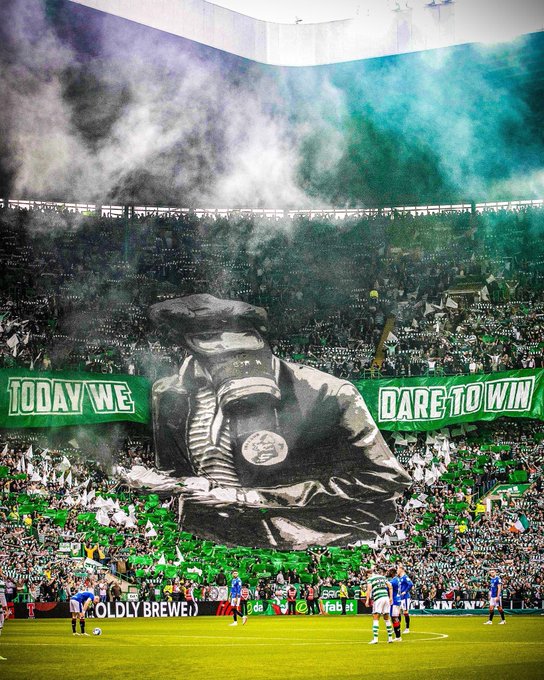 Imagine being, oh I don't know, an American living in California up at 4 a.m., and seeing this. Dreaming? And what does this mean? Later you find out: It's 13-year-old Paddy Coyle, Molotov cocktail in hand, during the Battle of the Bogside in Derry in 1969. The quote is from Bernadette Devlin MP, an Irish independence icon from that era: "Yesterday I dared to struggle. Today I dare to win!"
Then you say aloud, "Holy fuck, that's brilliant!" You say that loud enough to wake up your daughter, asleep in her room, who resorts to her typical game-day "Daaaaaad," when you get too loud during the game in the pre-dawn hours. Not only is it a hard slap in the face followed by a kick to the soft ones to a club obsessed with British army iconography vis-a-vis Northern Irleand and being up to their knees in Fenian blood, but the subtext that Celtic is always on the side of the oppressed cannot be ignored.
It's a classic Green Brigade tifo for the ages, surpassing the greats like "They hung out the flag of war." I'm so glad they're on our side. Kudos to them for the consistently awesome tifo.
And for those who don't think there's a place for politics in football, perhaps you can take your shallow fandom elsewhere. Maybe to a soulless club like, oh I don't know, Manchester City. They might be more your speed, where all that matters is an open checkbook and unlimited spending.
One more thing
The rest of the world is watching, and we're laughing. Scottish football pundits either have no concept of reality or they just suck. Maybe both. Anyway, when brainless mouthpieces like Kris Boyd put players like Alfredo Morelos ahead of Jota, you have to wonder if they are just stupid or having a stroke. And Barry Ferguson. Barry, seriously: You got it hilariously wrong when you said that Gio van Bratwurst had Ange Postecoglou sussed, when the Celts throttled the Huns. But instead of saying four simple words — "Yeah, I was wrong" — you double down by saying something even more moronic: I was right, but the players didn't hold up their end of the deal.
Really? In other words, I have gaining the US presidency sussed, but my campaign didn't hold up its end of the deal. M'kay . . .
So yeah, add a group of football pundits seemingly sharing a single IQ point to a sports media that are more stenographers than journalists, and no one really takes you seriously. That's a huge problem in my book; one I hope gets fixed in a hurry.
But back to history: We have Real Madrid tomorrow in the Champions League opener at Celtic Park. Franco's fascists are favored, and they are the current champions, but we are not a pushover and, as Chris Sutton said, we can cause them problems. A win tomorrow — and I am lighting a candle and saying a rosary — would be even more historic than Saturday's drubbing of Filth FC, and that's saying something.
Mon the Hoops!