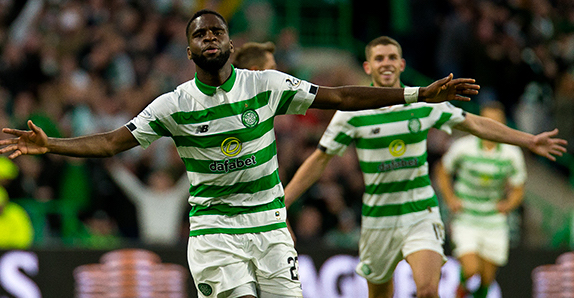 While the exit door at Parkhead seems to be jamming a bit lately, the latest departure rumour has Odsonne Edouard, according to pundits' recent reports, joining Leicester City (much to the dismay of fuming Arsenal fans) for an encore performance with Brendan Rodgers.
And with this news, of course, follows the tsunami of petulant, spoiled naysayers among the Celtic support disparaging Edouard's phenomenal contribution to the Quadruple-Treble, whether on the wider social media front or even here in this thread in the Celtic Noise forum, with a raft of nonsense discounting his endeavours in the Hoops by focusing solely on this past season.
You know, the 2020/21 season. The season where Edouard was asked to play up front alone most of the time, despite being more successful — as nearly all strikers are — with a second striker to play off of. But let's not quibble about that, oh spoiled petulant ones, when you can dump on a phenomenal player who can arguably be credited for most of the club's high points over the last four seasons, right?
The "what-have-you-done-for-me-lately" crowd, in their typical myopic and moronic manner, just want him gone. "He lost interest." "Couldn't be bothered."

Bullshit.
You know what? I wanna be Edouard. I still wanna be Edouard. And when he goes to play at Leicester City or wherever he ends up, I will continue to watch him, just as I do former Celts I miss playing in the Hoops, including Kieran Tierney at Arsenal, Moussa Dembele at Athletico Madrid, Scott Sinclair at Preston North End, Mikael Lustig at AIK, and closer to home, the Celts in America: Patryk Klimala, Cameron Harper, and Andrew Gutman at New York Red Bulls, and Lewis Morgan at Inter Miami.
With the exception of Mo Johnston and perhaps Boli Bolingoli — the player who sadly lit the match that ignited last season's dumpster fire — if you wear the Hoops and play Celtic football, you'll always be a Celt wherever you go.
Normally, I'd have "One More Thing" to add here, but today I'm going to have to pass. It's a beautiful day here on the Central California coast and, with nothing burning (so far) and nothing football-wise to watch, I plan to take full advantage of it.
Mon the Hoops!