Celtic's performance on Sunday against Hibernian in the club's 3-0 win was outstanding across the board; so much so that the silence from the doomsday brigade populating Celtic Twitter has been deafening. Let's take a quick look at the match, and single out those who deserve special mention in a game which displayed why Celtic is the club in command this year.
Scott Brown? The armchair Steins on Twitter said he needed a rest, but he came out roaring on Sunday to have a great game, and in some folks' opinions, he should have had Man of the Match honours. Greg Taylor? Improving on the wing with every game, and more importantly on Sunday, showed his defensive prowess by shutting down Martin Boyle, Hibs' go-to guy, for the entire game.
I suspect there's a bingo game going on with all the talentless hammerthrowers in the SPFL to see which one of the bastards can be the first to cripple Sunday's Man-of-the-Match Jeremie Frimpong. Hibernian's candidates gave it their best shot on Sunday, but still the Oh-My-Days Kid came up sprinting and doing what he does best: Speeding past hapless defenders.
David Turnbull looked sharp and his play on the pitch overall was remarkable. As an aside, my only concern on Sunday — a minuscule one at best, and one that's easily rectified — is that nearly every corner he took was a line-drive with little altitude for the skyscrapers like Shane Duffy, Kris Ajer, and even Odsonne Edouard, in the box.
But truly, the man who deserves the highest praise on Sunday, and high praise every day that he's a Celt, is Nir Bitton.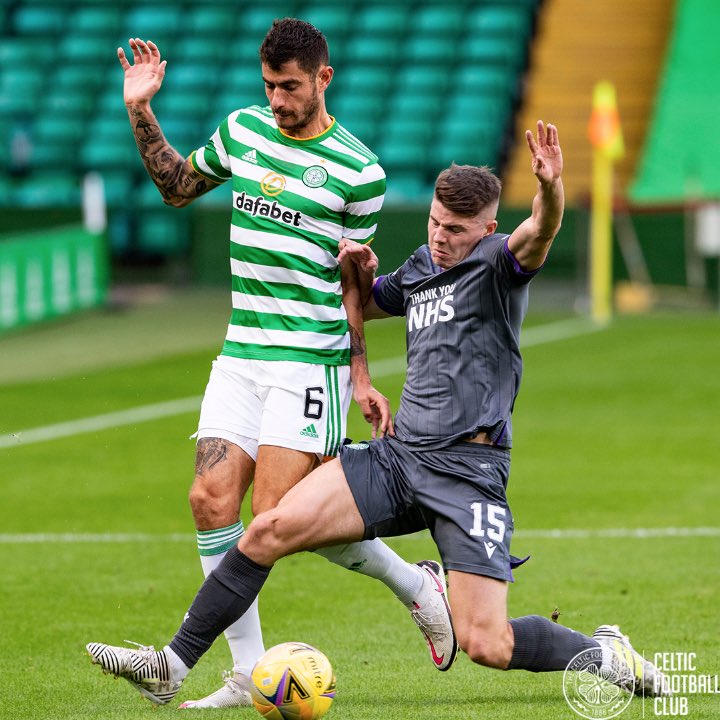 For seven years, Bitton has simply played the game — and played the game well — for Celtic. No fanfare. No drama. No should-I-stay-or-should-I-go chapters. Just a player who is proud to wear the hoops and plays where he's asked. And though not perfect, he plays wherever asked to as near a perfection as a player can.
Listed as a midfielder, Bitton is blessed with the ability to play in the back like a world-class violinist plays a Stradivarius, as was evident in the Hibernian game. Though some criticize his pace as "slow" — I prefer to use the term "methodical" — yesterday his ball distribution from the back, mostly to Frimpong, and advancing up the field with the ball like, well, a midfielder, were sights to behold.
It's players like Bitton who make the game enjoyable. To say he's a throwback to another era where players played for the jersey is maybe a little over-the-top, but Bitton — who has found his niche and who seems to appreciate his place in Celtic's history — "gets it."
In short, he understands what it means to be Celtic.
And Jock Stein would probably agree: His jersey fits.
In the meantime, let's hope Albian Ajeti heals quickly. Mon the Hoops!