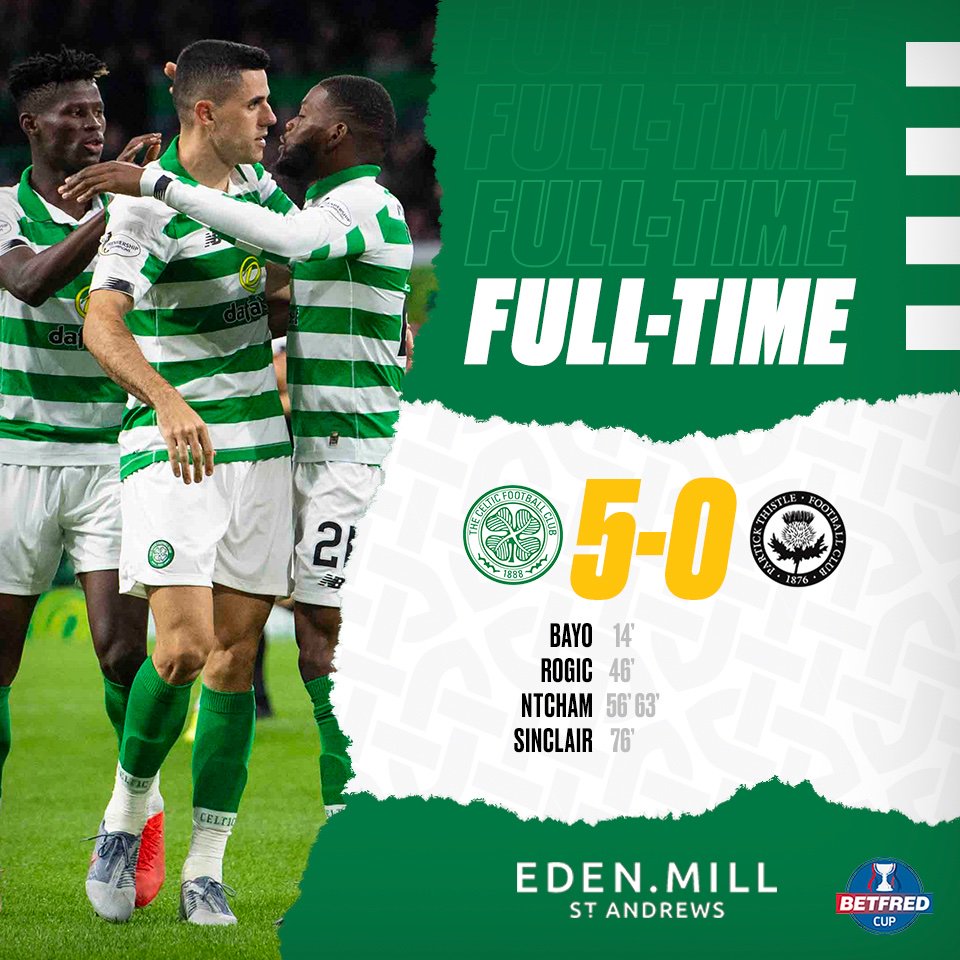 Spending a hot Wednesday morning trying to stay cool here in Central California was made even more difficult — in the best possibly way, mind you — when Celtic turned up the heat on Wednesday evening in Glasgow, when the Bhoys in Green cruised to a 5-0 win over Partick Thistle at Paradise.

Bayo scored, Tom Rogic scored, Olivier Ntcham scored twice and Scott Sinclair came off the bench to score. In his first league game, Jeremie Frimpong gets the Man of the Match. You can read a recap of the game here (and for the legendary Sandman's report, the PG version, click here), and you can continue to the next paragraph and beyond for five takeaways from Wednesday's game, like . . .
1. The Wizard goes the distance
Tom Rogic came into the game on Sunday against Kilmarnock, seeing his first action after a long absence due to injury, and was not a factor. Some (not me) said that he looked lethargic, but all I remember from Sunday was gritting my teeth after he was taken down by a hard tackle late in the game.
Well, the Wizard came back for a full 90-minute shift against Partick Thistle and scored at the 46-minute mark. That's fantastic news for Celtic supporters everywhere, giving Neal Lennon more options at midfield. Hopefully we see more of Rogic during the course of the season.
2. MOTM is not Olivier Ntcham?
Don't get me wrong: I love this kid. Jeremie Frimpong had a storybook start to his professional career on Wednesday, starting his first game for Celtic and playing remarkably well. But with Olivier Ntcham scoring twice — the second goal a real scorcher, too — doesn't he at least deserve honorable mention?
OK, I get it. Olivier Ntcham's snub for MOTM on Wednesday could very well be his punishment for acting like a jerk earlier this season, when he was looking to play elsewhere. Fine. Lesson learned. Now that this is out of our system, we can only hope that he plays every game from here on in like he did on Wednesdsay, and racks up Man of the Match honors going forward.
3. More Hayes, more Sinclair, more subs
If having an overabundance of choices can create headaches for a gaffer, then someone please hand Neil Lennon this bottle of migraine tablets. With all the talent that Celtic has, it has got to be a chore to pick the right lineups and have them firing on all cylinders in every game, let alone knowing when to pull a player and replace him with another (and Lenny addresses this a bit in his post-game interview).
So thank God we've got such remarkable talent on the bench. Although Jonny Hayes started on Wednesday — and a successful argument can be made for starting him more often — he is usually a boost off the bench, as he showed against the Rangers at Ibrox a few weeks ago. Scott Sinclair, who lately has been keeping the pine warm (sorry, a baseball expression), showed his talent of games past after coming into the game on Wednesday, and there's no reason why he can't be a weapon off the bench, unless of course he finds his form from seasons past and breaks into the starting 11.
4. How about Bayo and Edouard up front?
Now that we've gotten a good look at Bayo on Wednesday, could I be the only one who finds the potential of both Bayo and Odsonne Edouard playing up front, at the same time, a source of sheer ecstacy? I mean, seriously — who in the Scottish Premiership could stop this dynamic duo? Oh, and one more thing . . .
5. It's not 'Patrick' Thistle, you idiot!
Just hand me that pointy hat that says "DUNCE" on it and I'll go ahead and make my way to that seat in the corner of the classroom. For the last few days, in social media and in correspondence, I have to confess that I have been writing "Patrick Thistle" instead of the club's actual name, which is Partick Thistle. My apologies to the club, and I'll do my best Emily Litella impersonation: "Never mind."
[75 degrees. Wildfire threat level today in rural Santa Cruz County: Low.]