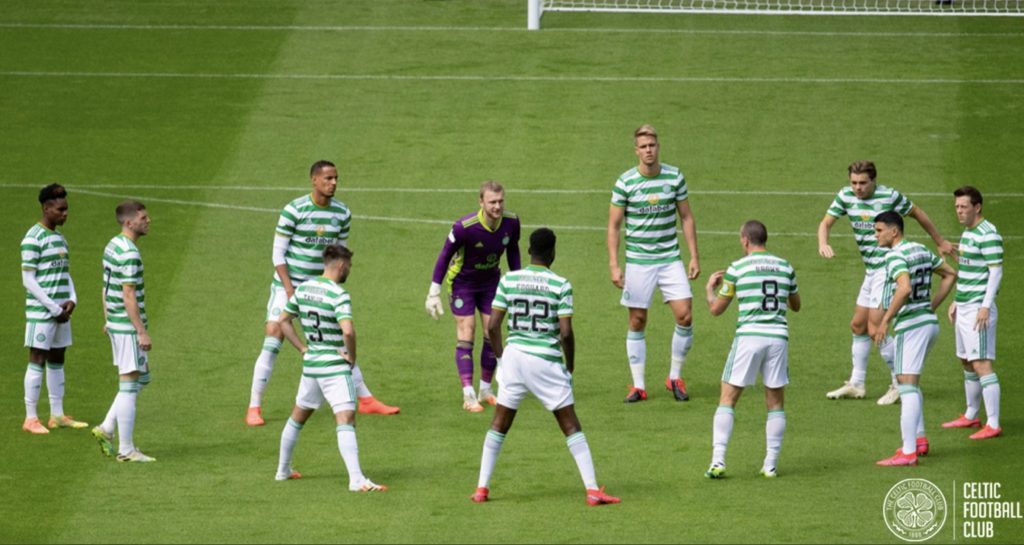 After a drought of 141 days of no games at Paradise, no one was happier to get up at Oh-My-God-Thirty in the morning Pacific Time and put on my jersey and scarf to watch Celtic play at home.
The Ross County preseason game on Sunday had its ups and downs, as we'll discuss here, but overall the Hoops are fine-tuning their game for the upcoming season. With Neil Lennon letting the first team run for the full 90 minutes — Greg Taylor excluded (and we'll definitely get to that later) — here are five takeaways from the Ross County game.
Mugging Odsonne Edouard
Already there are grumblings among some of the more . . . oh, let's say . . . "restless" Celtic supporters that Odsonne Edouard is mailing it in and not trying. I would completely disagree here, primarily because opposing teams have now caught up on the strategy of swarming Edouard, triple- and even quadruple-teaming him. Clearly, one of the reasons 3-5-2 had worked so well last season is that Eddy was not alone up front. In France and against Ross County yesterday, who was alone up front? Edouard. How did that work? Not so great. Was Eddy mailing it in? Hell, no. Get a grip.
Bain worked for his clean sheet
One of the highlights of the game was the play of Scott Bain. While Ross County's chances were few and far between, those that got through with a shot on goal were met with some quality goalkeeping, and none of them hit the inside of the net. Like Fraser Forster — who as of this writing, according to the rumour mill, may be making his way back (fingers crossed here) — when Celtic has the ball for the great majority of the game, percentage-wise, keeping goal becomes a game of keeping your head in the game. Forster was — is — a master at maintaining concentration, and Bain proved equal to the task on Sunday.
And on the other side . . .
Additionally, a hat-tip should also go to the Ross County goalkeeper, Celtic loanee Ross Doohan. Doohan couldn't really do anything against the own-goal, but he made some spectacular saves as the game developed.
Kerr McInroy stepped up
When Greg Taylor went down to an ankle injury thanks to a yellow-card quality foul from Connor Randall — and remind me to include Randall in my list of "SPFL Players to Meet while Swinging My Louisville Slugger" — my first thought looking at the available subs was . . . Stephen Welsh? Maybe Luca Connell? No, Lenny was a few light years ahead of me. Kerr McInroy was slotted in and performed pretty well as Taylor's sub. McInroy moved the ball well and at one point took a shot on goal that went off a Ross County player. He also made a sharp cross which, had someone been there to receive it, would surely have been a goal. Like Welsh last season, to see players like McInroy stepping up and doing well is a promising sign.
John Hartson in the booth
I like John Hartson a lot. I follow him religiously on social media, and I was looking forward to hearing his insights on the Celtic TV broadcast. Overall he gets high marks for his commentary on the game and at halftime. However, I thought he spent a little too much time scolding Jeremie Frimpong on his gaffe in the 2nd half which left a Ross County player alone with the ball in the box. As it turned out, crisis was averted and it amounted to nothing. I think that falls under the no harm/no foul category, but Hartson wouldn't let it go. Again, this is preseason and hopefully Hartson will get some good broadcasting practice in before the start of the season.
Until tomorrow's game against the Hibs, here we go again . . . .