I woke up early on Sunday morning because a couple of hours before the historic Celtic match at Hampden, FC St. Pauli played Fortuna Dusseldorf — we won't go there at this time, except to say it was not pretty — and my mood going into the game with Hearts was not exactly chipper.
Then the starting lineups came out on social media. I expected Scott Brown to start in place of Ismaila Soro, but I kept tripping over the goal choice. Conor Hazard. You want the kid to be between the sticks in what is possibly the most historic game of the 21st century?
Clearly we do. And this is why they pay Neil Lennon, and not me (who would have gone with Scott Bain), the big bucks. Hazard did remarkably well in goal for the Celts, as he has since he has been brought up to the first team.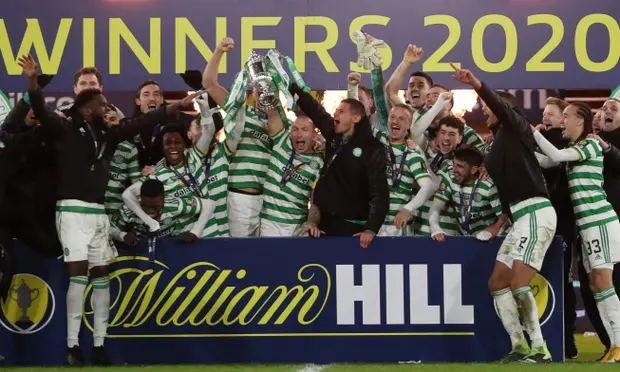 There is a lot to be said for the accomplishment of a quadruple treble, and that will be written by writers and pundits with a lot more experience than me. But something about today's game spoke volumes to what could be a changing of the guard at Paradise; the historic Celtic game where not only do we acknowledge the tremendous gravity of winning four trebles in a row, but also it was a game where we look back and say that youth was served.
It speaks to an issue that I hope will be explored further in the upcoming weeks as we head into the 2nd half of the season: Bringing up some of the other Celtic Reserves to play on the first team. We all saw today that the dues Hazard paid toiling in the Reserves is now paying dividends for the first team.
Hazard is not alone in that department, and the list of worthy Reserves is long: Armstrong Oko-Flex, Cameron Harper, Karamoko Dembele, Jonathan Afolabi, Scott Robertson, Kerr McInroy, and on and on. Along with Hazard, one other Colt who has made a mark on the first team this season in Stephen Welsh, and each of these aforementioned players listed arguably are in the starting blocks of a successful career for the Hoops.
They've all shown what they can do in the Reserves and in loan spells with other clubs. It's time to put them to work for the Hoops.
Hazard has punched his ticket on the Celtic history express, and hopefully he will translate this huge accomplishment into a successful Celtic career in goal. Seeing his performance in the last several games, no doubt he will. But the quality of his play Hazard has shown he has set the table for others in the Reserves to follow suit.
If you're like me, you're still basking in the glow of this monumental feat: the quadruple treble. So while I process this, I may have more to say about this amazing feat itself in an upcoming post.
Unlike me, though, you're probably not still apologizing to your neighbors for waking them up so early on a Sunday morning — remember, I'm 8 hours behind Glasgow here — with a rousing chorus of "I Just Can't Get Enough" after Kris Ajer's final penalty, but that's another story for another time.
Let's pick up this momentum Wednesday as we get back to the league games. Mon the Hoops!