First things first: If you haven't been reading the ratings following each Celtic game by the Celtic Noise poster known as Sandman, you should. This fine fellow usually hits the nail on the proverbial head every game, and his observations — with the wit and wisdom only the Sandman can provide — are always of the highest quality.
[Also, if you're a Celtic supporter and you're not on the Celtic Noise forum, you should be. A lot of news and insight can be found there, along with some non-Celtic banter as well. Tell 'em "lcafiero" sent you.]
As for Saturday's game, Ross County held on for as long as they could in the first half after a stunning attack by Celtic, only to have the floodgates break open at the beginning of the second half, where Celtic cruised to a 6-0 win.
Five takeaways from the game are as follows:
1. Thanks, Manchester City
An observation: There are few clubs south of the border in the Premier League that are, as of today, more soulless than Manchester City. It may not have always been so, but it appears on the surface that they said, "Jeremie who? Yeah, whatever," before letting young dynamo Jeremie Frimpong leave for the Hoops. And there are probably a few — several? a score, maybe? — Man City fans who are bemoaning the fact that he's no longer at that club, but their loss is our gain. No doubt Frimpong's moves on the pitch has sent more than one Ross County player to the trainer's table to treat a twisted ankle, and his assist on James Forrest's goal was a gem. The kid looks like he's got a promising career with the club.
2. Welcome back, Wizard
Tom Rogic gave the Celts a full 90 minutes on Saturday — when was the last time we could say that? While it was pretty much an unremarkable game for Rogic — a few opportunities missed, and a couple of miscues which could be credited to "shaking off the rust" — one facet of his game stood out against Ross County: defence. The Wizard was on the receiving end of several of turnovers by Ross County, which as it turned out constantly kept the Staggies on their heels. Great to see the big Aussie performing on both offence and defence, and clearly it's been a long time coming. Welcome back, big guy!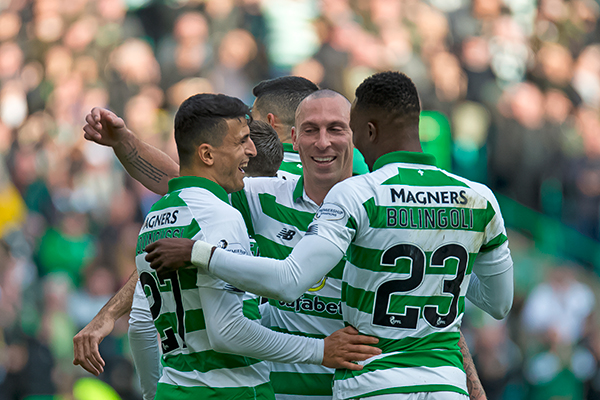 3. Dude, where's my goal?
It's great to see Mohammed Elyounoussi starting to get into the swing of things for Celtic. He's definitely a welcome addition to the club and, sure, I'm even willing to give him a pass for saying that his Norse countryman Kris Ajer may go on to bigger and better things someday — is there any argument there, as much as we'd like The Big Viking to stay at Parkhead? But I have to draw the line when Elyounoussi starts stealing goals: Boli Bolingoli took a shot late in the game, around the 72-minute mark, that could have been his first goal as a Celt; except that shot was deflected into the goal by Mo Elyounoussi. No doubt that was part of the discussion during the celebration of Mo's second goal . . . .
[I kid: Mo's second goal was a great deflection, but I'm still waiting for Boli to get his first.]
4. Damn that post!
Chances are this is a direct quote from Callum McGregor after his shot in the first half glanced cleanly off the post, and Odsonne Edouard couldn't get the rebound to go in. It matters little, because in the fusillade of shots that finally went in at the beginning of the second half, McGregor got his goal back. Which leads us to our fifth takeaway . . .
5. Ross County: New kids on the block
Ross County played better than the score would indicate. That may sound funny coming on the heels of a 6-0 drubbing, but hear me out: As the new kids on the block, so to speak, in the Premiership, Ross County had every expectation to come to Parkhead with stag-in-the-headlights sensibilities. But they hung in with the treble champions for 45 minutes, at least, and Ross County keeper Ross Laidlaw (say that three times quickly) made some pretty remarkable saves in the first half. Laidlaw and a Ross County defender — or defenders — lurking in the goal mouth in the right place at the right time prevented Celtic from being up at least 3-0 at the half; specifically a Christopher Jullien header and a rebound from a shot by Bolingoli, both successfully cleared. I'm all for giving credit where credit is due, and while you have to play a game for the full 90 minutes (86, so says Steven Gerrard, if you play for The Rangers™), Ross County clamped down pretty hard on the Hoops for awhile there, and while lessons were learned, hopefully they will recognize that there are some positives to come out of this thrashing.
But note, Ross County: Nir Bitton can kick anyone's ass on your team, either individually or collectively. Please keep that in mind.
[Blogger's note: My apologies for this post being so late. After a power outage last week, my WordPress settings have been hell to fix, and I finally got it up and running yesterday. Also, because we are no longer in fire season here — but not yet out of the woods, so to speak — I am going to forgo the wildfire threat level posts at the end of each blog item, resuming it in the spring.]