Those who know me are aware of the fact that I spent most of my adult life in the news industry, until I was unceremoniously waived from my wire desk duties by the Santa Cruz Sentinel in 2014 in their final layoff. In nearly four decades of news work, overall I am proud of the fact — and consider myself profoundly lucky — that my career went virtually error-free.
Mistakes? Yeah, they happen. I've seen it first-hand, and have been part of news teams to rectify them. I've even caught my own, thankfully before they were put into permanence via print. But this one by the Daily Mail is pretty much a "rookie mistake." You don't report the results of an event until the final whistle blows because, well . . .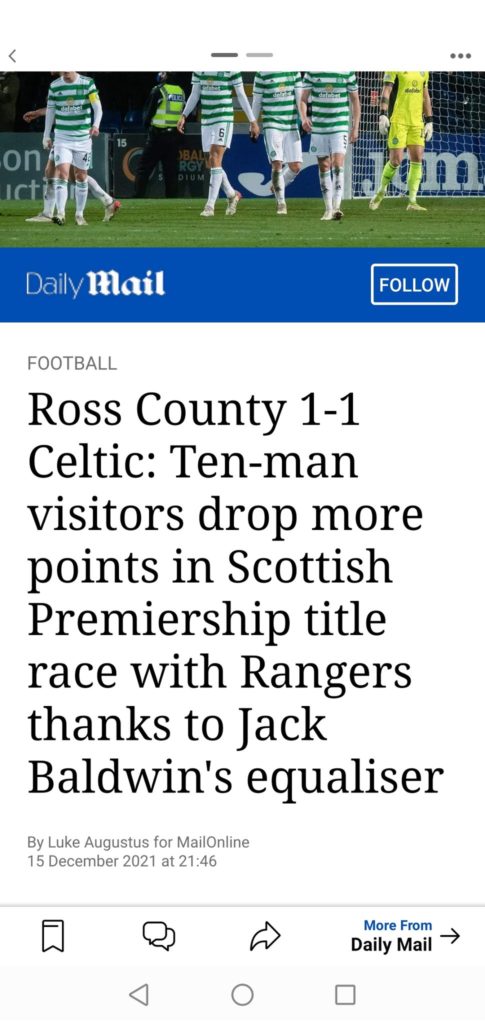 To be fair, let me pull back the curtain on how many sports writers cover games; and bear in mind that in these days of electronic media, it differs slightly from the good old ink-and-paper days. Generally speaking, in nearly every instance, reporters are writing the story as the match unfolds in order to have something ready when the final whistle goes. They'll add post-game quotes from coaches and players and submit it to their editors. And voila, you get to read it shortly thereafter.
But in this "gamer" — the game story, as it's called — apparently they jumped the gun, perhaps in an effort to get out of the office and into the pub. Or home, maybe. Only the people involved at the Daily Mail know for sure how this happened, but I would offer — not as an excuse, but as an explanation — that chances are there are a shortage of editors and writers at that news outlet, just as there are all over the industry worldwide as greedy publishers try to cut corners at the expense of the quality of their product, which by now is suspect.

But I digress.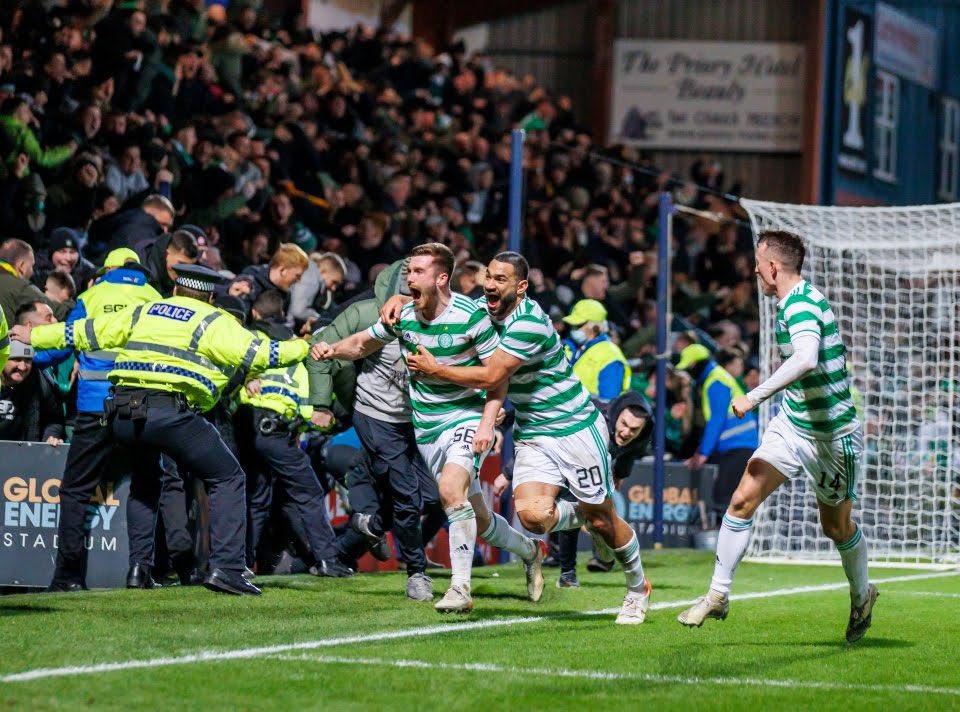 Anthony Ralston's goal in the upper reaches — literally and figuratively — so far away at Ross County was phenomenal. Much has been made of it elsewhere by those closer to the action than me. It is one of those endings that rival other late-game heroics that are part and parcel to Celtic's recent history. It'll be talked about for quite some time, to be sure.
If nothing else, the Daily Mail gets a yellow for this foul, and chances are they won't do it again. Or will they?
One more thing
It would be easy to be complacent after an exceptional win like Wednesday's at Ross County, and while you can easily bask in the afterglow of Ralston's goal for quite some time, the fact remains that the officiating in the match didn't even rise to the profoundly low and remarkably substandard level so common to the SPFL.
Carl Starfelt should have never been sent off, especially after having his nose broken, or so it seemed, several minutes prior. A clear handball — actually a both-handsball — foul on a Ross County player in their box in injury time completely missed by a ref who was as near to it as I am from my living room to my kitchen (and in this small apartment, that's not very far). Virtually every no-call — and there were many — against various Ross County players who seemed to be playing rugby moreso than football was not only grating, but affected the outcome of the game.
This has to stop. International bodies like UEFA or FIFA have to step in here and send Scotland some real officials instead of the poseurs now wearing SpecSavers on the sleeves of their black shirts.
On Sunday at Hampden, we have the League Cup final starting at 3 p.m., which thankfully is 7 a.m. Pacific. Mon the Hoops!