While I wait for my Celtic FC mask to come from the Celtic FC Store – the latest news is that they're releasing them into the wild on 28 July and hopefully it will arrive on these shores a week later – I bought another green-and-white mask from an artist on RedBubble a few months ago that I wear nearly on a daily basis, with daily washings of course. With a face that is perfect for a mask, it looks like this: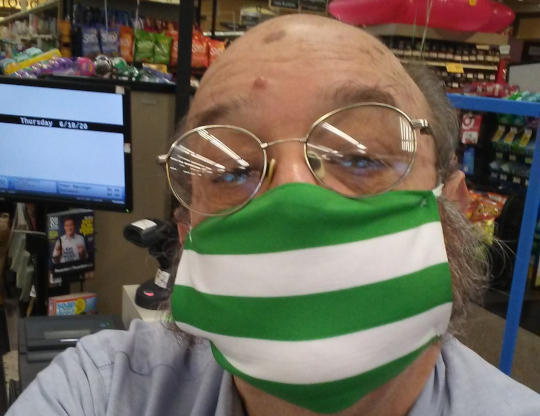 I also have a FC St. Pauli mask sent from Hamburg that I wear almost daily (same cleaning regimen) as well. It looks like this: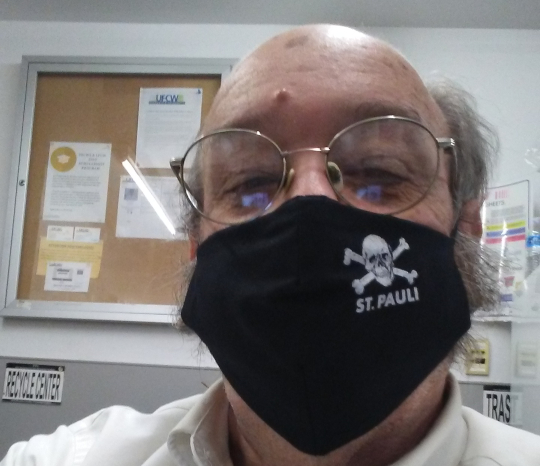 In this new era of mandatory facialwear, it is common to see people wearing masks of their favourite sports teams; here it would be baseball or American football or basketball. In my current jobs as a freelance writer and as a part-time supermarket bookkeeper, I get a hefty dose of interaction with the public, especially at the supermarket.
In broad terms, the computer engineers I mostly work with in writing software/hardware documentation are not the most football-fanatic people, as you might imagine, and they don't really care what's on my face.
But the general public that come into the store? Well, that's another, and slightly different, story.
The supermarket I work in is in a small town in the Santa Cruz Mountains, sandwiched between the Pacific Ocean and the Silicon Valley. Many people live here and work there and there are a few football fans in the area, mostly fans of the nearby MLS franchise, the San Jose Earthquakes.
Other than Mike, a regular customer to the store and a fan so beholden to FC Bayern Munchen that he often wears the full adidas Bayern training kit into the store (while handing out Bayern stickers to anyone who wants one), I don't come across many people I personally know who follow football.
However, there are some who visit the store who wear their allegiances on their clothes – caps, T-shirts, etc. – and the occasional kid with his favorite team jersey; one kid, who I call Ronaldo, comes in wearing a Juventus jersey all the time.
In any case, I always strike up conversations with people I think may even remotely have an interest in football because, well, there's not that many of us around. And even those who aren't: One day, a woman came in to exchange a product and I noticed she had a Saltire on her wallet.
"Ah, you're Scottish," I said.
She nodded. I smiled underneath my mask.
"Do these green-and-white stripes mean anything to you?" I asked, pointing to my face.
She just looked at me and said, "No."
Definitely a Rangers fan.
Then there's the Liverpool FC fans. I've encountered several at the store over the past few months. I am always gracious, truthfully so, in bringing up what a good manager Jurgen Klopp is (and he is), while congratulating them on having a great season in winning the league (which they did).
When my support for Celtic comes up, they always respond – every time and without fail — with something about . . . Steven Gerrard.
Every. Damn. Time.
"Right, the manager who can't win a trophy to save his life," is my most common response.
Or, "Right, the guy who slipped against Chelsea and lost the title for The Reds."
Or, mostly to myself, "Yeah, well, maybe you should walk alone. Off a cliff."
The FC St Pauli mask does not get many responses, other than fear because of the skull-and-crossbones. However, I did have a conversation with a German woman who, seeing my FC St. Pauli mask, was surprised that anyone in the U.S. would even remotely consider supporting Die Kiezkicker. But yep, here we are – flying the antifascist flag even in small towns in America.
Nevertheless, if you're going to cover your face – and you should – you might as well make a statement, and supporting your club (or clubs) is the best way to go.
[Blogger's note: Thanks to a glitch that originated, I think, either with my ISP's transfer of this site to a new server or a boneheaded move on my part adjusting my WordPress settings, two recent blog posts — here and here — regarding Celtic's games in France did not appear on the Celtic News Now feed. Fearing that I had been unceremoniously waived by the Hoops news aggregator, I later found that it was a setting, not my writing, that was the culprit.]