First things first: Thanks to a lightning strike just north of here a couple of weeks ago, the area has been in the throes of a massive wildfire. Now contained at 35 percent, we are allowed to "repopulate" our homes in Felton as of Saturday, and not a moment too soon. All of which is to say that it has been a perfect homecoming for me as the Hoops win 3-0 against Motherhell — sorry, Motherwell — at Paradise on Sunday.
So the minor blessing in disguise is that I missed much of the wailing and gnashing of teeth over the past week, and only intermittently — when the absence of rolling blackouts would allow — got to witness the travesty against Ferencvaros and the drama on social media that followed.
But the game against Motherhell started off slowly and picked up momentum when Neil Lennon decided to play two strikers in the 2nd half. James Forrest finally got onto the score sheet in the first half, 2nd half sub Albian Ajeti took an excellent pass from Kris Ajer and found himself one-on-one with a helpless Motherwell keeper to hit the back of the net, and Christopher Jullien put the game away late on a cross from Jeremie Frimpong.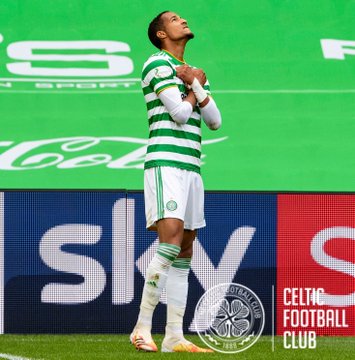 I'm going to forgo the takeaways to simply make a couple of observations moving forward.
3-5-2 uber alles
I get it, Lenny and I'm with you here: It's impossible to play two strikers up front when your star gets his Achilles tendon raked by some hammerthrowing ned in the previous SPFL game and your new acquisition has not played in awhile (to say nothing of the other striker who is in the doghouse for making too many Tik-tok videos when he should have been training). But the only way you're going to get Patryk Klimala to sink or swim is to throw him into the deep end of the pool, so to speak — and my money is on that he'll swim. Fast.
Let me also add this caveat to this observation: I am new to football, and I expect my observations may be that of a neophyte. I played a grand total of three games when I was in my early 20s — a fullback whose specialty was standing in the near post during corners in our end — as a favor to a goalkeeper friend whose team needed bodies (and only three games because the team eventually disbanded). Normally I watch games twice before writing about them, just to make sure I didn't miss anything, and I pore over the games to get a better understanding of the nuances in each game. All of which is to say, yeah I'm new to this, but I'm doing my homework.
So subbing in Klimala changed the complexion of the game pretty quickly, even though he did not score. Adding Ajeti to the mix, who did score, also proves that we should have started with two strikers up front from the start. But rather than do what many of the self-proclaimed experts that populate social media are doing, I'm willing to give Lenny the benefit of the doubt and trust that he's learned a lesson here. Going forward, I think we're going to see more of Klimala, possibly starting, and possibly Ajeti, too.
So while I'm giving out advice, let me add this . . . .
Start Jeremie Frimpong
Hatem Elhamed has been doing great over the last few games, but there has been something missing when Jeremie Frimpong is not in the lineup. We saw just what is missing in the 2nd half of the Motherwell game. The kid has the moves, both on and off the ball, and the post-game Motherwell training tables were full, no doubt, of twisted ankles of players who unsuccessfully challenged the Oh My Days Kid.
I'm not sure what the solution is to getting Frimpong into the game, because someone will have to be pulled in order for him to make the starters. Elhamed has been phenomenal overall for the Hoops and unless we can move someone in the midfield, maybe, and put Frimpong there . . . it's a difficult call which I'm sure the brain trust at Celtic are currently dealing with.
One more thing
For those of us in California, it is heartening to see our native son Cameron Harper picked for the first team over the last few games. We are fully aware of his talents, and it's good to see they're being noticed by the club.
So it looks like the Hoops are back on track with their win over Motherwell. And barring any other wildfires that may cause further evacuation, it looks like this blog is back as well. Now to fill in the time during the international break before we go into Victoria Park against Ross County a week from Saturday.