As this season's dumpster fire draws to a close while we wait to see who's actually going to manage Celtic next season — not to mention that it's once again Glasgow Derby weekend — it might be a good idea for a small diversion in the form of season superlatives.
Hence, it's about time for Celtic's Player of the Year, Goal of the Season, and Young Player of the Year. It's pretty simple, and the process starts by going here and voting.
How did I vote? Glad you asked.
Player of the year
This one is easy.
Zander Clark.
Just kidding.
Actually, it was a bit difficult. In a lackluster year, you might think it would be difficult to pick a standout. But that's not the case, since each of the nominees had their bright spots during the course of the season. Not only this, for me it came down to two Norwegians.
Sorry, Mohamed Elyounoussi, but I had to go with Kris Ajer this year. Ajer has been a rock in the Celtic backfield this season, and admittedly he's been very versatile in filling the spaces when advancing the ball forward into the opponents half. In fact, why Ajer doesn't do this more often is a mystery, but his solid play this year earns him the nod from this voter.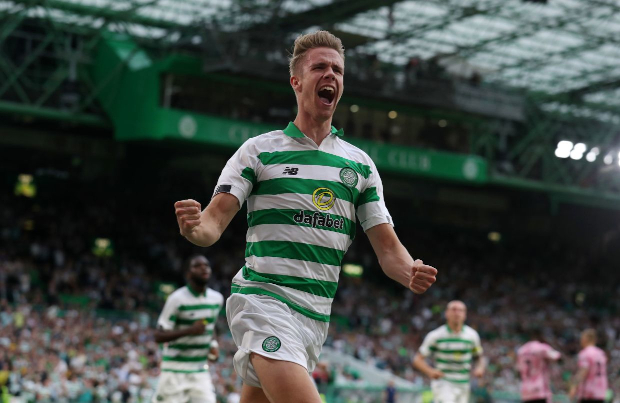 Goal of the Season
This is a tough one. So many good choices here: Odsonne Edouard dribbling through the entire population of Reykjavik — OK, five or six KR Reykjavik players — or James Forrest's goal against Motherwell to break his dry spell, or even Ismaila Soro's launch from a few miles out against Dundee United. Unfortunately, my favorite goal of the year doesn't count because, technically, it belongs to last season: Edouard's penalty looping over Craig Gordon and Hearts in the previous year's delayed Scottish Cup final.
But perhaps the best of this bunch is Mohamed Elyounoussi against Lille. Of all the good candidates in this bunch, any time you get the goalkeeper to do his best impersonation of a statue while the ball hits the back of the net is a feat in and of itself. Nice one, Moi!
Young Player of the Year
I hate to say it, but it can be successfully argued that we can see how our young players are developing by watching the New York Red Bulls of Major League Soccer stateside this season. There's Cameron Harper, Andrew Gutman, Patryk Klimala . . .
Bitter? Me?
OK, now that this is off my proverbial chest, my vote went to Stephen Welsh, a Celtic Reserves player who made his mark on the club without having to actually leave the club, playing solid defense since his call-up to the first team. Welsh has a bright future with the Hoops, and I hope he can prove that the Celtic Reserves can produce players that stay with the club.
Again, here's the link to cast your ballot. How did you vote? Post in the comments below.
Mon the Hoops!