Forgive me for going off-script and weighing in on Celtic while we're still outside the parameters of the regular SPFL season — a self-imposed rule I have set on myself and this blog. However, this weekend warrants a few comments and points which could be marginalized, or even forgotten, by the time we pick up the regular season again on Sunday.
Like . . .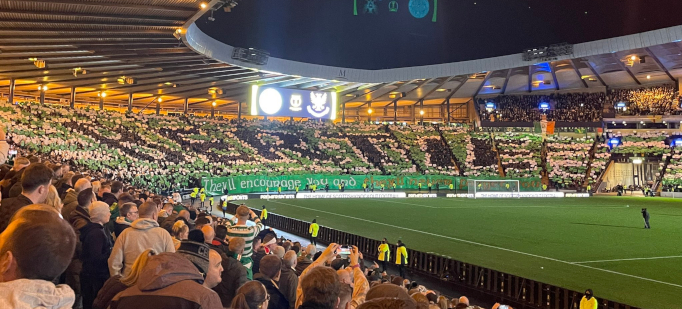 Damn, can we tifo!
Recently I was explaining tifo to a friend who follows sports marginally, and if anything only sports in the U.S. He couldn't understand why fans would make so much of an effort, and I just threw up my hands and changed the subject.
Anyway, despite the fact I am not a big fan of pyro, the pregame and 67th minute tributes to Bertie Auld on Saturday were both phenomenal. The Green Brigade gets high marks for bringing high quality to the stands, each and every time, regardless of whether it gets the club in trouble or not. It was phenomenal, and regretfully I could not find a still from the 2nd half demonstration by the Green Brigade.
You'll have to settle for videos gleaned from social media, like this one here.
Of course, Sunday's Wile E. Coyote tifo — whatever the Ibrox crew was doing on at Hampden the day after, which seemed to be purchased at ACME– paled in comparison. As it always does, and as they always do.
A yellow for Furuhashi
An incident in the St. Johnston game which caused some ripples was when that paragon of class officiating Nick Walsh — yeah, that's the epitome of sarcasm right there, as Walsh should be nowhere near a grade-school match, let alone a Cup semifinal — gave Kyogo Furuhashi a yellow card. But the fact of the matters is that it was completely warranted.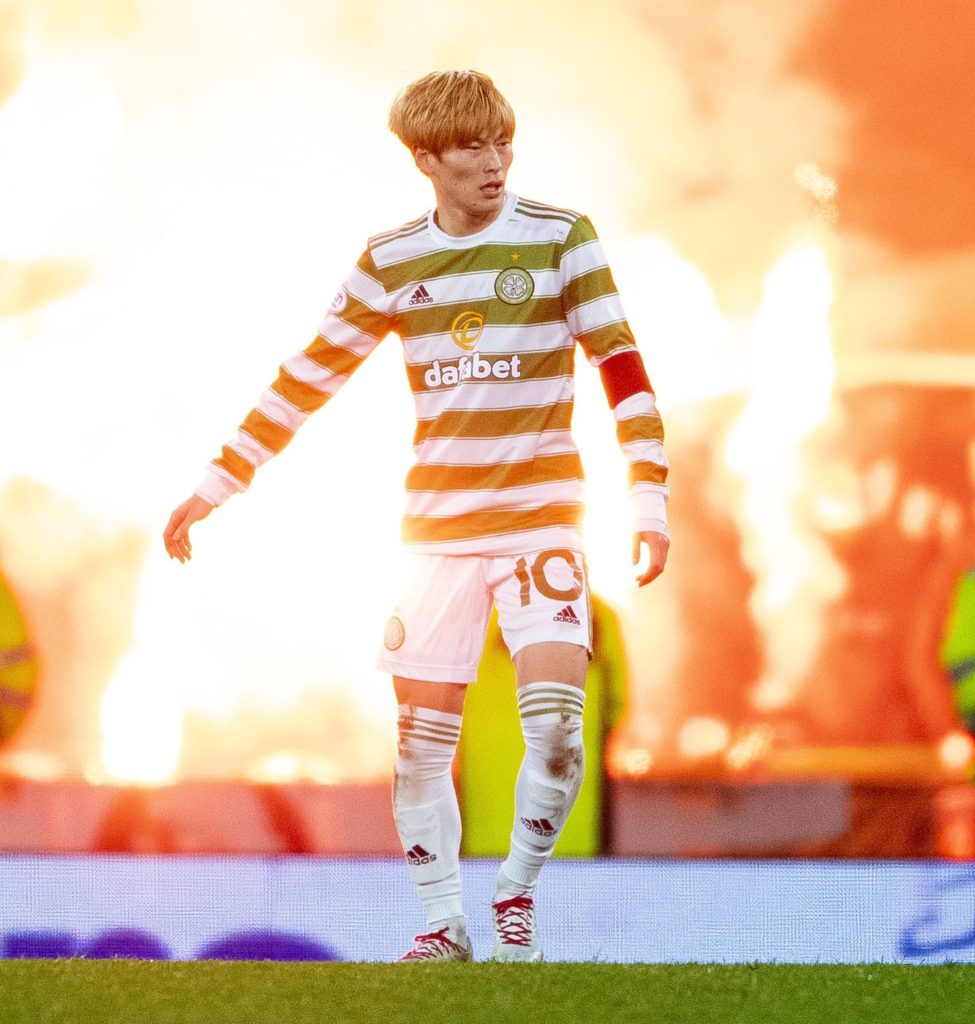 Furuhashi was floored by some mouthbreathing, hammerthrowing nobody on St. Johnstone — playing their Livingstonian 10-0-0 formation all game — and Kyogo got up and was clearly justified in pushing him. A small tete-a-tete which amounted to nothing, except to Walsh, who made it a serious offense thanks to the fact that it was a Celt involved.
Daijobu desu, Furuhashi-san — That's OK, Kyogo. It's good to see that Kyogo has probably had his fill of the rogue's gallery of talentless thugs that populate the SPFL and is now standing up for himself.
Welcome back, Jamesy
Oh, man. Have I been waiting for this, and it's a plot line straight out of Hollywood. Who better to honor a legend like Bertie Auld than a potential legend-in-waiting like James Forrest?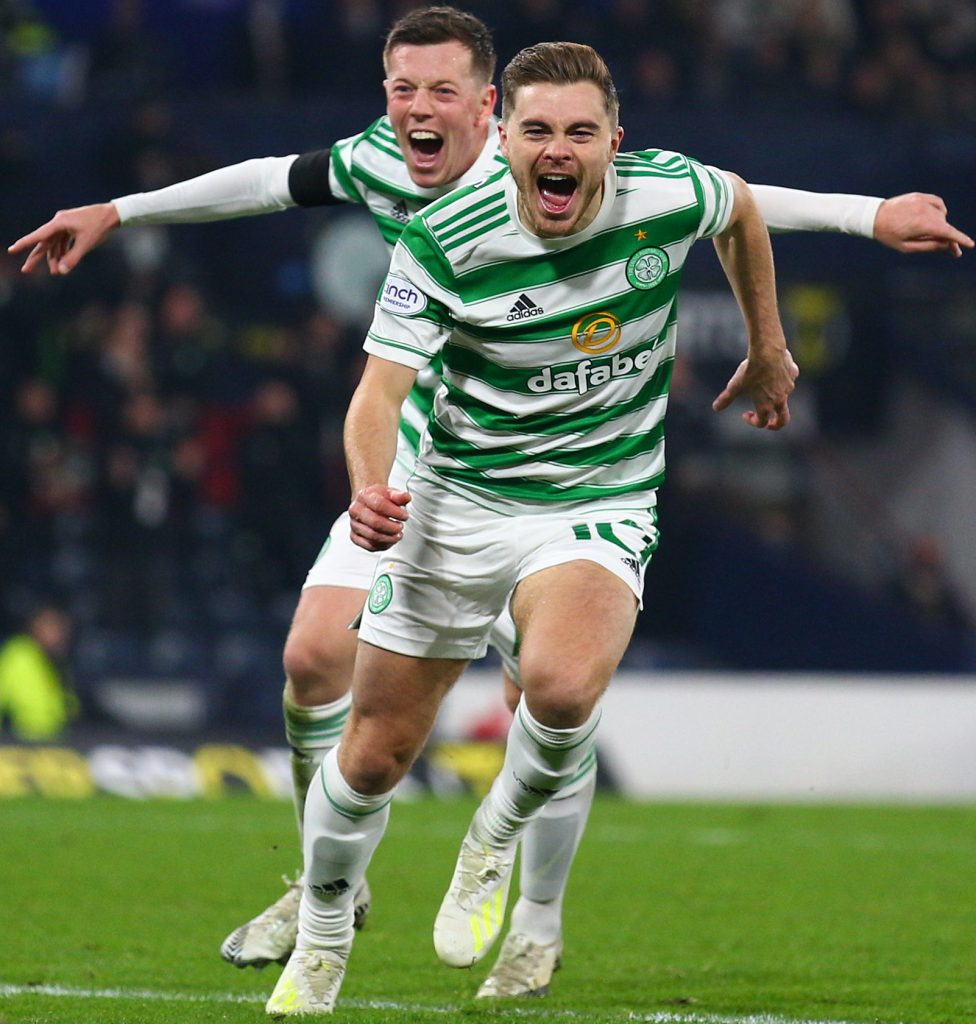 Forrest scored in the 74th minute from a cross that pinballed off St. Johnstone goalkeeper Zander Clark and others, and slotted home the 1-0 winner on Saturday. If there was ever a fitting "welcome back" after recovery from a long injury, it was this for Jamesy.
Love seeing that kind of play from a homegrown hero like Forrest.
One more thing
My friend Matt Corr's latest book — "Harry Hood: Twice as Good" — has officially been released into the wild, and it's an ideal holiday gift for that Celtic fan on your list. You can pick up the book at the Celtic Star Bookstore, and you can marvel at how great Harry looked in the San Antonio Thunder jersey late in his career . . . not to mention all the tales of glory from his Celtic days as well.
And that, ladies and gentlemen, is that. We travel to Bayer Lederhosen — sorry, Leverkusen — this week before taking up the regular season tasks against Aberdeen on Sunday. Mon the Hoops!