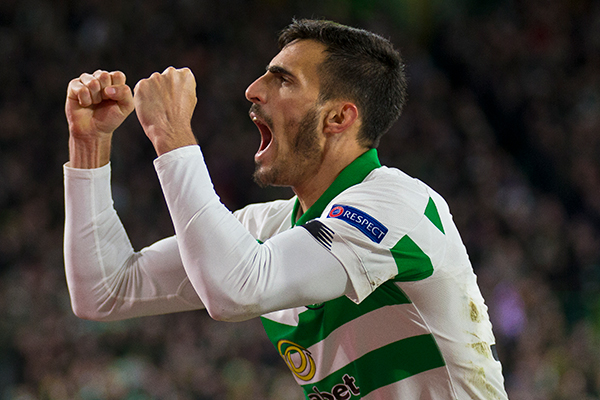 So, the Italian team went up 1-o in the first half, and then Celtic came back and scored two to win. Sound familiar? No, it wasn't Tommy Gemmel and Stevie Chalmers this time — actually it was Ryan Christie and Christopher Jullien, the latter who finally got a header in after multiple tries over the last few games — and it wasn't in the heat of Lisbon but in the cool of a Glasgow evening where Celtic pinned a 2-1 victory on Lazio.
I am going to let the pundits drive, and of course our celebrated Sandman at the Celtic Noise weighs in here. But personally, I have my own five takeaways, four football-related and one that transcends football.
1. That's using your head, Christopher!
Finally. Over the last few games, Christopher Jullien has been trying to ram the ball home with headers, only to be stymied at every try. Even against Ross County, which played remarkably in defence in goal (where that defender came from is anyone's guess, but he gets high marks nonetheless for saving the keeper's bacon on a few occasions), Big Chris' shots were denied. Not last night against Lazio. We can look forward to more of that, and the sooner the better. Nice work, Monsieur Jullien!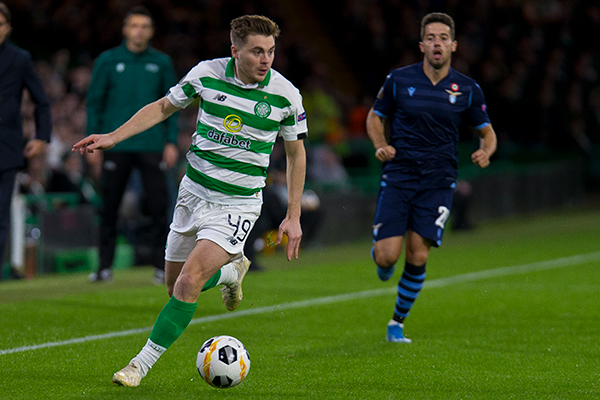 2. Give Jamesy a break
To be fair, it would be an understatement to say James Forrest did not have a banner game last night. To be even more fair, Jamesy was constantly double- and triple-teamed during the course of the evening, which naturally would lead to a substandard game for anyone. But that mere fact seems to be lost on the army of armchair gaffers on social media who appear to want Forrest shot at sunup for a subpar performance. Get a grip, the sooner the better.
3. Another brick in The Wall
This is going to be a simple observation. Sign Fraser Forster. Now. Give the guy what he wants. Anything. King's ransom. Whatever. I'll even buy a second Celtic TV subscription if it will help. While he didn't get a clean sheet yesterday, his save at the end is destined to join the register of plays that Celtic fans will talk about decades from now.
4. The supporting cast deserves a hat tip
Most of the time, there is glowing praise for those who make the headlines and the highlight reels. Rarely do we get to praise those who set them up for success, the ones who made the passes and the ones who defended well enough to set up the transition. My supporting cast member of the game last night was Hatem Elhamed, who always seemed to be in the right place at the right time, and whose lightning speed seemed to put him forward much faster than the Lazio defence expected. Also, most of the time they are never mentioned, but the home fans last night deserve special mention for their ramped-up support for the 90+ minutes. Great job, all!
5. Fuck fascism, fascist fans, and fascist clubs
Two simple words: Fuck fascism.
Pure and simple, if you're club has a history of fascist behavior as Lazio does, if your club's supporters have a history of murdering supporters of other clubs as Lazio has, if recently your club has been in hot water over racist behavior in the stands at your home games as Lazio has recently dealt with to some degree (not a great degree, but some degree), and you still claim to be a supporter of this club — "but not its fans" — you should be ashamed of yourself.
You own this.
Let me repeat that: You own it. When Lazio supporters come to Glasgow and march in the streets making Nazi salutes, let alone being called out by the BBC in continuing this behavior in the stadium, they are speaking for you. No "ifs," no qualifiers.
Lazio is not alone here in harboring fascists, and sadly the football world is full of clubs of this ilk. One doesn't even have to leave Glasgow to find a fascist club within the city limits, namely the one which plays its home games at Ibrox.
They all need to be opposed at every turn. Period.
Fascism lost. That is fascism's history, and under the vigilance of good people who fight against it, losing is fascism's future. It will continue to lose when good people stand up to evil. It may not be always so clear and not always so timely, but good will always prevail over evil.
On to Aberdeen on Sunday . . .