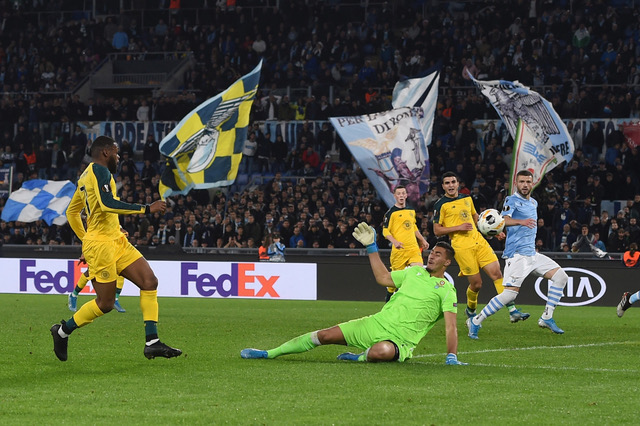 So the second of the two good-versus-evil football matches transpired in Rome yesterday, and leave it to a black Muslim Celtic midfielder — Olivier Ntcham — to shut down the team so favored by Mussolini back in the day and so favored by lily-white fascists everywhere — OK, at least fascists in Rome — in the present.
Shut them down with about 45 seconds to spare, no less. Merci beaucoup, Olivier.
The legendary Sandman of The Celtic Noise fame has got his ratings on the game here, and it's definitely worth a read before you continue. I'm glad to wait.
Now that you're back, here are five takeaways from the successful conquest of Rome.
1. This team is awesome
While it's probably obvious that this year's Celtic team is one of the best in the last several years, it's not often said enough. Down one goal early to one of Italy's best teams? Not a problem. James Forrest comes back and evens it up, and in the interim, the Celtic defence tightened up and Fraser Forster lived up to his nickname after allowing a "gimme" at the 7-minute mark. One could easily argue that this team can play with, and beat, anyone anywhere, and that wouldn't be hyperbole.
2. Neil Lennon is awesome
Try as I might, I've been attempting on Twitter to give a "hat tip" to those who are coming out and saying, in effect, "I was wrong about Celtic hiring Neil Lennon." However, after about the 240th post, I gave up. So here's a blanket "hat tip" to all of those who have admitted to being wrong to have preferred someone else to lead Celtic — someone who would have used Celtic as a stepping stone to another post — rather than Neil, whose gaffer skills are now hitting their stride with a more-than-able Celtic team and whose dedication and devotion to Celtic, like Julius Caesar's wife, is above reproach.
3. Olivier Ntcham is awesome
I'm going to bet the mortgage that we're going to see more of Ntcham in the Celtic lineup after the victory in Rome. Why we don't see more of him — especially after the missile he sent into the net from about 35 yards out against Partick Thistle, the first of two scores by the Frenchman in that game — is a mystery. But I get it: When you have a club that has got so much talent at midfield, it's hard to start everyone, though those who have been calling for Callum McGregor or Scott Brown to get some rest might have a good case to put in Ntcham in either one's place.
4. Chris Sutton is awesome
I get it, BT Sports. You block your video feed to the United States because, well, you want to ignore a potentially huge untapped market in North America with a growing number of "soccer" fans in the U.S., hungry for what you can offer. Well, that's your loss. But thanks to the modern miracle known as the Internet (and how long the video clip stays up remains to be seen) and thanks to a Twitter user named Adam Lynch, we get what is probably the best call of the season, so far, in Chris Sutton on Ntcham's goal. A HD version is here. "Wow! Wow! Wow! Rome. Conquered."
Three things about Ntcham's goal, and Sutton's reaction, that deserve special mention: a.) After watching this clip about, oh, 900 times (so far), I have no idea who the Lazio player is passing to, other than Odsonne Edouard, unless he is passing to his teammate to his right; otherwise there is no teammate within about 30 yards of him, b.) the funniest reaction, next to Sutton's, is that of Mohammed Elyounoussi, who just raises his arms and walks — walks — toward Ntcham while his teammates run past (long game, he's tired, I get it), and c.) there is no sorrier lot on the planet than the greeting clowns who took to social media calling for BT Sports to fire Sutton for his reaction.
5. Fascism still sucks, and has no place in football
Somewhere on social media, a Celtic fan reposted a tweet from a Lazio fan saying something to the effect of, "I am a Lazio fan, but I hate fascism." Sorry, mate, but you're an enabler — maybe an unwitting one — of fascism. If that's your club, you own them. No excuses. Full stop. You own the goosestepping assclowns marching in Glasgow throwing up Nazi salutes. You own the deaths of Tottenham Hotspur fans several years ago at the hands of your fans. You own the stabbings of three — a third, according to a report late on Thursday when one of the buses carrying fans broke down — Celtic supporters. Rome is a large enough city to have more than one club — Italy itself has hundreds — and if it's your choice to support a club that embraces fascism while UEFA and FIFA both turn a blind eye to it, then you own it. There's no place for fascism in football. There's no place for fascism anywhere, period.
On to a match against Motherhell, sorry Motherwell, on Sunday.