It has become commonplace on Saturday and Sunday mornings at 4 a.m. for noon kickoffs in Scotland: Set the alarm for 3:45, shut it off quickly before apologizing to my daughter awakened in the other room of our small apartment, curse the fact I can't sleep in to 7 for a 3 p.m. kickoff, shower, suit up in the appropriate home/road/third jersey and scarf, and then put on the Celtic match with a very low volume.
If every Celtic game was like Sunday's outing at Tannadice, getting up at 4 would never be difficult.
There are no superlatives that would do justice to the Bhoys' 9-0 victory yesterday. Also, not to blame the victim here, but after Joe Hart went down with a boot to the head, got stapled up, and continued to play flawlessly, Dundee United had a whipping coming to them. Don't injure our keeper, and we'll let you live . . .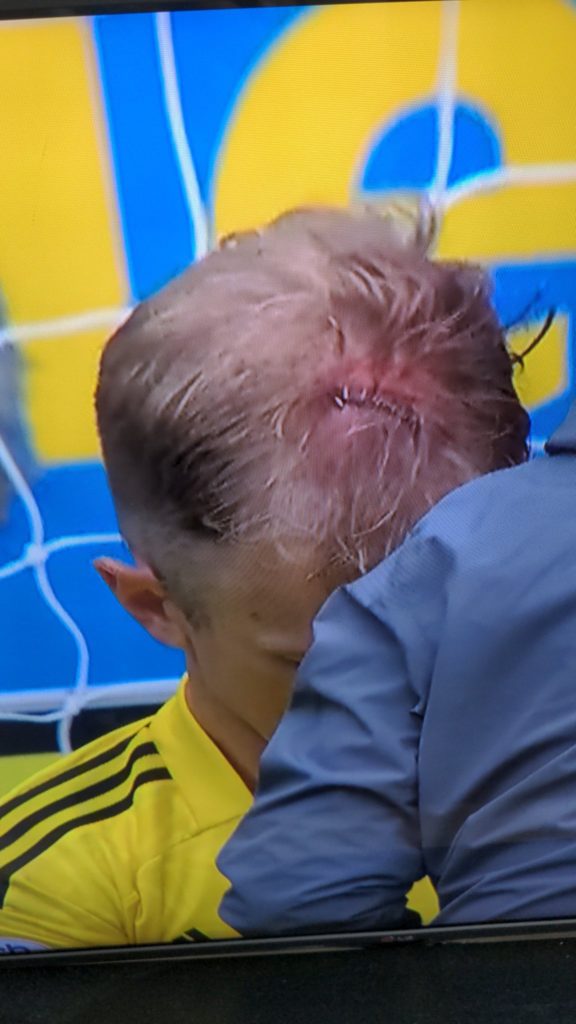 Nevertheless, this was a result that was coming when, finally, Celtic fires on all cylinders. Not only were the Bhoys firing on all cylinders on Sunday, they shifted into overdrive as well. Unfortunately, Dundee United had the misfortune of being on the receiving end of Celtic's pure, beautiful, inventive football in a high-scoring match that the Hoops have been capable of ever since Ange Postecoglou took the helm.
One stat stands out: Thirty shots, 13 on target, makes you wonder how many of those other 17 might have gone in had they been closer.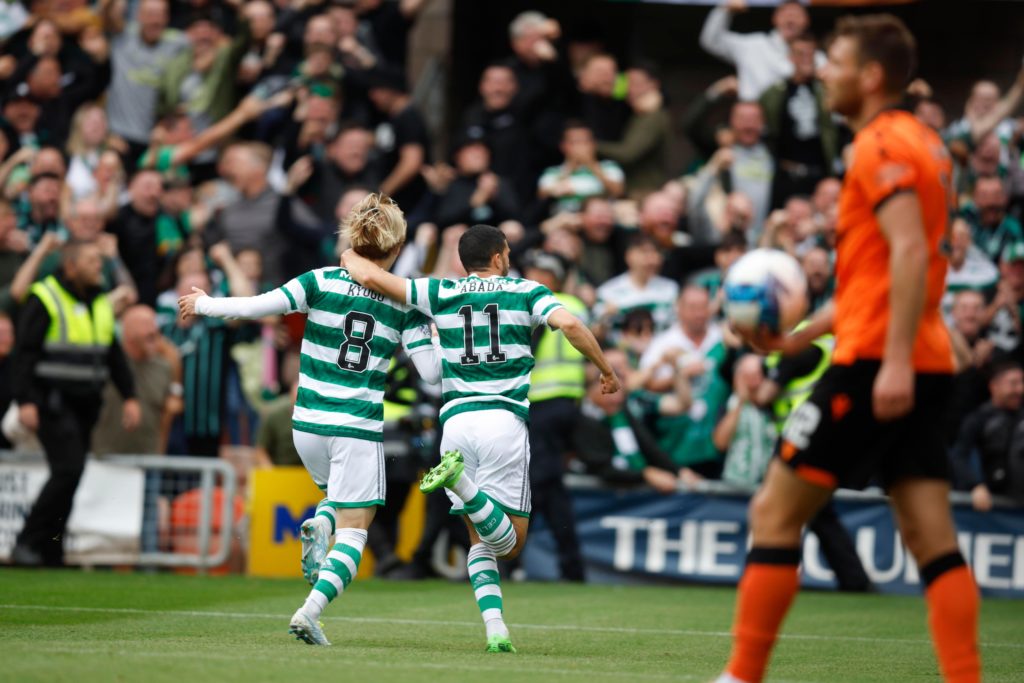 Not enough can be said about Kyogo Furuhashi and Liel Abada: Kyogo at 15′ and 40′ and 45'+2, Abada at 50′ and 59′ and 77′. Already the comparisons between Kyogo and Henrik Larsson are being made on social media — prematurely, in my book. However, the Japanese bhoy has certainly made strides in that direction to validate a comparison to the King of Kings, and no one would be happier than me to see that come to fruition.
Jota, too, was his usual flawless self. On his goal right before the end of the half, a very humorous episode took place where a Dundee United defender, on the pitch between Jota and the goal albeit several yards to Jota's right, put his hand up for offside on Jota . . . when he was in front of Jota on the pitch. The comic relief of that alone made this the goal of the game, in my book.
And it doesn't stop there.
With the depth on this squad, Ange is orchestrating the games like a conductor leading a symphony. Thinking you may be getting a respite with a second-teamer coming in off the bench? Not a chance. There's a good chance the replacement is better than the player coming off. It's a great position for Celtic to be in.
It will be interesting to see if we can keep the level up in our next match, a League Cup tie at Ross County on Wednesday, to say nothing of Saturday's match against the Huns.
One more thing
There's this meme floating around social media recently that provided a chuckle. It said, and I'm paraphrasing here, Group F in the UEFA Champions League is the scariest because it has 15 European Cups between Real Madrid and Celtic. Of course, it doesn't mention that 14 of those belong to Real Madrid, and who am I to mention that part?
Anyway, onward and forward. Mon the Hoops!