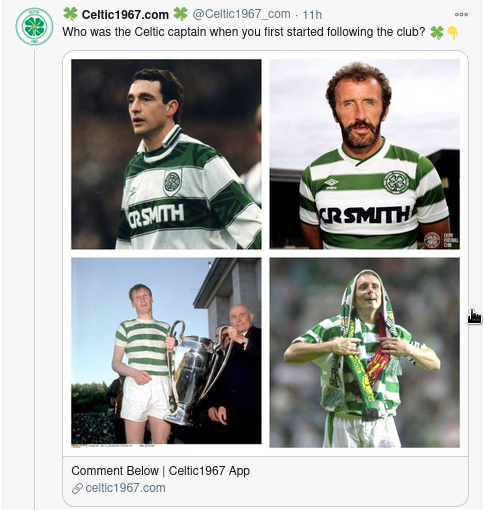 One of the many things that's great about being a Celtic fan is the club's history. Sure, all clubs have a history, but there are few that are as resonant and vibrant as Celtic's, which makes it a great club to follow. When questions like the one above are posted on Twitter, for the most part the thread is an interesting collection of responses which can be informative.
My answer for this one is Scott Brown, a captain and a player who will easily join the pantheon of Celtic greats once he retires. Laugh if you want, but I've only been following Celtic for the last three years and I don't have the . . . let's say, "experience" . . . that some of other fans might have had growing up with the club.
That's something I'll try to live down. While I am envious of those who have been lifelong Celtic fans, I don't have the luxury of time-travel to start earlier. You would think that would not matter — that my desire and passion for the club would be enough of a defining factor in being a supporter — but you would be surprised how those who are new to the club are pigeonholed.
It comes mostly in on-line disagreements, whether in social media or in some fan forums, where a debate will be reduced to, "I've been a fan since the dawn of time and you haven't."
Human nature? Perhaps. But if you think that you're a better fan because you've been one for longer, that's not the slam dunk you think it is. To be honest, I don't care if Brother Walfrid personally handed you lifetime season tickets at the outset of the club and you've been to every match since 1888. You're no better, or no worse, a fan than the person who fell in love with Celtic yesterday. Longevity doesn't make you a good fan — more informed, perhaps — but your commitment to the club is the important metric here.
"Faithful through and through" aren't just four words, they are a foundation of a commitment to Celtic, regardless of whether you're a lifetime fan or a johnny-come-lately.