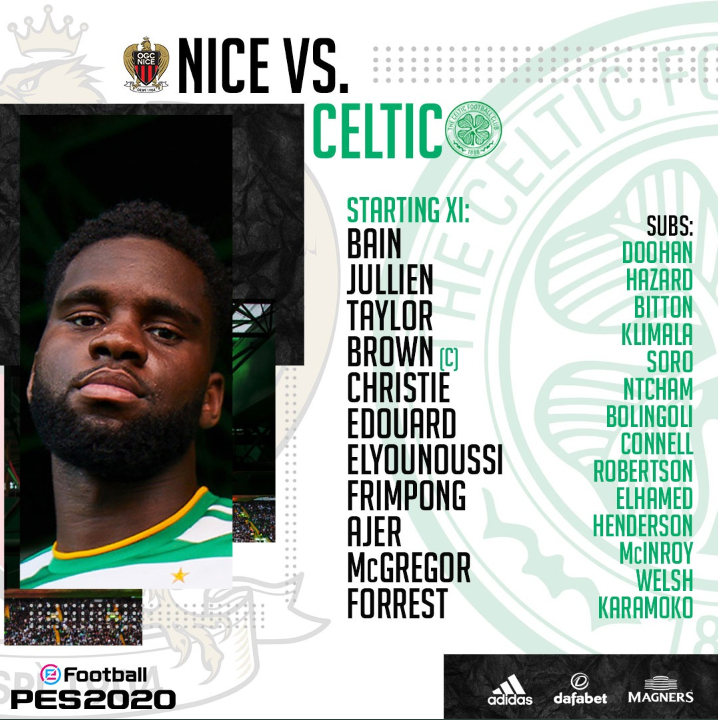 Watching 131 straight days of reruns of every Celtic game of this past championship season — thanks, Celtic TV — I am grateful, like all other Hoops fans, for this: Celtic finally took to the field against Nice on Thursday for the start of French friendlies to tune up for 10 in a row. As is the postgame custom in this blog, we'll take a look at some takeaways — namely three of them — from Thursday's game.
VAR sucks, and the SPFL doesn't have a monopoly on bad referees
First things first: VAR sucks. Full stop. And I have said in the past that I find the offside rule an unexplained mystery that rivals how gravity works or the what the end of "2001: A Space Odyssey" really means. But watching Odsonne Edouard sandwiched between two Nice players while the ball passes all of them leads me to believe that he was clearly onside and the goal should have stood.
Add to this the arbitrary calls and non-calls during the course of the game by a referee who definitely has been away from the game far too long and needs just a bit more practice, and what turned out to be a rust-shaking 90 minutes could have been a Celtic win.
But you know what Jock Stein says about refs.
High marks for everyone
In the first half with the starters on the pitch, Celtic got into a pretty good rhythm and did not lack chances on goal. Credit a combination of getting timing down in the first game with a few phenomenal saves by Nice's goalkeeper Walter Benitez. With the exception of a couple of good moves and a shot by Kaspar Dolberg (after a foul downfield against Mohammed Elyounoussi which was not called, but never mind) to make the score 1-0 to Nice after 38 minutes, Scott Bain played well, making a few good saves in his first start in several months.
Then came the wholesale team change in the second half, as Neil Lennon went with the subs. They all played well, and some were phenomenal. Boli Bolingoli had a fairly remarkable game where his defense was solid, his passing was crisp and he had a shot on goal that, although wide, shows that his first for the Hoops may not be far off. Hatem Elhamed, now number 44, showed the speed and defensive form that made him a fan favorite early last season. Ismaila Soro also impressed with his defensive play, with many of his passes getting the Hoops out of danger.
And then there's Patryk Klimala. Not only did Polish Paddy score to equalize on a misplayed ball by the Nice goalkeeper, but his play during the second half was pretty remarkable. What should have been more notable during the game was Klimala's range — he was all over the field and he made a couple of defensive plays in the Celtic end that saved potential scores.
Which, of course, leads us to consider another Celtic striker who is currently not with the team, so . . .
Meanwhile, back in Scotland . . .
As widely reported, Lennon has dropped the hammer on Leigh Griffiths for coming into training overweight and for his social media exploits, keeping him off the roster for the French games. And with Klimala already impressing on the pitch, Griffiths' work is cut out for him to regain his spot.
Unlike a chorus of social media pundits who think Griffiths is through, I would disagree. You read it here first: Griffiths will come back with a vengeance. In the best of all possible worlds, I am confident that Super Leigh will take this latest wake-up call and make the best of it.
One more thing
The refrain from the Grateful Dead's "U.S. Blues" would be a fitting verse to sing for the person who raised the 9-in-a-row Celtic flag atop Glasgow City Hall last week: "Wave that flag, wave it wide and high."
And as you might expect, the social media response to this has been pretty hilarious, now that each of the staunch statue guardians becomes a "flagpole sitta" (thanks, Harvey Danger). This one below is of special note . . . which has drawn requests from NASA to investigate (although my guess is that the American space agency will pass).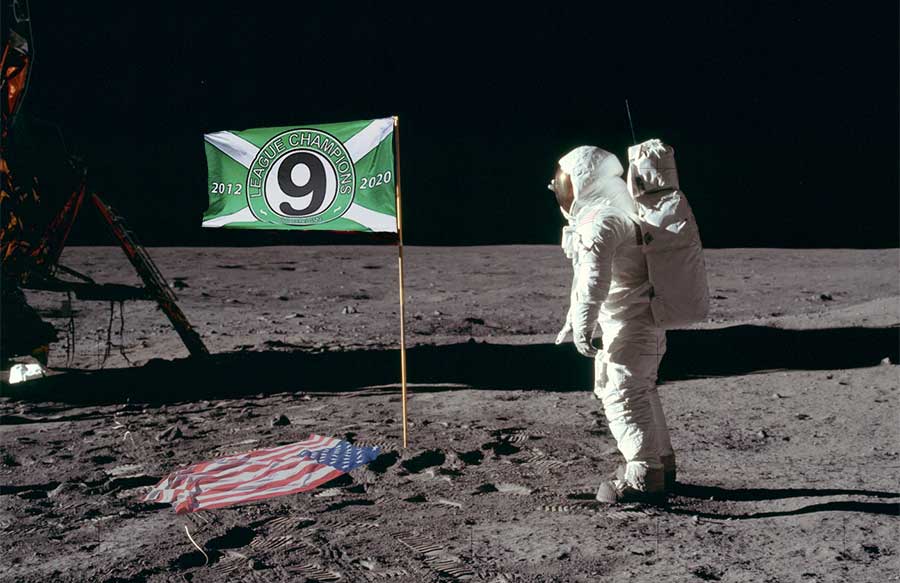 Until the Lyon game, we are Celtic supporters, faithful through and through . . .