We all know what speculation brings, regardless of what an army of "inside sources" may claim. But until Fraser Forster and some Southampton bigwig sit down for a press conference announcing The Wall is returning to the Saints — something that hasn't happened at least while this was written on Thursday afternoon — it's fair to assume a deal is still possible and Forster may very well return to Celtic.
Yet even in the tragic event that Forster doesn't return, we still have a capable goalkeeper to start for the Hoops; a goalkeeper who had a hand — injured or otherwise — in the club's success prior to the arrival of La Gran Muralla.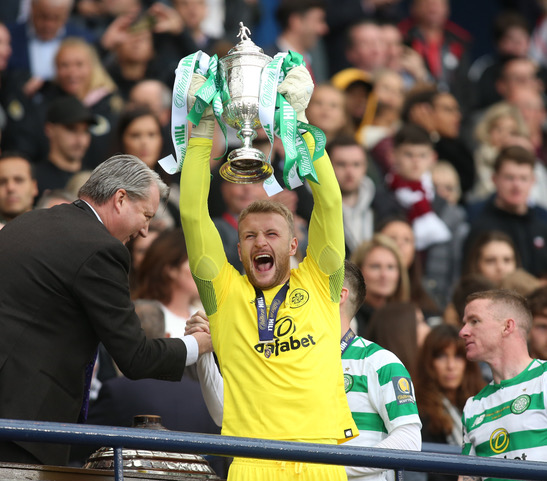 Cast your minds back, Celtic fans. His name is Scott Bain, and until Forster came along, Bain was adequately handling the goalkeeping duties for the Hoops.
Of course, there's no denying that Forster was an integral part in our most recent championship, and there's no Hoops supporter in their right mind who would not want Forster to return to his station between the sticks for Celtic.
But that's not the point here. This is: Lacking the services of Fraser Forster this season, the Celts go into 10-in-a-row already equipped with a game-tested and game-proven goalkeeping talent in Bain. If anything, any newly acquired goalkeeper — whether it's Joe Hart, who is no longer head-and-shoulders above other goalkeepers, or Camp Nou hero David Marshall — should be sought for backup purposes.
It's why this latest "crisis" is a manufactured one. It's a mystery why Bain isn't in the forefront of any discussion around acquiring a goalkeeper in the event that Forster doesn't return, other than perhaps to create drama where actually there is none.
The Hoops already have a Number 1 in Bain; in fact, essentially Celtic had two Number 1s in Bain and Craig Gordon, but the latter has set his sights on starting for Championship League contender Heart of Midlothian and has acted on it accordingly.
Despite the current distraction, this team is easily ready to take the 10. With a healthy squad ready for an encore performance from last season's championship, and with a crop of young players waiting in the wings augmented by a few previous transfer window acquisitions who have yet to show their talents, Celtic is unquestionably poised for 10-in-a-row.
Fraser Forster should be a part of that, and essentially his presence would guarantee it. But should he choose not be a part of it, the sticks are in capable hands with Scott Bain.
One more thing
I don't know about the wider Celtic supporter base worldwide, but personally I'm getting a little tired of Hoops fans slagging former defender Kieran Tierney. Waking up to a Celtic fan's tweet this morning where, paraphrasing here, he (or she) doesn't care whether Arsenal fans like KT or not, he (or she) doesn't pay attention to him anymore.
And that's fine.
However, bear in mind that every time the former Celt takes the field at Highbury, he brings about 14 years of the Celtic system on to it as well. That alone reflects remarkably well on our club's training system when KT is doing well for Arsenal; to say nothing of the fact that despite however well he is doing for Arsenal, the Gunners were still fleeced in spending as much as they did on him.
Perhaps someone someday can explain to me why we speak fondly of some former Celts — like Moussa Dembele, for example — and a lifelong bhoy with years of history with the club gets unceremoniously dragged.
Until next time, graffiti on the walls says we're magic . . . .