So some of you may have noticed — at least my mother did (thanks, Mom) — that I hadn't posted all last week. As you might imagine, that pesky COVID-19 has put a huge crimp on my life (as it has everyone's) on several levels: My freelance work has all but evaporated for the moment, leaving me scrambling for a bit to rearrange my life and my work. But now all seems to be fine, relatively speaking, as the governor of California is making me stay indoors for the time being.
I do freely and readily admit, though, perhaps the biggest adjustment is not having football. Probably yours too, no doubt. And plans to visit Glasgow mid-year have been put on hold, so Celtic Park (and Calton Books, incidentally) will have to wait before I grace both with my presence.
So since I am stuck at home, I would like to remind everyone that it is only quarantine if it's from the quarantine region of France; otherwise, it's just sparkling isolation. With this in mind, here's how to pass the time.
Subscribe to Celtic TV and watch past games
Though I am not on the payroll of the broadcaster, I am one of the biggest fans of Celtic TV. Tom Boyd, Paul Cuddihy, and Kelly Clark — I miss you guys! Celtic fans outside the UK have it great, with live broadcasts of the Hoops, not to mention being able to re-watch games once they're through.
I understand that UK subscribers must wait 24 hours to watch the live games. But now that there are no live games to wait a day to watch, the Celtic TV library is filled with this season's games — as well as some past classics, reserve squad games, and other Celtic-related programming — and you're able to watch the games by just calling them up on the screen. Easy peasy.
For the US$28 a month I pay, Celtic TV is now a godsend since I can watch games any time. I don't know if the cost is the same in the UK, but even if it is, it's a steal.
I have started watching this season again, starting with the Hearts game. To keep things authentic, I still wake up at 4 a.m. to watch the noon kickoffs, just as I would if the Bhoys were still playing. And they keep winning– Olivier Ntcham always manages to score late at the end of the Lazio game in Rome to save the day. It's amazing.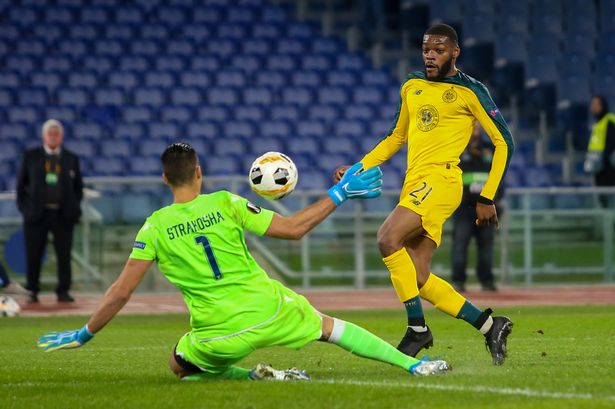 Join us at Celtic Noise for some banter
Ever since I've been a fan of the Hoops, I've been a regular at The Celtic Noise, an online forum of Celtic fans hosted by the folks that bring you The Celtic Star (full disclosure: My blog posts often appear on The Celtic Star, as I am a regular contributor to the online publication).
The Noise is a collection of passionate and opinionated Celtic fans who are not shy about showing their allegiance to the green-and-white, and the freewheeling nature of talking about a wide range of topics — not always Celtic-related — makes it a very interesting place to spend time if you're cooped up in place to ride out the virus.
Again, as passionate and opinionated fans can be, bear in mind that a few of the participants can be . . . let's just say "overbearing," but don't let that deter you from participating. It's a great community and a great avenue to talk about Celtic. And many threads are entertaining, whether they started out to be or not.
So sign up and get into the game . . . I mean, discussion.
Read, watch videos, and stay safe
Order a copy of just about anything from the Celtic FC Store (books or DVDs) or the Celtic Star Bookstore and read or watch. If you don't want to venture out to the bookstore or the library, the selection of Celtic books and media in both places are top-drawer. Probably the best Christmas gift I received back in December was the Broony DVD — a definite must-watch for any Celtic fan, and I still pop it in the DVD player from time to time.
Of course, if you're broke (and I know the feeling, believe me), YouTube has a plethora of complete games and highlights to watch as well.
Most importantly — because both the US and UK governments are racing each other to see which can be more incompetent in dealing with this pandemic — it is incumbent on every one of us to look out for ourselves and our neighbours. Take all suggested precautions, don't hoard the toilet paper (or other necessities, for that matter), and we'll all get through this until football starts again.