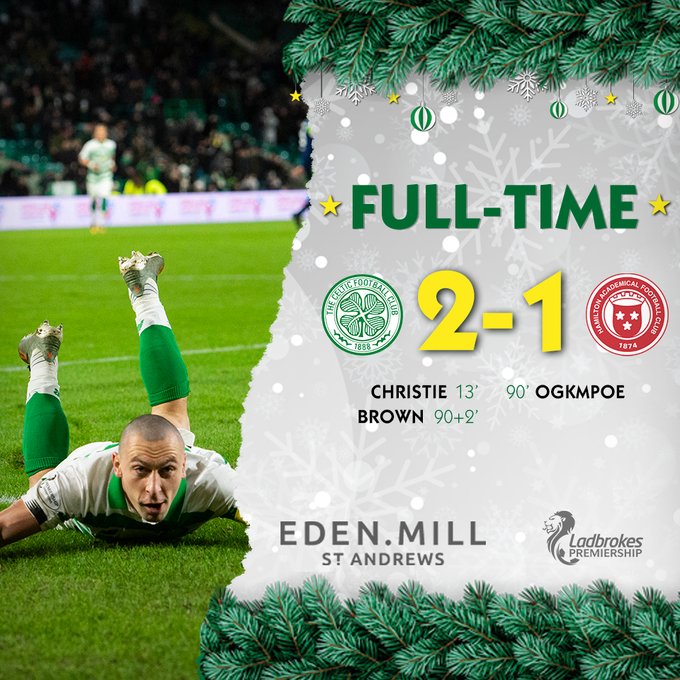 Breathe.
Inhale.
Exhale.
Whew.
After today's game with Hamilton Accies, I am going to forgo the usual "five takeaways," because there is really only one. And while I will always suggest taking a look at The Sandman's ratings on The Celtic Star, there is really only one thing (well, two actually) to say about today's game.
Scott Brown: Captain. Leader. Legend. Demigod.
That really says it all.
Well, that and for a minute and 37 seconds, The Rangers™ had thought they had continued to keep pace with Celtic when Hamilton equalized right around the 90-minute mark. That was erased after Brown, off his left foot, scored the go-ahead goal.
The bus ride back from Aberdeen to Glasgow for The Rangers™ fans was probably a very somber one.
I wish to God I had sounded more coherent when the ball hit the net, because all I could do when I jumped out of my chair was just scream, "AAAAAAAAAAAAAAAAAAAAAAAHHHHHHHHHHHHHHHHHHHH! Broo0000000000000000000000000ny!" All the while running around the living room, stopping only to do The Broony™ after standing on the coffee table.
But it does makes one think about how special this club is, and how perhaps forces beyond this realm are guiding the club in the right direction. Today's "intervention" — for lack of a better term — rivals last seasons's Billy McNeill game against Kilmarnock, where Jozo Simunovic — number 5 — scored in the 67th minute of the game.
Some are calling this a "Scott Brown won the league at Celtic Park" moment, as this article in The Celtic Star outlines, and they are not far off. Realistically, there is a lot more football to be played between now and the end of the season, but if this game is any indication, we are in good hands.
On to Sunday and the Betfred Cup.