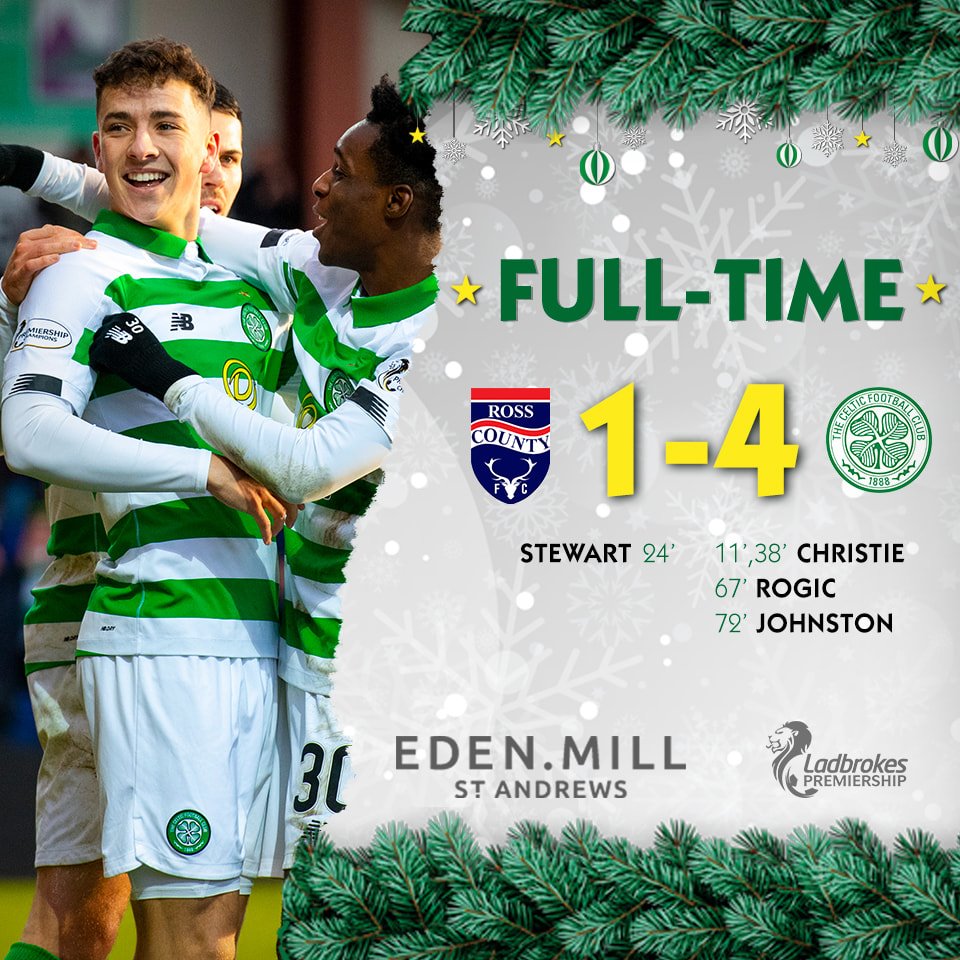 We went to the Highlands, and after what seems to be a typically meticulous (not "slow," I'd never say "slow") start, the Bhoys in Green came away with a 4-1 victory over Ross County on Sunday. Naturally, The Sandman also had his say on the game, which is worth a read, but I also have five takeaways, which are as follows . . . .
1. Be like Mike-y
Over a quarter-century ago, the sports drink Gatorade had an ad campaign featuring its centerpiece athlete, Michael Jordan, and the tagline "Be Like Mike" was all over the fields and courts where sports were being played. And while I, nor anyone else, would suggest that "I Wanna Be Edouard" should be substituted here, "Be Like Mikey" Johnston would actually be a welcome alternative. Johnston came into the game, deked a couple of Ross County defenders and — bang! — into the net at 72 minutes. Which leads us to Celtic's current "conundrum" . . .
2. So many scorers, so little time
Goal posts notwithstanding — and if only they gave maybe a half-point for glancing the ball off the post; I mean, really, it's not easy to do — Celtic had close to 20 shots on goal against Ross County. I bring this up because despite Ryan Christie's clockwork scoring, the club has a huge number of options on getting the ball into the net. Even Leigh Griffiths, who came close to scoring on Sunday, is getting a lot closer to finding striker nirvana. No Edouard? No problem. Speaking of scorers . . .
3. The Viking can pass
Kris Ajer getting the ball to the right person on Sunday is something that cannot be understated. The big Norwegian was right on the mark with passes which turned into goals. Not only this, but it looks like in the last few games that Ajer has been — I don't know how to put this, exactly — a little adventurous in wandering out of the backfield with the ball and advancing way past the half-way line. Not that I'm complaining, mind you . . .
4. The right call, for a change
Not to give referee Nick Walsh much in the credit department, as his carding Mikey Johnston for celebrating when the fans are literally on top of the pitch was pure nonsense; to say nothing of all the non-calls on fouls against Celtic during the course of the game. But I will give him props for his call on revoking Ross County's second goal. Now, I don't fully understand the offside rule yet — and I still think it's arbitrary, judging by what I often see as "offsides" and what isn't — but as it was explained to me, the guy in the dunce cap, Ross County's Brian Graham was offside because while he made no attempt to play the ball, he obstructed Christopher Jullien, meaning that Graham was an active player and, thus, offside. I hope that doesn't end up on the final exam, but at the very least, Nick got that one right.
5. What video game did we see him in?
Putting aside for a moment the unique gaffer arrangement — "manager by committee" would be the best way to describe it between Stuart Kettlewell and Steven Ferguson at Ross County — but during the game on Sunday when they panned the camera to the Ross County sideline to show Ferguson, I only had one thought: Didn't I see him in Grand Theft Auto V? OK, so I'm probably the last person to comment on someone else's appearance, but if game developers haven't used the slick-haired Steven Ferguson look so often for bad guys in video games, this takeaway would be something else altogether.
On to the Accies on Wednesday.