My holiday season could best be summed up by the line in "A Child's Christmas in Wales" by Dylan Thomas: "No one could have had a noisier Christmas Eve." Hence the late post, scheduled for it's usual Tuesday slot, for which I offer apologies.
First, I hope everyone had a good and safe holiday season. And to the supporters of the Glasgow club that plays at Ibrox, we should let Chris Sutton drive here, wishing them a happy holiday season.
Despite a draw at St. Mirren which brought out the Naysayer Brigade once again earlier last week, the Bhoys ended with a crisp 3-1 win at McDiaramid Park last weekend on a pitch that might quite possibly had been used the previous day for a tractor pull or some other monster truck event. The Scottish Football Association clearly needs to step up their standards on playing fields, and these guys deserve to play on much better fields offered by St. Johnstone.
But I digress.
In this holiday season, Celtic fans have a lot to be thankful for. This guy, for starters.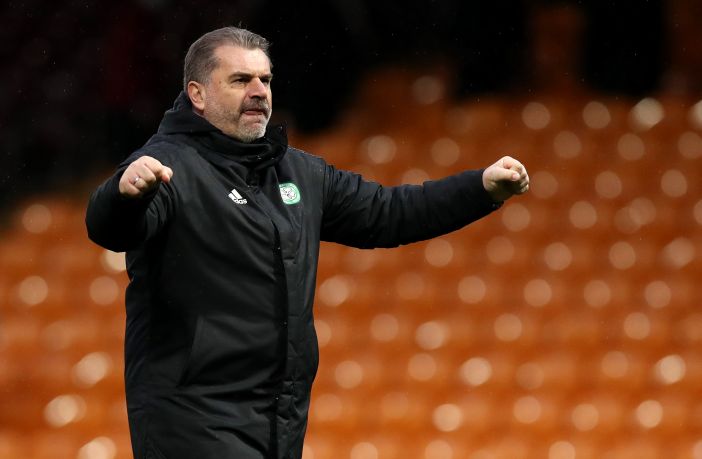 There is no one — no one on God's now less-than-green earth — that could have pulled off the herculean task that Ange Postecoglou has done.
He leaves his family in Australia, and comes in to a club in turmoil without his own staff and inherits the backroom staff that arguably brought us to this point. He works briefly with a CEO he's in tune with and suddenly, mysteriously, the CEO resigns under questionable circumstances. Now with a new club captain, he's fighting off player injuries and nebulous and oft-changing COVID restrictions. And then there's dealing with a Scottish sports press corps which, collectively, seem to both be sharing a collective IQ point while rewriting the record book in number of moronic questions asked of a Celtic manager.
All of that, and then there's the officiating. Between the "honest mistakes" and downright chicanery in other games, the fact that SpecSavers sponsors the SPFL referees is an irony lost on no one.
Yet the turnaround many expected to take most of the season, at the earliest — and many were expecting longer — was nearly instantaneous. We are now 2nd in the league, easily within striking distance. Some may argue that 2nd is nothing to be thankful for, and there may be a case to be made for that. However, it could be phenomenally worse.
As it stands right now, Eddie Howe's Newcastle is in the relegation zone. Are you really going to argue the point that we should trade places with Newcastle?
I didn't think so.
Then there are these two guys.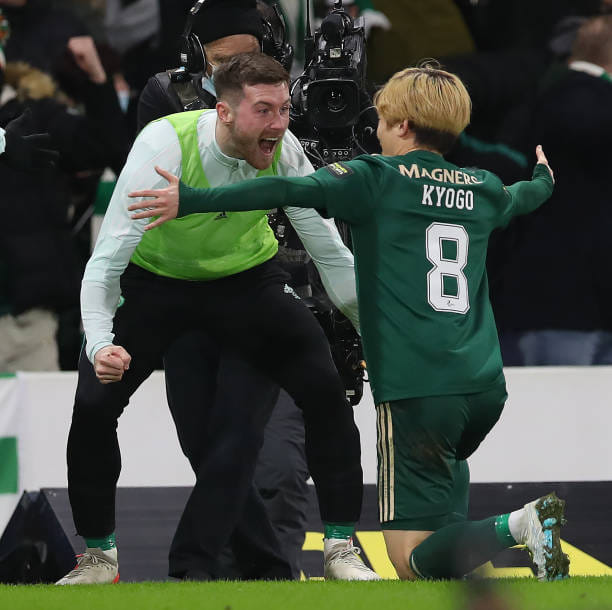 Some of the more vocal and somewhat, um, "opinionated" supporters on social media wrote off Anthony Ralston long ago, as they do with anyone who has one or two bad games (Remember Jack Hendry, now excelling in Belgium?). If we can be thankful on this holiday season for anything, it is these wannabe swamis are light-years removed from any decision-making authority in Celtic's player personnel. The amount of crow eaten by these Playstation Pundits can be measured in tonnage seeing the player that Anthony Ralston has become. But give Ralston credit — he worked hard to make the jersey fit, and his improvements on the pitch have helped in the club's recent success.
And Kyogo Furuhashi? すばらしい — suburashii, meaning "wonderful" in Japanese. Not only does this kid light it up on the field and is a joy to watch playing the beautiful game, he's also living rent-free in the tiny heads of his detractors, who claim he cheats because they have no other reasonable way to explain how, even at 5-foot-7, he's head-and-shoulders above the rest of the league.
And speaking of head and shoulders . . . (you knew that was coming).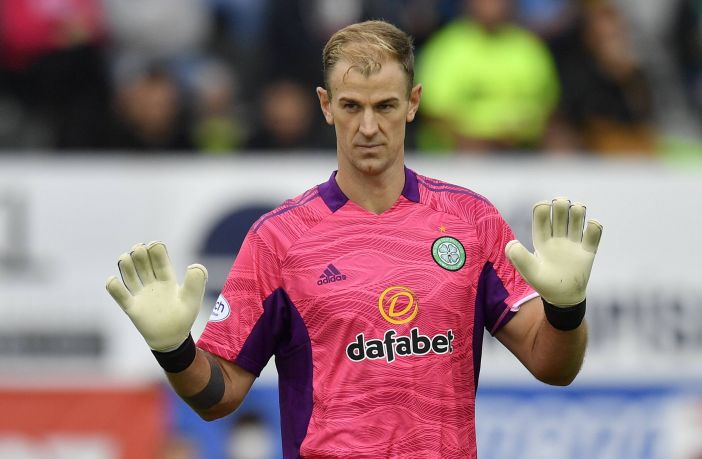 Charles Joseph John Hart. Joe Hart, to those of us who know and love him between the sticks for Celtic. The reputation of a big-time player past his prime was clearly unwarranted as he stepped up with both his commanding play and a commanding leadership presence on the pitch.
There are more contributing to the good tidings as well: Cameron Carter-Vickers' rock-solid defense picks up when others falter, and he should stay with Celtic; there's talk of that being bandied about during the break. Jota should definitely be signed as soon as possible — he seems to be at home at Celtic and his presence has proven to be a good fit for the club. And what can you say about Tom Rogic? The Wizard of Oz has found the magic so many had thought he had lost.
Leading up to the holidays, the results — though not perfect — were good enough to lead into a happy and satisfying Yuletide. There's no reason that this won't continue into the second half of the season.
Happy New Year, Celtic fans. You'll never walk alone.