I will be the first to admit that Celtic fans who have supported the team for decades surely don't need a lecture from a relatively new fan 5,000 miles away. However, I do think I can offer some perspective on some of the games this season — like today's — from America's baseball world. The San Francisco Giants in the early aughts, when they were winning championships by any means necessary (and usually "winning ugly"), had a term they always used to describe their style of play: "Torture."
Sound familiar, Celtic fans?
Torture. That would aptly describe the first 89 excruciating minutes of Sunday's game at McDiarmid Park against St. Johnstone, where the Saints took a poke or two in that time — glancing one off the bar, even — while mostly playing back. Thank whichever diety you believe in that Leigh Griffiths got the header at 90 minutes, and then Patryk Klimala sealed the deal at 93 minutes for a 2-0 win and wrap up the Late Late Show.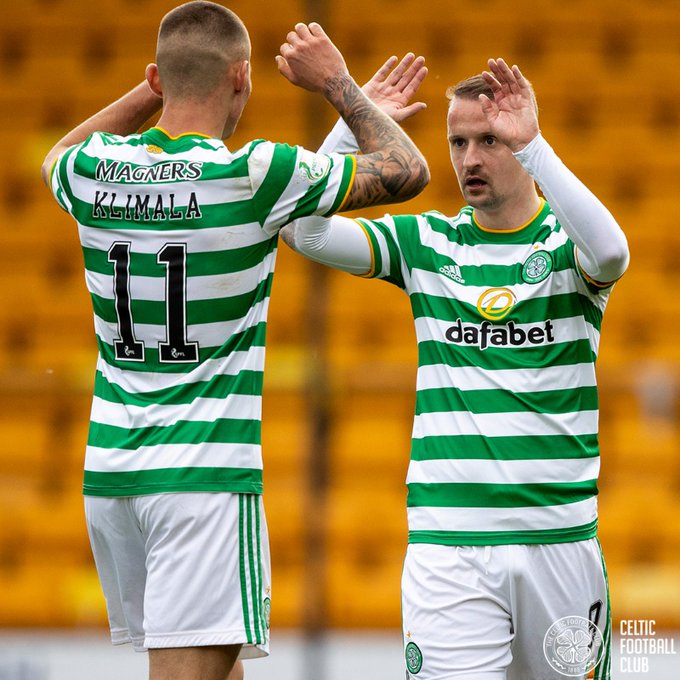 Let's talk about Klimala for a minute. For those who think that offseason training does not pay off, ask yourself if Klimala makes that comeback — Terminator style — quickly upright from a tackle to make that second goal if he hadn't strengthened up. Chances are he doesn't, and with the way the referee was being selective with fouls — multiple ignored muggings of Jeremie Frimpong, to no one's surprise, for example — chances are Klimala doesn't get the call as well.
Then there's Griffiths: The bhoy is back. Full stop. But that goal doesn't happen in a vacuum. The lead up of Kris Ajer to Hatem Elhamed, and then Elhamed's perfect cross, is a play to watch over and over again.
And how's this for strategy: Put the soul of your club on the bench and then bring him in to direct traffic toward the end of the game. It's pretty clear that Scott Brown has an influence on the team that transcends his immediate play.
In geological terms the first 89 minutes of the game had the magma of the Celtic Boo Birds pressurizing the surface, awaiting to erupt in the lava of negativity all over social media. Thanks to Messrs. Griffiths and Klimala, eruption was averted, for the most part.
In addition, let's be clear about something which some folks may be missing: The other 11 teams in the Premiership are all professional outfits, with players who step up their game a notch or two when playing Celtic. It definitely makes the difference between having a highlight reel and a highlight slide when a club plays Celtic well or, God forbid, beats Celtic. Opposing players get that and up their game accordingly.
Yet some in the support expect this season to be a walk in the park where we dust off other clubs as if they are made up of starving orphans or cloistered nuns.
News flash: They're not.
So winning 2-0 against St. Johnstone may not be historic, or even noteworthy. But it is another win, and another 3 points. And if we have to grind it out to get to the 10, then that's the "torture" we have to endure to get there. Naturally, I'd prefer it to be easy, but we would be well prepared to take it that way going forward.
Mon the Hoops.