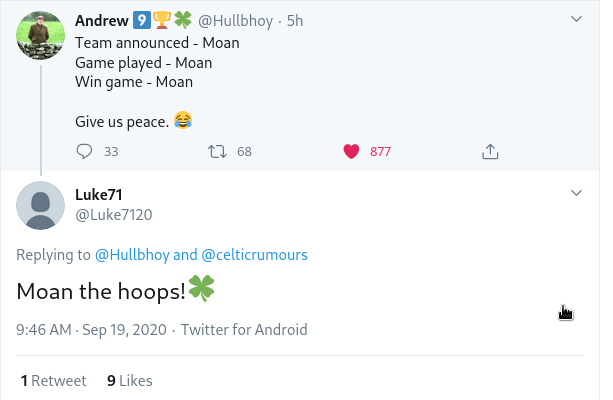 It inspires awe, unfortunately not in a good way: A club that has won nine championships in a row, not to mention three trebles, has some members of its fan base that excel at either hair-on-fire panic or terminal negativity — sometimes both — for essentially no good reason.
Even some members of the fan base — these same members, of course — who will swear on the graves of their ancestors that they love Celtic constantly, will also, at the same time, make it their sole purpose in life to slag the manager and specific players on the team.
You would think that this crass shallowness would be a hallmark of Glasgow's other club, and one could successfully argue that it is. Which, of course, is all the more reason why it should stay there instead of encroaching onto the other side of Glasgow.
We're better than that. Does that even warrant mentioning?
Maybe it does: Elements in the "support" — real or imagined — are calling for the removal of Neil Lennon while dragging players like James Forrest or Greg Taylor or Ryan Christie or fill-in-the-blank for the scapegoat du jour.
Seriously?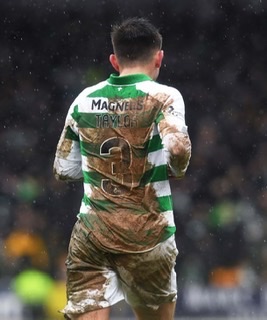 Taylor is an above-average fullback who is still learning to play in the Celtic system. He's not flashy; in fact, he's what we call in America a "lunchpail player," a guy who brings his lunchpail to work, puts his head down and does his job without fanfare or attention-grabbing. Is he the answer to Celtic's problems? No. But he's not the cause of them either. Primarily a defender who excels in that aspect of the game, Taylor would be ideal in a back 4 and his current role of supplying crosses into the opposition box is one that has come with a learning curve for him. I'm willing to give him the benefit of the doubt here because I think ultimately he'll both succeed and be a more well-rounded player for it.
The ire towards Forrest and Christie is totally unwarranted. Both have consistently given all for the club every game, both have been brilliant overall for the Hoops, and Christie deserves special note for being constantly on the go, whether it's the first minute or the 90th. Both have established themselves in a midfield that has a vast overstock of talent in it, not to mention both being a scoring threat for the entire 90 minutes.
I am as mystified as anyone at some of Lennon's choices in the recent lineups, but I'm not at Lennoxtown making that decision. So I trust his vast knowledge of football, not to mention his staff's, over my approximately two years of studying the game. Yet some of the armchair Steins among the support want to replace Lennon because of it? One question: With whom? Honestly, you want to abruptly halt the momentum the club has gained under Lennon because you don't like it that he doesn't play 3-5-2 enough? And even if you could replace him, who would you reasonably get to replace him at this point?
It's perfectly all right to have an opinion. Unhappy with Lennon and his choices? So am I, but rather than calling him names or worse, I'm more than glad to hear him out. Do I think players deserve to be benched for having an off-day, or even worse, resort to name-calling? Absolutely not.
Criticism can take two forms: Positive and negative. Positive critique has been sorely lacking. The panty-wetting and negativity on forums and social media are beyond the pale and are downright embarrassing.
Again, we're better than that.
This much is clear: The demands made of Celtic players are far greater than many other clubs. Second place is nothing, to be sure, and one of the main aspects of supporting a football club is experiencing the highs and lows, the good and bad, the euphoria and the horror. In an era marked by championships, "trebles," and a vast array of silverware, there have been few "lows," and even fewer "bads" and "horrors."
Fans should be held to the same high standard, because the Celtic scarf doesn't shrink to fit inferior supporters.
Mon the Hoops!
[Blogger's note: Much of this item comes as a result of private discussions with a few friends from The Celtic Noise, and they will recognize their contributions herein. While they know who they are, I won't identify them for privacy's sake, but needless to say I gratefully appreciate and acknowledge their contributions.]