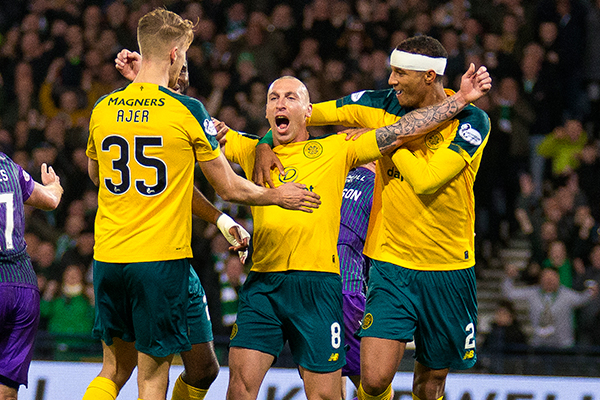 To be honest, I really, really like the 12 noon (or thereabouts) kickoff times in Scotland. Yes, I have to drag my sorry butt out of bed at some ungodly pre-sunrise hour, but at least I get to watch the game live and, for the most part, unfettered.
The 5:30 p.m. (10:30 a.m. Pacific) kickoff puts me right square in the middle of a workday on a Saturday or a Sunday (yes, I work weekends. Don't ask). And, generally speaking, while the Bhoys seem to excel when I'm away from the screen — thank God for Celtic TV and their rebroadcasts (best $18 a month I've ever spent, and I highly recommend it) — I'd really like to be there watching when the action actually happens.
So I get home from a fun-filled work day — yes, that's sarcasm — and spend two hours watching the game, start to finish, and head over to The Celtic Noise to talk about it with the merry band of forum denizens who have had a head start. One thing I always look forward to is Sandman's ratings, which are posted first on the Noise and then posted on The Celtic Star; quality analysis and it can only be found here.
But anyway, my five takeaways from the Celtic-Hibernian game are as follows:
1. Captain. Leader. Legend.
Broony. Damn. Just damn. You worry as the seasons pass that a guy who carries the team might– just might — be feeling the trappings of the twilight of his career, and you think to yourself, but dare not say aloud, that he may retire before the 10 in a row. But then he pulls something like this to make you feel like a complete idiot. Two goals. Two brilliant goals, as a matter of fact. And instead of buying just one Broony DVD, you're tempted to buy a whole case and give them out as Christmas presents ("Here, Mom, Merry Christmas!") because . . . damn. Scott Brown has definitely earned his place in Celtic history, and the process for commissioning a sculptor to create his statue outside Parkhead should start soon.
2. Mohammed Elyounoussi should stay
Mo Elyounoussi is a goal-scoring machine. Full stop. It must be a blessing to know where to be, showing up at the right place at the right time, as Elyounoussi seems to do. Both of his goals were impeccable, whether it was a header on a cross from James Forrest or a pass from Odsonne Edouard in front of the net (more on this in a bit). I would like to think that the board will pony up the money to keep Big Mo wearing the hoops, but that remains to be seen. One can always hope, no?
3. When Boli is out, an attack vector is lost
First things first: This is not a knock on Jonny Hayes. Hayes is a solid player and can start pretty much on any other team in the league. His speed and ball handling are impeccable, and we're lucky to have him wearing the Green and White. However, when Boli Bolingoli was taken out at halftime — I understand it's a hamstring — the Celts lost one of its two threats down both the left and right side that kept Hibs unbalanced for pretty much the first half. Here's hoping it's not a serious injury.
4. Unselfish Edouard shares the wealth
No doubt goalkeepers everywhere have nightmares about Odsonne Edouard. Those nightmares — at least the ones that don't involve the goalkeeper standing in the goal mouth in his underwear — probably consist of Edouard coming down the pitch with the ball and eluding all the goalkeeper's defenders and delivering a Celtic goal. But add one more layer to this nightmare: French Eddy passing the ball to another Celt for the assist instead. It happened twice against Hibernian: One went to Callum McGregor and the other was on Elyounousi's second goal. Eddy ended up with a grand total of zero goals and two assists; not that he was complaining. When Edouard approaches the goal, defences start to collapse around him, freeing up one or two teammates who are ready to score. So now, not only do goalkeepers have to worry about Edouard scoring, they have to worry about him passing it away to open teammates.
5. Hibernian is not really that bad
At the moment, Hibernian is staring relegation in the face in the standings. But truth be told, the 5-2 score betrays the fact that they played Celtic fairly strong in the Betfred Cup semifinal. Sure, Celtic should have won 8-2 if not for some unlucky bounces — damn goalposts! — and Melker Halberg was clearly offside in their first goal. But never mind. I am sure that the coaching staff have some positive takeaways from the semifinal game. Also, completely unrelated, "Sunshine on Leith" is a great song — probably second to "You'll Never Walk Alone" as far as football songs go.
Meanwhile, Celtic takes on Nazio — sorry, Lazio — in Rome this week, and it would be great to steal a win away from the fascists.